FOX NEWS FIRST: Remembering Charles Krauthammer; Melania's fashion 'statement' sparks 'fake news' frenzy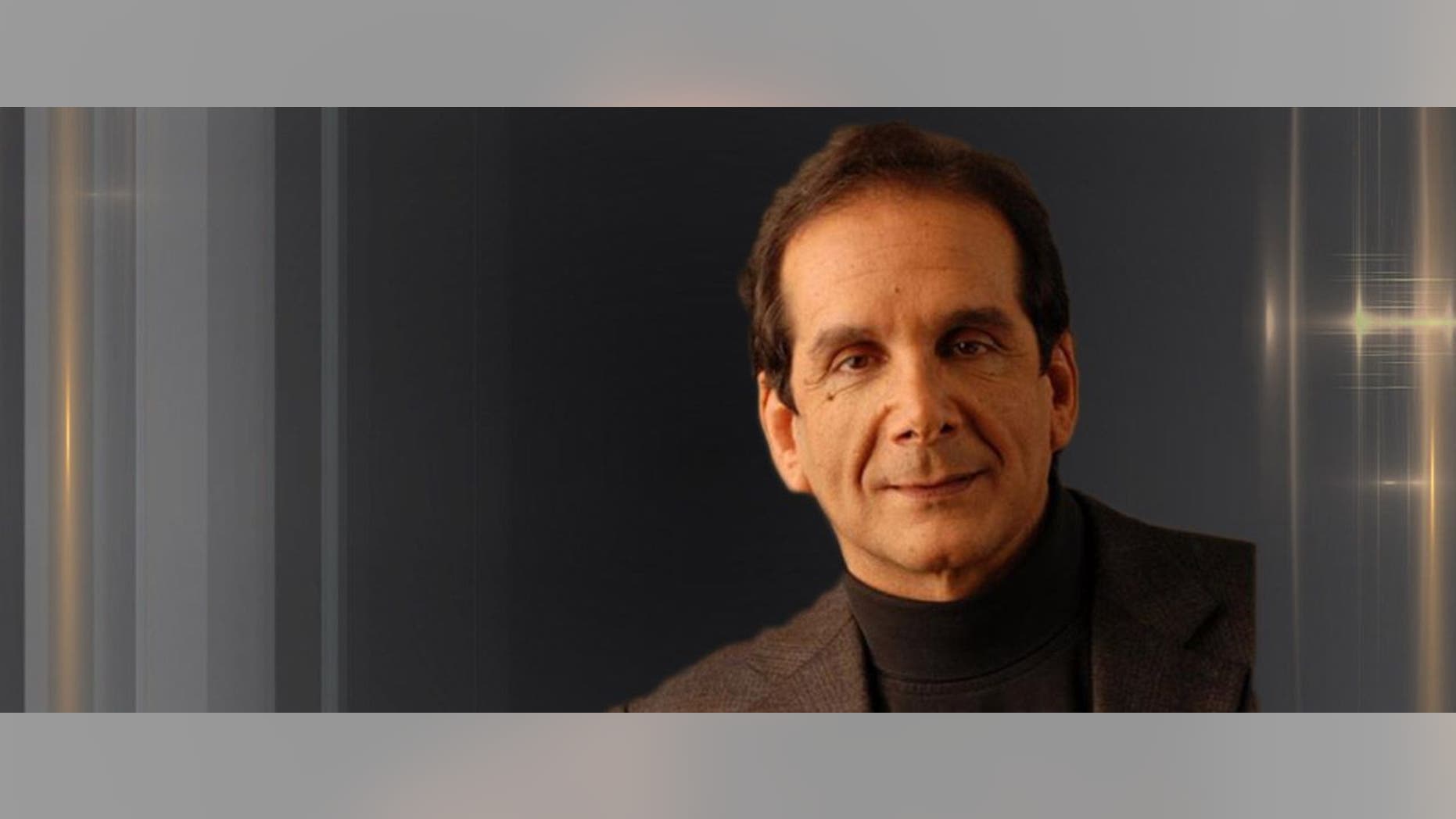 Welcome to FOX News First. Not signed up yet? Click here.
Developing now, Friday, June 22, 2018
Charles Krauthammer, the conservative commentator who died Thursday after a battle with cancer, is remembered by his FOX News colleagues and other admirers across the nation
About 500 of the more than 2,300 children separated from illegal immigrant families have been reunited with loved ones since May, a senior Trump administration official says
A vote on a compromise immigration bill was delayed Thursday, as GOP leaders in Washington hoped to take action on an updated bill next week
Melania Trump sparks a mainstream media frenzy by wearing a jacket with the words, 'I really don't care, do u?' during a visit to a Texas facility for migrant children. President Trump says the first lady was taking a swipe at the 'fake news media.'
A 'Roseanne' spinoff series, that will not include controversial star Roseanne Barr, received the go-ahead from ABC
THE LEAD STORY - REMEMBERING CHARLES KRAUTHAMMER: Charles Krauthammer, a longtime Fox News contributor, Pulitzer Prize winner, Harvard-trained psychiatrist and best-selling author who became known as the dean of conservative commentators, died Thursday. He was 68 ... His death had been expected after he wrote a heartbreaking letter to colleagues, friends and viewers on June 8 that said in part "I have been uncharacteristically silent these past ten months. I had thought that silence would soon be coming to an end, but I'm afraid I must tell you now that fate has decided on a different course for me." "Recent tests have revealed that the cancer has returned. There was no sign of it as recently as a month ago, which means it is aggressive and spreading rapidly. My doctors tell me their best estimate is that I have only a few weeks left to live. This is the final verdict. My fight is over."
The letter continued, "I leave this life with no regrets. It was a wonderful life -- full and complete with the great loves and great endeavors that make it worth living."
In recent years, Krauthammer was best known for his nightly appearance as a panelist on Fox News' "Special Report with Bret Baier" and as a commentator on various Fox news shows. Following the news of the death of his "good friend," Baier posted on Twitter, "I am sure you will be owning the panel discussion in heaven as well. And we'll make sure your wise words and thoughts - your legacy - will live on here."
SOME IMMIGRANT FAMILIES REUNITED: About 500 of the more than 2,300 children separated from their families at the U.S.-Mexico border have been reunited since May, a senior Trump administration official said, as confusion appeared  to mounted over the "zero tolerance" policy that called for the prosecution of anyone caught entering the United States illegally ... It was unclear how many of the roughly 500 children were still being detained with their families. Federal agencies were working to set up a centralized reunification process for the remaining separated children and their families at the Port Isabel Detention Center just north of border in Texas, said the official, who was not authorized to speak publicly and spoke to the Associated Press on condition of anonymity.
GOP LAWMAKERS TO TRY AGAIN ON IMMIGRATION BILL: GOP leaders abruptly pulled a compromise immigration bill from consideration late Thursday, announcing the measure would not come to a vote before the weekend as initially planned -- throwing another wrench into Republican leaders' attempts to take action amid the controversy at the border ... A vote on an updated bill will take place next week instead, House Homeland Security Committee Chairman Mike McCaul, R-Texas, told reporters.
McCaul expressed confidence after an evening meeting with other top House Republicans that the compromise bill will ultimately secure the votes needed to pass, saying party leaders had "one of the best discussions ever" late Thursday. The updated bill to be considered next week will include requirements that employers use E-Verify to check the legal status of their workers, Rep. Jeff Denham, R-Calif., told reporters.
MELANIA'S FASHION 'STATEMENT': First lady Melania Trump's visit to a Texas facility housing migrant children separated from their parents threatened to be overshadowed Thursday by a jacket she wore bearing the words: "I really don't care, do u?" .... The first lady was pictured wearing the jacket as she boarded a flight to the border at Andrews Air Force Base in Maryland. She wore the same jacket when she departed the aircraft after returning to the D.C. area Thursday evening.
Stephanie Grisham, the first lady's spokeswoman, tweeted: "Today's visit w the children in Texas impacted [the first lady] greatly. If media would spend their time & energy on her actions & efforts to help kids - rather than speculate & focus on her wardrobe - we could get so much accomplished on behalf of children." Grisham added the hashtags "#SheCares" and "#ItsJustAJacket". However, the President Trump appeared to contradict Grisham later Thursday, tweeting that the jacket "refers to the Fake News Media." "Melania has learned how dishonest they are, and she truly no longer cares!" Donald Trump said.
'ROSEANNE' COMEBACK 2.0: While Roseanne Barr may be done at ABC, the characters she helped create are poised for a return. ABC has given a series order to a spinoff of "Roseanne" that will not include Barr, but will include the rest of her on-screen family ... ABC announced in a statement that it has greenlit a series with a working title "The Conners," to air on Tuesdays at 8 p.m. this fall. Barr reportedly will have no financial or creative involvement with the show following her firing over a racist tweet directed at former Obama aide Valerie Jarrett, in which she referred to her as an "ape."
Cast members John Goodman, Laurie Metcalf, Sara Gilbert, Lecy Goranson and Michael Fishman are set to reprise their roles. It's unclear at this time how the family will continue without Barr's character or how she'll be written out.
AS SEEN ON FOX NEWS
'OWNING THE PANEL DISCUSSION IN HEAVEN': "R.I.P. good friend.  I am sure you will be owning the panel discussion in heaven as well.  And we'll make sure your wise words and thoughts - your legacy - will live on here." – "Special Report" anchor Bret Baier, reflecting on the legacy of Charles Krauthammer. WATCH
AN EXCEPTIONAL MAN: "America is the only country ever founded on an idea. The only country that is not founded on race or even common history. It's founded on an idea and the idea is liberty. That is probably the rarest phenomena in the political history of the world; this has never happened before. And not only has it happened, but it's worked. We are the most flourishing, the most powerful, most influential country on Earth with this system, invented by the greatest political geniuses probably in human history." – Charles Krauthammer, giving his take on American exceptionalism. WATCH         
TRENDING
Californians divided on whether, how to ... divide.
Bald eagle, once a dying breed, making groundbreaking comeback across country.
Man-bunned protester turns out to be 'full-time human guinea pig' and aspiring comedian.
NBA legend Kevin McHale slammed for apparently attending Trump rally.
THE SWAMP
Lawyer reviewing Cohen documents submits $338,000 bill.
GOP hopes to continue party dominance in Florida governor's race.
Obama cyber chief confirms 'stand down' order against Russian cyberattacks.
ACROSS THE NATION
Reality Winner to plead guilty in national security leak case: report.
Leaked anti-gun memo suggests ACLU hesitant to defend free speech if it hurts 'marginalized communities.'
Texas sees worst flooding since Hurricane Harvey, days of punishing rain.
Pearl Harbor victim reburied decades after being killed in attack.
MINDING YOUR BUSINESS
China threatens to go after Dow index giants next in trade war.
GE's Dow yank is 'heartbreaking': Bob Nardelli.
UPS, Teamsters reach handshake deal on new contract.
Chevy unveils new SUV: the Blazer.
July 4th travel to hit all-time record, AAA predicts.
FOX NEWS OPINION
Bruce Riley Ashford: Chris Pratt uncorks some truth in a Hollywood culture of lies.
Robin Simcox: Angela Merkel's government almost collapsed this week – How much time does the chancellor have left?
Dr. Manny Alvarez: What happened to me when I was separated from my parents and sent to the U.S.
HOLLYWOOD SQUARED
Kate Spade's 'heartbroken' father dies the night before her funeral
Betty White shares touching tribute to Koko the gorilla.
Former 'Lois & Clark' actor Dean Cain sworn in as reserve police officer.
DID YOU HEAR ABOUT THIS?
Girl's floral Duck Tape prom dress may earn her $10K.
Civil War battlefield discovery: Surgeon's burial pit reveals soldiers' remains, amputated limbs.
Stonehenge secret: Did builders use Pythagoras' theorem 2,000 years before the philosopher lived?
STAY TUNED
On FOX News: 
FOX & Friends, 6 a.m. ET: Insight from the following guests: Turning Point USA founder Charlie Kirk; Diamond & Silk; Geraldo Rivera and more. Lynyrd Skynyrd performs in the next edition of the All-American Summer concert series.
Charles Krauthammer: His Words, 9 p.m. ET: Don't miss FOX News' look at the longtime conservative commentator's remarkable life.
On FOX Business:
Mornings with Maria, 6 a.m. ET: Guests include: Rep. Claudia Tenney; Kevin Hassett, White House Council of Economic Advisers chairman; Tom McGee, International Council of Shopping Centers CEO; Rep. Jeb Hensarling; Alan Dershowitz.
Varney & Co., 9 a.m. ET: Former Ark. Gov. Mike Huckabee; Jessica Melugin, associate director of CEI's Center for Technology and Innovation; Lawrence Jones, Campusreform.org editor-in-chief; Admiral Robert Natter, former U.S.S. Chandler commander; John Chen, BlackBerry CEO.
Cavuto: Coast to Coast, Noon ET: Beverly Goodman, Barron's assistant managing editor.
On FOX News Radio:
The FOX News Rundown podcast: The U.S.  Supreme Court rules that states can now charge sales tax on online purchases. South Dakota Attorney General Marty Jackley, who argued the case, gives the inside story. There is growing speculation that White House press secretary Sarah Sanders and principal deputy press secretary, Raj Shah may be leaving the Trump administration by the end of the year. Ari Fleischer, former White House press secretary for under George W. Bush, discusses the strain of the job and how it has changed over the years. Plus, commentary by "FOX News Sunday" host Chris Wallace.
Want the FOX News Rundown sent straight to your mobile device? Subscribe through Apple Podcasts, Google Play, and Stitcher.
The Brian Kilmeade Show, 9 a.m. ET: Rep. Steve Russell and Dr. Albert Reyes on the struggle for immigration reform; Gen. Jack Keane remembers Charles Krauthammer, sounds off on new developments with Iran and North Korea; Kennedy on the hot topics of the day.
The Tom Shillue Show, 3 p.m. ET: Former "Simpsons" showrunner Mike Reiss joins Tom Shillue to discuss how political correctness is challenging modern comedy, the ongoing controversy over "Simpsons" character Apu, and his new book, "Springfield Confidential."
On Fox News Weekend: 
FOX News Sunday, Sunday, 2 p.m. and 7 p.m ET:  Don't miss Chris Wallace's exclusive interview with former Homeland Security Secretary Jeh Johnson.
OBJECTified, Sunday, 8 p.m. ET: Magic Johnson, one of the most talented and important athletes in history, sits down with Harvey Levin to discuss his life story and how he continues to reinvent himself and redefine what it means to win.
Life, Liberty & Levin, Sunday, 10 p.m. ET:  Fair trade or free trade… which one is better for the country?  And which puts more money in Americans' pockets? Special guest, Dr. Mark Perry, sits down with host Mark Levin.
#OnThisDay
2012: Ex-Penn State assistant coach Jerry Sandusky is convicted by a jury on 45 counts of sexually assaulting 10 boys over 15 years. (Sandusky is appealing a 30- to 60-year state prison sentence.)
1969: Singer-actress Judy Garland dies in London at age 47.
1937: Joe Louis begins his reign as world heavyweight boxing champion by knocking out Jim Braddock in the eighth round of their fight in Chicago.
Fox News First is compiled by Fox News' Bryan Robinson. Thank you for joining us! Enjoy your day and weekend! We'll see you in your inbox first thing Monday morning.