FOX NEWS FIRST: Intense manhunt in Waffle House shooting; Trump to play hardball with North Korea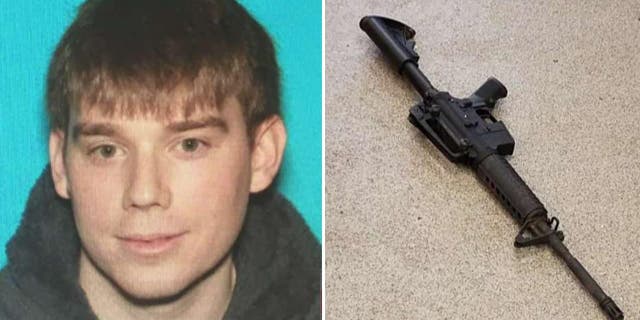 Welcome to Fox News First. Not signed up yet? Click here.
Developing now, Monday, April 23, 2018
The four people killed in Sunday's shooting at a Tennessee Waffle House are identified as authorities continue to search for the suspected gunman
The Senate Foreign Relations Committee is scheduled to vote Monday on CIA Director Mike Pompeo's nomination to be secretary of state - and early signs point to the panel not endorsing President Trump's nominee
President Trump will urge North Korea to dismantle its nuclear weapons at his summit with Kim Jong Un and is not willing to lift sanctions for the mere freezing of its nuclear missile tests, according to one report
FOX NEWS EXCLUSIVE: Before his visit to Washington this week, French President Emmanuel Macron insists he has a strong relationship with Trump but appears to warn against his aggressive stances on international trade, Iran and more
Prince William's wife, Duchess of Cambridge Kate Middleton, is in labor with the couple third child, Kensington Palace says
THE LEAD STORY - Four people who were killed Sunday after a gunman opened fire at a Waffle House in Tennessee have been identified as authorities continue their intense manhunt for the suspect ... Investigators said the suspect, identified as 29-year-old Travis Reinking, may be carrying a pistol and has a history of mental illness. Reinking was arrested in July 2017 for being in a restricted area near the White House, saying he "wanted to set up a meeting" with President Trump, investigators revealed in a Sunday news conference. More than a year before that, he claimed Taylor Swift was stalking him, police said. A possible motive for the shooting early Sunday morning was unclear, according to police. The victims included a worker at the Waffle House, a college student and a rapper. Authorities said Taurean Sanderlin, Joe Perez, Akilah DaSilva and DeEbony Groves were killed Reinking allegedly shot them around 3:30 a.m.
A BATTLE OVER THE NEXT SECRETARY OF STATE: CIA Director Mike Pompeo, President Trump's pick for secretary of state, will likely face an uphill battle in his at confirmation hearing Monday before the Senate Foreign Relations Committee ... While he was confirmed to lead the CIA with a 66-32 vote last year, Pompeo faces new challenges, with lawmakers saying Pompeo lacks the diplomacy needed to act as the nation's top diplomat. Pompeo opponents have pointed to his hawkish foreign policy positions and comments about minorities, particularly Muslims and gay people. Most Democrats on the Senate Foreign Relations Committee have already announced plans to oppose Pompeo, sparking speculation that the panel could take the unusual step of sending the nomination to the full Senate without a favorable recommendation.
Committee member and Sen. Rand Paul is also opposed to confirming Pompeo -- he was the only Republican to vote against Pompeo during his CIA confirmation hearing. However, Republicans in the administration and on Capitol Hill don't expect any other GOP defections besides Paul and believe Pompeo will be confirmed when the vote is brought to the full Senate floor.
TRUMP TO PLAY HARDBALL WITH KIM: President Donald Trump will urge Kim Jong Un to quickly dismantle North Korea's nuclear arsenal when he meets North Korean dictator at their summit, unnamed senior administration officials said in one report. In addition, Trump does not want grant North Korea substantial sanctions relief for the suspension of nuclear and missile tests ... "When the president says that he will not make the mistakes of the past, that means the U.S. will not be making substantial concessions, such as lifting sanctions, until North Korea has substantially dismantled its nuclear programs," a senior Trump administration official told the Wall Street Journal. The Trump administration official's comments come days after Kim announced that his country will be suspending missile testing and closing a nuclear test site.
ICYMI - FOX NEWS EXCLUSIVE: French President Emmanuel Macron insisted Sunday that he has a solid relationship with President Trump, ahead of his Washington visit this week, but also appeared to caution the president about his aggressive stances on Iran, climate change and international trade, in an exclusive "Fox News Sunday" interview ... "You cannot make a trade war with your allies," Macron said. "It's too complicated. If you make war against everybody, you make trade war against China, trade war against Europe, war in Syria, war against Iran -- come on -- it doesn't work. You need allies." Macron spoke ahead of his visit this week to the United States that includes a dinner Monday with wife Brigitte, Trump and first lady Melania Trump. The trip will mark the first time that Trump has hosted an official state visit since taking office last year and will include a state dinner Tuesday night at the White House and Macron making a joint address to Congress on Wednesday.
ROYAL LABOR PAINS: Kensington Palace says Prince William's wife, Kate Middleton, the Duchess of Cambridge, has entered a London hospital to give birth to the couple's third child … The duchess traveled by car on Monday morning to the private Lindo Wing of St. Mary's Hospital in central London. The palace says she was in "the early stages of labor."
AS SEEN ON FOX NEWS WEEKEND
COMEY THE ALLEGED CRIMINAL: "You didn't have a right to leak that information. Once you took those memos out of the building to leak to The New York Times, you, James Comey, committed a crime" – Judge Jeanine Pirro, in her "Opening Statement" on "Justice with Judge Jeanine," outlining how the fired FBI Director James Comey allegedly committed a crime by leaking classified information. WATCH
'ANGEL PARENTS' SEEKING JUSTICE: "Thousands of Americans are being killed at the hands of criminal illegal aliens and [California Gov. Jerry Brown] is protecting them. As a legal immigrant, I would expect my government to protect us American citizens." – Fight Sanctuary State spokesperson Agnes Gibboney, on "Fox & Friends Weekend," explaining a ballot initiative seeking to impose criminal penalties on law enforcement and government officials who don't comply with federal immigration officials. WATCH
THE SWAMP
Hillary Clinton, not on ballot, is star of GOP midterm plan.
Trump slams NBC's 'sleepy eyes' Chuck Todd for 'fake news' comments about North Korea.
Medicare ID scam targets seniors receiving new cards.
ACROSS THE NATION
Syracuse University permanently expels fraternity over 'anti-Semitic' video.
California fault line is 'tectonic time bomb' for disastrous earthquake, researchers say.
Chicago police spot 'elderly' woman pushing another woman's body in shopping cart.
MINDING YOUR BUSINESS
Stock futures point to gains this week | Earnings, earnings and more earnings in the week ahead
Sunday Morning Futures Interview - No official intel used to start FBI probe into Trump campaign-Russia collusion: Rep. Nunes
Trump's next $100 billion tariff dilemma: Hit Walmart or Apple Store?
Amazon to double down on groceries, foray deeper into fresh produce in India.
FOX NEWS OPINION
Michael Goodwin: Lawsuit shows Democrats are getting desperate as Mueller probe stalls.
Andy Puzder: What Trump-haters don't get about the incredible power of American capitalism.
Noah Wall: Here are four ways Republicans can guarantee they lose Congress in November.
HOLLYWOOD SQUARED
Shania Twain says she would have voted for Trump despite his offensive comments.
How 'Smallville' actress Allison Mack tried to lure actress into an alleged sex cult.
Robert De Niro says Donald Trump is one role he'd never play.
DID YOU HEAR ABOUT THIS?
Woman fined $500 for saving free Delta Air Lines snack.
Dog stays with lost 3-year-old girl overnight, leads rescuers to her.
Man bitten by shark, bear, snake in less than four years.
STAY TUNED
On Fox News:
Fox & Friends, 6 a.m. ET: White House Press Secretary Sarah Sanders previews President Trump's meeting with French President Macron; Dan Bongino weighs in on the morning's biggest headlines; actress Candace Cameron Bure on how she shut down a body shamer; a 21-year-old entrepreneur with Down syndrome opens up about his business success.
Tucker Carlson Tonight, 8 p.m. ET: Tentative guests include: Joe diGenova, Mark Steyn and Dan Bongino.
On Fox Business:
Mornings with Maria, 6 a.m. ET: Guests include: House Majority Leader Kevin McCarthy; Raj Shah, White House principal deputy press secretary; Bud Cummins, former U.S. attorney and Avenue Strategies partner.
Varney & Co., 9 a.m. ET: Rep. Jim Jordan; Healy Baumgardner, former spokesman for Trump presidential campaign.
Cavuto: Coast to Coast, Noon ET: Art Laffer, former economic adviser under President Reagan.
After the Bell, 4 p.m. ET: Sen. Chuck Grassley.
Risk & Reward, 5 p.m. ET: Retired Lt. Col. Michael Waltz, former Green Beret commander and Florida congressional candidate.
Lou Dobbs Tonight, 7 p.m. ET: Rep. Mark Meadows; Kelli Ward, Ariz. candidate for U.S. Senate.
On Fox News Radio:
The Fox News Rundown podcast: Is there a way to defeat domestic terrorism? Fox News' Eric Shawn talks with Joseph Connor, co-author of the new book "Shattered Dreams," which tells the story about how the FALN killed his father and three others in a bombing at Fraunces Tavern near Wall Street in 1975. Plus, commentary from "The Five" co-host Juan Williams.
Want the Fox News Rundown sent straight to your mobile device? Subscribe through Apple Podcasts, Google Play, and Stitcher.
The Brian Kilmeade Show, 9 a.m. ET: New York Post columnist Michael Goodwin on why Democrats' lawsuit shows they are getting desperate as the Robert Mueller probe stalls; Steve Hayes on James Comey's media blitz and the latest developments with North Korea; Bret Baier previews his interview with Comey, weighs in on North Korea; Ainsley Earhardt gives the inside story on her new book, "The Light Within Me: An Inspirational Memoir."
#OnThisDay
2005: The recently created video-sharing website YouTube uploads its first clip, "Me at the Zoo," which showed YouTube co-founder Jawed Karim standing in front of an elephant enclosure at the San Diego Zoo.
1968: The Methodist Church and the Evangelical United Brethren Church merge to form the United Methodist Church.
1954: Milwaukee Braves rookie Hank Aaron hits the first of his 755 career major-league home runs in a game against the St. Louis Cardinals.
Fox News First is compiled by Fox News' Bryan Robinson. Thank you for joining us! Enjoy your Monday! We'll see you in your inbox first thing Tuesday morning.