FOX NEWS FIRST: Historic meeting between North and South Korean leaders; Comey denies memos release was a 'leak'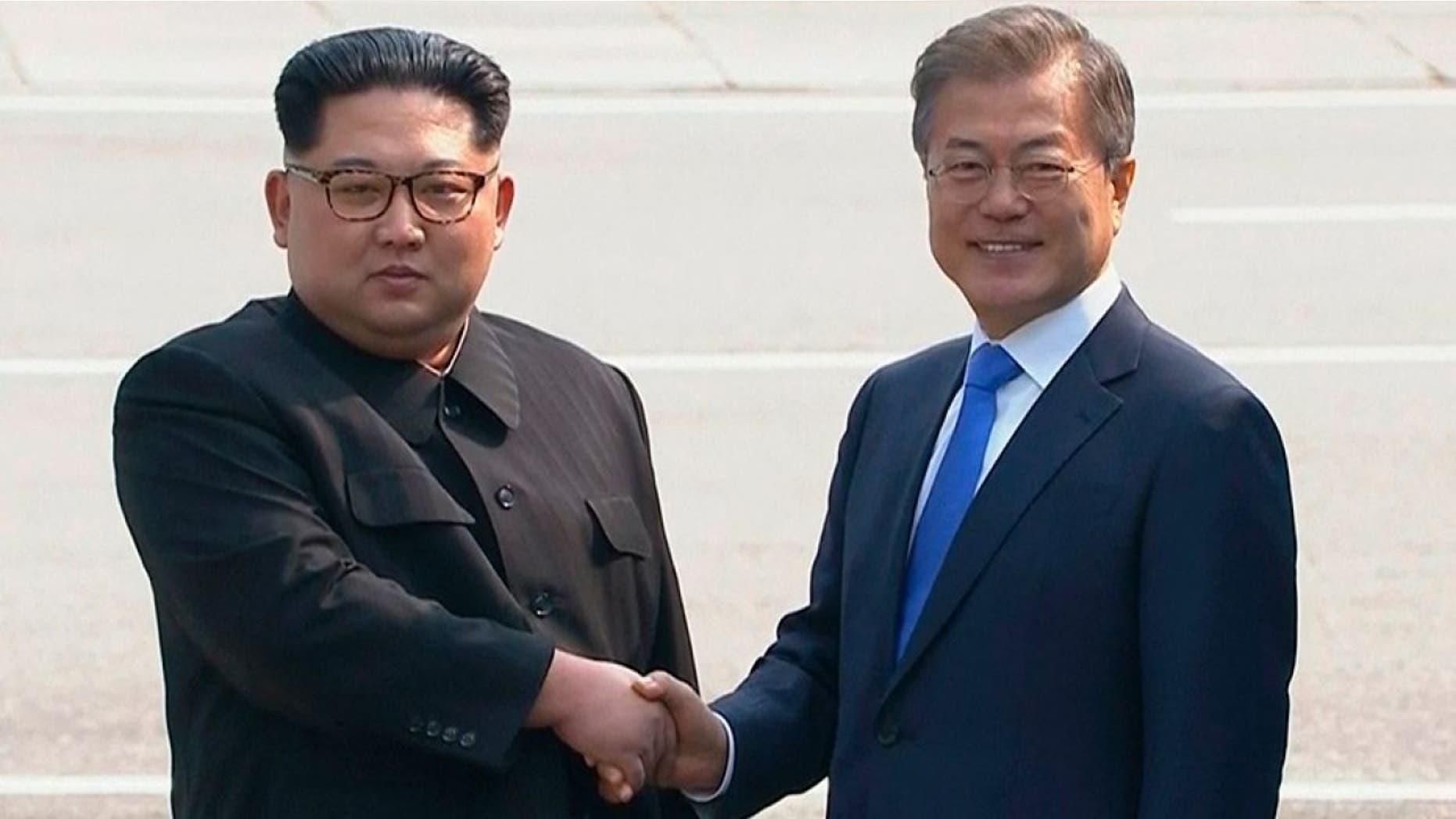 Welcome to Fox News First. Not signed up yet? Click here.
Developing now, Friday, April 27, 2018
North, South Korea agree on denuclearization of peninsula after historic meeting between Kim Jong Un and Moon Jae-in
Fired FBI Director James Comey, in wide-ranging interview with Fox News' Bret Baier, denies his release of memos was a 'leak,' says DOJ watchdog asked about docs
Bill Cosby's lawyers vow to aggressively appeal his conviction after a Pennsylvania jury found him guilty of drugging and sexually assaulting a woman
Legendary NBC News anchor Tom Brokaw denies allegations that he made unwanted advances toward multiple women in the 1990s
The FBI and Maine authorities offer a $20G reward in the killing of a sheriff's deputy as new photos of the suspect emerge
THE LEAD STORY - HISTORY IN THE MAKING: North and South Korea on Friday agreed to work on achieving "a nuclear-free Korean Peninsula through complete denuclearization" ... It is not immediately clear what steps the countries will take to achieve the goal.The announcement came after an historic meeting between South Korean President Moon Jae-in and North Korea's Kim Jong Un.
COMEY GRILLED ON 'LEAKS': Former FBI Director James Comey defended sharing his memos about conversations with President Trump with multiple people, while denying it was a "leak" in an interview with Fox News ... "That memo was unclassified then," Comey told anchor Bret Baier on "Special Report." "It's still unclassified. It's in my book. The FBI cleared that book before it could be published." Comey acknowledged giving the memos to at least three people, including his friend, Columbia University law professor Daniel Richman. He said he sent Richman a copy of the two-page unclassified memo and "asked him to get the substance of it out to the media." "I don't consider what I shared Mr. Richman a leak," Comey said.
In addition to Richman, Comey said he gave the memos to other members of his "legal team," including David Kelly and former U.S. Attorney Patrick Fitzgerald. He also claimed the memos were personal, not official. Comey also told Fox News that the Justice Department's Office of the Inspector General has interviewed him about his handling of the memos.
COSBY'S LEGACY DESTROYED: Lawyers for Bill Cosby promised a strong appeal for the legendary comedian after he was found guilty Thursday of drugging and assaulting a woman, capping off the star's slow demise that began in 2014 when dozens of women began accusing the TV icon of sexual assault ... Cosby could get up to a total of 30 years in prison -- 10 years on each of the three counts. He is likely to get less than that under state sentencing guidelines. Cosby's lawyer, Tom Mesereau, told reporters outside the courthouse: "We don't think Mr. Cosby is guilty of anything and the fight is not over." When asked by reporters if the defense team plans to appeal the verdict, an annoyed Mesereau replied, "Yes, yes. Very strongly."
#TIMESUP FOR TOM?: Retired NBC News anchor Tom Brokaw allegedly made unwanted sexual advances against multiple women in the 1990s, a set of reports revealed Thursday, months after separate accusations took down longtime "Today" anchor Matt Lauer ... According to the Washington Post, Brokaw, now 78, made unwanted moves on Linda Vester, a former NBC correspondent and former Fox News anchor, twice during the 1990s, including a move to forcibly kiss Vester, who was in her 20s at the time. The report also detailed the claims of an anonymous woman who told the outlet Brokaw acted inappropriately toward her during her time as a production assistant in the 1990s. Brokaw was the anchor of "NBC Nightly News" at the time. He has denied all the accusations against him.
MAINE MANHUNT INTENSIFIES: The FBI and authorities in Maine said they're offering a $20,000 reward for information leading to the arrest of the man accused of killing a sheriff's deputy Wednesday morning ... The agency's Boston office tweeted the poster about the wanted individual, John D. Williams, and shared new photos of him, including some that show off a variety of tattoos on his arms and chest. Williams is "considered armed & dangerous," the poster says. The search continued Thursday for Williams, 29, who has been accused of fatally shooting Cpl. Eugene Cole early Wednesday morning on U.S. Route 2 in Norridgewock, about 30 miles north of Augusta, authorities said.
AS SEEN ON FOX NEWS
KANYE EXPOSES THE LEFT:  "[Kanye] West has cracked open the door on the glaring hypocrisy of the left."  – Laura Ingraham, on "The Ingraham Angle," sounding off on the commotion Kanye West has stirred with his open support of conservative activist Candace Owens and President Trump. WATCH
'AMERICA'S DAD' NO MORE: "My heart is broken knowing what he did and knowing what so many [people] invested in that visual of what we thought was a really good man."  – Fox News political analyst Gianno Caldwell, on "Your World with Neil Cavuto," reflecting on Bill Cosby's sex assault conviction. WATCH
NFL DRAFT
Cleveland Browns pick Baker Mayfield No. 1 as NFL Draft sees run on quarterbacks.
NFL Draft: Why Pizza Hut is giving one rookie a year of free pizza.
NFL Draft rookie contract scale: Here's how much each player will earn.
TRENDING
Ex-Clinton adviser censured after roadside rant to NJ police.
Family suing American Airlines over death of 25-year-old woman.
Pro-gun student sues school over dress code, claims it violates First Amendment rights.
Beer in space? Cutting-edge project touts unique zero gravity brew.                                                                              
THE SWAMP
Dem Sen. Menendez 'severely admonished' by Senate ethics committee, told to repay gifts.
Pruitt admits knowing about controversial raise, despite past denial.
Paul Ryan forces out House priest because he 'aligned with Democrats': report.
ACROSS THE NATION
Migrant 'caravan' gathers on US-Mexico border for final push.
Deputies have 'no confidence' in Broward County Sheriff Israel following Parkland, Fla., massacre.
Severed heads found in Texas, Louisiana may be part of the same case, police say.
MINDING YOUR BUSINESS
Economy started year slowly, but will likely pick up pace, market watchers say.
Trump, Merkel to tackle steel tariffs as critical deadline looms.
Amazon hikes Prime annual price to $119.
Wells Fargo under fire for retirement plan practices: report.
FOX NEWS OPINION
Sen. Chuck Grassley: Sentencing reform bill will fight crime.
Cutting federal prison terms would endanger communities and reward criminals.
Marc Thiessen: Macron and Trump don't agree on much -- Yet Dems have a lot to learn from the French president.
HOLLYWOOD SQUARED
Kanye West rips John Legend for using 'tactic based on fear' to criticize rapper's Trump support.
'Avengers: Infinity War' on pace to be the highest-grossing movie of all time.
Brad Pitt working on film about Harvey Weinstein despite history with him.
DID YOU HEAR ABOUT THIS?
Pic of teens' pre-prom prayer sparks anger.
Could an 'insane' Russian nuclear torpedo cause 300-foot tidal waves?
Sharks, crocodile spotted feasting on whale in 'rare' drone video.
Museum shocked to discover giant egg in collection is real.
STAY TUNED
On Fox News: 
Fox & Friends, 6 a.m. ET: Guests include: Diamond & Silk; Kurt the "CyberGuy"; Pastor Darrell Scott; Counselor to President Trump Kellyanne Conway; Steve Hilton; Fox Business host Stuart Varney.
On Fox Business:
Mornings with Maria, 6 a.m. ET: Corey Lewandowski; U.S. Rep. Chris Collins, R-N.Y.; Karl-Theodor zu Guttenberg, former Federal Minister of Defence under Merkel; Stephen Schwarzman, Blackstone chairman and CEO.
Varney & Co., 9 a.m. ET: U.S. Sen. Bill Cassidy, R-La.; Marcus Lattimore, former NFL star; Stephen Sweeney, New Jersey state Senate president.
Cavuto: Coast to Coast, Noon ET: John Lonski, Moody's chief economist; U.S. Rep. Chris Stewart, R-Utah.
Risk & Reward, 5 p.m. ET: Karl Rove; Gordon Chang, author of "The Coming Collapse of China."
On Fox News Radio:
The Fox News Rundown podcast: North Korean leader Kim Jong Un and South Korean leader Moon Jae-in net for a historic summit at their shared border. Historian Gordon Chang weighs in on the talks and what the impact might be for a possible U.S. – North Korean summit. "Fox & Friends" co-host Ainsley Earhardt joins us to talk about her new memoir, "The Light Within Me." She explains how she found God and how her faith has played a major role in her life. Plus, commentary from "Fox News Sunday" host Chris Wallace.
Want the Fox News Rundown sent straight to your mobile device? Subscribe through Apple Podcasts, Google Play, and Stitcher.
The Brian Kilmeade Show, 9 a.m. ET: Geraldo Rivera and Michael Loftus on the Kanye-Trump alliance; Shannon Bream on Cosby's sex assault conviction, the latest from the U.S. Supreme Court and Comey's potential legal trouble; Bret Baier on his takeaway from his interview with James Comey.
On Fox News Weekend: 
Legends & Lies: The Civil War, Sunday, 8 p.m. ET: "Gettysburg: The High Water Mark" - The North turns back the South's invasion after a heroic bayonet charge led by Maine's Joshua Chamberlain -- and the doomed Confederate charge led by General George Pickett.
Life, Liberty & Levin, Sunday, 10 p.m. ET: Host Mark Levin sits down with author and academic, David Berlinski, a senior fellow of the Discovery Institute's Center for Science and Culture. They will explore the limits of science; discuss evolution and Berlinski's defense of religious thought.
#OnThisDay
1982: The trial of John W. Hinckley Jr., who shot four people, including President Ronald Reagan, begins in Washington, D.C. (The trial would end with Hinckley's acquittal by reason of insanity.)
1978: Convicted Watergate defendant John D. Ehrlichman is released from an Arizona prison after serving 18 months.
1968: Vice President Hubert H. Humphrey declares his candidacy for the Democratic nomination for president, less than a month after President Lyndon B. Johnson said he would not run for re-election.
Fox News First is compiled by Fox News' Bryan Robinson. Thank you for joining us! Enjoy your day and weekend! We'll see you in your inbox first thing Monday morning.