FOX NEWS FIRST: Grammy winner blasts Oprah for hypocrisy; Border wall or bust for Trump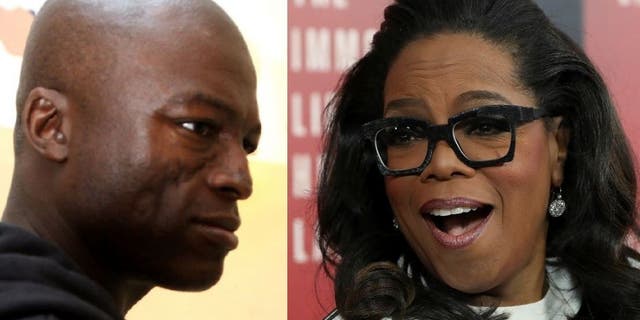 Welcome to Fox News First. Not signed up yet? Click here.
Developing now, Thursday, Jan. 11, 2018:
Singer-songwriter Seal calls out Oprah for hypocrisy in Hollywood's sexual misconduct problem
President Trump reiterates that he will agree to an immigration deal with Congress only if it includes funding for his long-promised border wall
Trump blasts Russian collusion allegations as a Democratic "hoax," casting doubt that he'll meet with Special Counsel Robert Mueller's investigators
Fox News Exclusive: Vice President Pence promises the Trump administration will continue to put pressure on North Korea ahead of next month's Winter Olympics in South Korea 
THE LEAD STORY: Grammy-winning singer-songwriter Seal doesn't seem to be on the "Oprah 2020" bandwagon. The musician trashed Winfrey on social media just days after her widely praised speech at the Golden Globe Awards on sexual misconduct in Hollywood, calling her a "part of the problem for decades." ... In a fiery Instagram post Wednesday, Seal republished a pair of photos of Winfrey with disgraced movie mogul Harvey Weinstein, including one in which she is seen kissing the producer's cheek. Overlayed on the photos, in all-caps, is the text: "When you have been part of the problem for decades, but suddenly they all think you are the solution."
Seal isn't the only celebrity with misgivings about a potential Oprah presidential campaign. Comedian and "Family Guy" creator Seth MacFarlane also has spoken out, cautioning that celebrity power does not alone qualify a candidate for the presidency.
BORDER WALL OR BUST: President Trump flatly said Wednesday he will agree to an immigration deal with Congress only if it includes funding for his long-promised wall along the U.S- Mexico border ... Asked whether he would sign a deal that does not include wall funding, Trump said: "No, it's going to include the wall ... Any solution has to include the wall because without the wall it all doesn't work." Trump added, "We need the wall for security. We need the wall for safety. We need the wall for stopping the drugs from pouring in." The president's comments came one day after a lengthy bipartisan immigration meeting with lawmakers facing a Jan. 19 deadline to avoid a government shutdown.
'NO COLLUSION,' TRUMP SAYS: President Trump on Wednesday cast doubt on the possibility that he will be interviewed by Special Counsel Robert Mueller's team, saying it won't be necessary since there was "no collusion" between his campaign and the Russians ... "When they have no collusion, and nobody has found any collusion at any level, it seems unlikely that you would even have an interview," Trump said, when asked if he's willing to meet with Mueller. The president made the comments during a joint White House press conference with Prime Minister Erna Solberg of Norway. He railed against the "phony" Russia investigation, saying it has harmed the United States.
FOX NEWS EXCLUSIVE: Vice President Mike Pence promised that the Trump administration would "continue to bring maximum economic and diplomatic pressure" on North Korea in response to the totalitarian nation's ballistic and nuclear missile programs as he prepares to lead the U.S. delegation to next month's Winter Olympics in South Korea ... Pence also told "The Story with Martha MacCallum" that past administrations had allowed North Korea to build up its arsenal through "patience and negotiation." "That's unacceptable," said the vice president, who admitted that the North's weaponry "may well threaten the United States of America as we speak."
AS SEEN ON FOX NEWS
DACA FIGHT NOT OVER: "If the judge gives you a lemon, Mr. President, make lemonade." – Judge Andrew Napolitano, on "Outnumbered Overtime," arguing that President Trump should not be upset about a federal judge's decision to temporarily block his efforts to end DACA because this could actually help him achieve comprehensive immigration reform. WATCH
WARREN IN THE DARK?: "[I'll tell you exactly where the energy is in the Democratic Party— it's down at the grassroots!" – Sen. Elizabeth Warren, on "Special Report," responding to challenges to her opposition to Trump's tax reform law after a Massachusetts utility company announced the legislation moved them to cut rates to her constituents. WATCH
ACROSS THE NATION
Obama White House's foreign lavish gifts revealed | Report: Obama appointee billed public for at least $4,000 in cab rides
Ex-Soros financier accused of raping fourth woman in penthouse sex dungeon.
Video of Afghanistan shooting prompts US military investigation.
Girl dies from infection misdiagnosed as flu, family says.
CES 2018
Power outage hits CES, social media mocks electronics show.
Floyd Mayweather Jr. unveils new boxing VR experience.
CES 2018: Five coolest things we've seen so far
MINDING YOUR BUSINESS
GE CEO feud: Welch vs. Immelt.
Ford puts auto emergency brakes on two 2019 models.
Circuit City plots comeback with website relaunch, smaller stores.
NEW IN FOX NEWS OPINION
Janice Dean: Dear viewer, MS taught me that my big strong legs are not ugly.
Judge Andrew Napolitano: Congress plotting to cut a hole in the Fourth Amendment, again.
Trump faces big Iran decisions soon. Here's what he should do.
HOLLYWOOD SQUARED
Dolly Parton drops "Dixie" from name of Stampede dinner shows, citing cultural concerns.
Report: Mark Wahlberg knew he was paid 1,000 times more than Michelle Williams for 'All the Money' reshoots.
Charlie Daniels warns Taco Bell: "The illuminati is not a frivolous subject."
DID YOU HEAR ABOUT THIS?
American Kennel Club adds two breeds to roster, first since 2016
Airline error results in woman's solo flight.
Prehistoric "paradise" with trove of flint axes discovered in Israel.
STAY TUNED
On Fox News:
Fox & Friends, 6 a.m. ET: Judge Andrew Napolitano on the legal battle over President Trump's efforts to end DACA; Pastor Darrell Scott discusses Trump's listening session on prison reform.
The Ingraham Angle, 10 p.m. ET: Sara Carter has new info on the Trump-Russia dossier scandal.
On Fox Business:
Mornings with Maria, 6 a.m. ET: Ed Rensi, former CEO of McDonald's USA, on tax reform; Tom Homan, acting ICE director, on Trump's immigration negotiations with Democrats.
Varney & Company, 9 a.m. ET: Ariz. Rep. Martha McSally on immigration reform and whether she will run for Jeff Flake's senate seat and Fatburger CEO Andy Wiederhorn on the tax cut bill's impact.
Cavuto: Coast to Coast, Noon ET: Ala. Gov. Kay Ivey on her announcement that a Toyota-Mazda plant will be built in Huntsville.
On Fox News Radio:
The Fox News Rundown podcast: Both Republicans and Democrats are attempting to hammer out a DACA bill and President Trump seems willing to sign it if it includes funding for a border wall. Reps. Jeff Denham and Henry Cuellar, discuss the road ahead. The FBI continues to look for a way to hack into phones of alleged terrorists, but none of the tech giants have assisted in cracking encryption. Former FBI investigator Bill Daley weighs in on the growing issue.
Plus, commentary by Fox News contributor Tammy Bruce.
Want the Fox News Rundown sent straight to your mobile device? Subscribe through Apple Podcasts, Google Play, and Stitcher.
The Brian Kilmeade Show, 9 a.m. ET: Conservative filmmaker Ami Horowitz talks about his new video where he asks everyday Americans if selected lines are from the Communist Manifesto or the Democratic Party platform. Chris Wallace tackles the hottest political topics of the day and previews the next "Fox News Sunday."
#OnThisDay
2008: Former Olympic gold medalist Marion Jones is sentenced to six months in prison for lying to investigators about using performance-enhancing drugs and her role in a check-fraud scam.
1989: Nine days before leaving the White House, President Ronald Reagan bids the nation farewell in a prime-time address, saying of his eight years in office: "We meant to change a nation and instead we changed a world."
1964: U.S. Surgeon General Luther Terry issues "Smoking and Health," a report which concludes that "cigarette smoking contributes substantially to mortality from certain specific diseases and to the overall death rate."
Thank you for joining us on Fox News First! Enjoy your day, and we'll see you in your inbox first thing Friday morning.