FOX NEWS FIRST: Florida community mourns; Did FBI overlook warnings about school shooting suspect?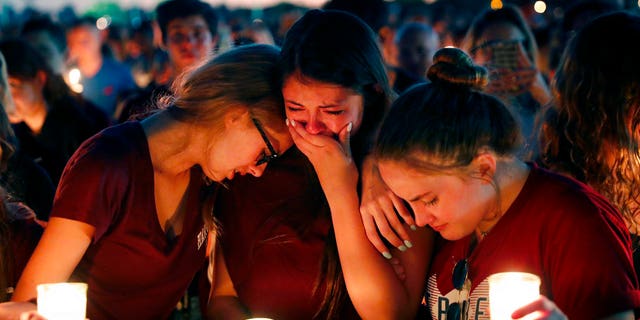 Welcome to Fox News First. Not signed up yet? Click here.
Developing now, Friday, Feb. 16, 2018
Hundreds attend a candlelight vigil in Parkland, Fla. to mourn the victims of Wednesday's school shooting that left 17 dead. Meanwhile, the motive for shooting suspect Nikolas Cruz remains unknown 
Nikolas Cruz reportedly tells authorities voices in his head told him how to carry out the deadly school shooting
Multiple immigration plans are blocked in the Senate Thursday as President Trump rejects one proposal, leaving lawmakers at an impasse and Dreamers facing potential limbo
Mitt Romney expected to formally announce his run for the U.S. Senate on Friday
THE LEAD STORY - A COMMUNITY MOURNS AND SEARCHES FOR ANSWERS: Hundreds of people gathered in Parkland, Fla. for a candlelight vigil Thursday night to mourn the victims of the school shooting that left 17 dead as the community and investigators search for answers ... Some mourners sobbed openly as the victims' names were read aloud. Dressed in Marjory Stoneman Douglas High School's red color, some held flowers while others wielded signs asking for action to fight school violence, including gun control. Investigators have not publicly identified a motive for suspect Nikolas Cruz's shooting rampage. Cruz had been kicked out of the high school. Students who knew him described a volatile teenager acted strange, talked about killing animals, and posed with guns in disturbing photos on social media. Still, it appears warning signs may have been overlooked. In September, a YouTube user with the screen name "Nikolas Cruz" posted, "Im going to be a professional school shooter." Benjamin Bennight, a Mississippi bail bondsman, was so concerned about the comment, he contacted the FBI. Two FBI agents visited Bennight the next day, but officials never spoke to Cruz.
THE SUSPECT'S 'DEMONS': Nikolas Cruz, who confessed to being the gunman in Wednesday's deadly Florida school shooting, according to his arrest affidavit, told authorities that voices in his head told him how to carry out the ambush that left at least 17 people dead, ABC News reported ... Law enforcement sources referred to the alleged voices as "demons," according to the outlet, and said Cruz, 19, claimed that they told him what he needed to do to launch the deadly assault.
BACK TO THE DRAWING BOARD ON BIPARTISAN IMMIGRATION REFORM: Senators on Thursday blocked all four plans dealing with immigration as President Trump torpedoed one proposal as "a total catastrophe" and his Department of Homeland Security lambasted it as the "end of immigration enforcement in America." ... During a series of afternoon procedural votes, no immigration amendments crossed the 60 vote threshold that would have cut off debate and paved the way for final votes. The effort to pass immigration legislation comes as Democrats seek a DACA agreement to protect young illegal immigrants brought to the country as children and Trump demands funding for a long-promised border wall. Congress is now on break until Feb. 26.
THE RETURN OF MITT ROMNEY: Former Republican presidential candidate Mitt Romney is expected to announce his bid to run for the U.S. Senate seat in Utah on Friday ... Romney was supposed to announce his campaign Thursday in a video posted online but pushed off the announcement "out of respect" for the high school shooting victims and their families in Parkland, Fla. He instead will make his official announcement Friday, just before giving a speech to the Utah County GOP later that night, Fox News has learned. The former governor of Massachusetts is looking to replace Sen. Orrin Hatch, R-Utah, who announced his retirement earlier this year.
AS SEEN ON FOX NEWS
'PLEASE HELP ME': "There was this kid. You could hear him all throughout the hallways. He was saying, 'Please, please help me. Please let me in.' And it was the most heartbreaking thing, because you couldn't let him in. You couldn't help him. Unfortunately, he passed away." – Haley Betancourt, a student at Marjory Stoneman Douglas High School, on "The Story with Martha MacCallum," giving her harrowing eyewitness account of the deadly high school shooting in Parkland, Fla. WATCH
'WE'RE FAILING OUR CHILDREN': "We have all of the resources in the world and we can't figure out why this happens in our country and doesn't happen everywhere else? Why can't they put the best and the brightest together to research it and figure it out and help us stop it? [We're] failing our children." – Shepard Smith, on "Shepard Smith Reporting," lamenting on how common school shootings - and mass shootings in general - have become in the U.S. WATCH
THE SWAMP
VA Secretary Shulkin to pay back some travel expenses after Europe trip faulted.
Colorado Sen. Gardner to stop blocking some DOJ nominees over pot policy.
Schiff threatens contempt against Steve Bannon.
2018 WINTER OLYMPICS
Olympic snowboarder breaks neck.
Pyeongchang Olympic Village cafeteria has an 18-page menu.
U.S. medal winners | Full coverage

ACROSS THE NATION
Ex-New York City teacher, twin brother, arrested for allegedly using students to help make bombs.
Mother of suspect in stabbing of teen left for dead says he's innocent, blames son's fiancée.
Illegal immigrant minor suggests she faced pressure to get abortion on federal dime.
MINDING YOUR BUSINESS
SEC denies Chicago Stock Exchange sale to China-based investors.
Dow returns to 25,000 as stocks mount rally.
Sears takes hit as value of name drops.
NEW IN FOX NEWS OPINION
Dr. Manny Alvarez: After Florida shooting, we must do something -- Students need mental health screenings.
Why are we so hesitant to tell the massive Olympic audience about North Korea's horror?
Newt Gingrich: Here's how to balance the federal budget in the next decade.
HOLLYWOOD SQUARED
Is 'Black Panther' worth your box office dollars?
Jennifer Aniston announces split from Justin Theroux.
Report: Jeffrey Tambor will not return to 'Transparent' following sexual harassment allegations.
DID YOU HEAR ABOUT THIS?
Restaurant cooks up world's largest delivery pizza.
Human/AI hybrids and gene editing are going to change mankind in a big way.
PHOTO: 'Sad' library dog goes viral, gets friends.
STAY TUNED
On Fox News:
Fox & Friends, 6 a.m. ET: Pastor Paula White discusses making sense of tragedy in the Florida school shooting. Plus, what should you do if you see something threatening on the internet? Kurt the "CyberGuy" provides insight.
The Story with Martha MacCallum, 7 p.m ET: Florida Attorney General Pam Bondi on the latest developments in the school shooting massacre.
Sunday Exclusives on Fox News:
Sunday Morning Futures with Maria Bartiromo, 10 a.m. ET: U.S. Attorney General Jeff Sessions will discuss the implications of the Parkland, Fla. shooting, immigration reform and more.
Fox News Sunday, 2 p.m. and 10 p.m. ET: Rush Limbaugh sits down with Chris Wallace for an exclusive, wide-ranging interview!
On Fox Business:
Mornings with Maria, 6 a.m. ET: Guests include: Hogan Gidley, White House deputy press secretary; Rep. Tom Reed.
Varney & Company, 9 a.m. ET: Rep. Ted Budd.
Cavuto: Coast to Coast, Noon ET: Rep. John Rutherford; Rodney Slater, former Secretary of Transportation under President Clinton.
On Fox News Radio:
The Fox News Rundown podcast: Many are searching for answers after Wednesday's school shooting in Parkland, Fla. Two top experts discuss how to identify warning signs and what to do to prevent more attacks. South Korea and North Korea may have worked as a team for the Olympics, but becoming one country is an entirely different conversation. Fox News' Simon Owen is in Seoul for the games and spoke to Koreans about the possibility of unification. Plus, commentary by Episcopalian priest Scott Gunn.
Want the Fox News Rundown sent straight to your mobile device? Subscribe through Apple Podcasts, Google Play, and Stitcher.
The Brian Kilmeade Show, 9 a.m. ET: Geraldo Rivera is in Florida with the latest on the school shooting that killed 17 people; Chris Whipple on the woes facing White House Chief of Staff John Kelly; Rep. Randy Weber, David Avella and Chris Stirewalt on the struggle for a bipartisan immigration agreement.
#OnThisDay
1968: The nation's first 911 emergency telephone system is inaugurated in Haleyville, Ala., as the speaker of the Alabama House, Rankin Fite, places a call from the mayor's office in City Hall to a red telephone at the police station (also located in City Hall) that is answered by U.S. Rep. Tom Bevill.
1959: Fidel Castro becomes premier of Cuba a month and a-half after the overthrow of Fulgencio Batista.
1923: The burial chamber of King Tutankhamen's recently unearthed tomb is unsealed in Egypt by English archaeologist Howard Carter.
Fox News First is compiled by Fox News' Bryan Robinson. Thank you for joining us! Enjoy your Friday and President's Day weekend! We'll see you in your inbox first thing Monday morning.