Disbarred lawyer, 74, suspected of gunning down South Carolina cop: police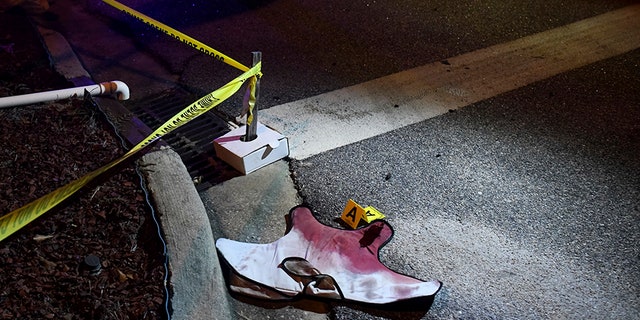 Police investigating the shooting that killed a law enforcement officer and wounded several others in South Carolina have identified the suspected gunman as 74-year-old Frederick Hopkins -- a disbarred lawyer who, according to reports, boasted on social media about being a competitive marksman.
Tributes to the fallen officer, Terrence Carraway, continued to pour in Thursday as the Florence County Sheriff's Office identified the suspect and told Fox Carolina they initially were drawn to the home in Florence to serve a warrant for a 27-year-old accused of sexually assaulting a minor.
Hopkins, meanwhile, is currently hospitalized with a head injury and police have not yet been able to speak to him, according to WIS News 10. The minor, police say, was a foster child inside the home.
The Associated Press reported that Hopkins is a disbarred lawyer who has been charged several times in recent years, starting with a 2014 count of disorderly conduct, followed by charges in 2015 and 2017 for "running at large," an offense related to failing to restrain animals.
South Carolina Bar records show Hopkins used to be a lawyer, but lost his license decades ago over $18,000 in wrongfully collected attorney fees.
A court order showed that in 1984, the state Supreme Court allowed Hopkins to pay back the debt over time and surrender his license rather than complete a six-month jail term. But then the court said Hopkins was ordered to jail and spent more than two weeks there after failing to return the money -- before it allowed his wife, fellow attorney Cheryl Turner Hopkins, to be held jointly liable for paying it back.
Hopkins also is a military veteran who had been receiving payments after being wounded in the Vietnam War, the Associated Press reported, citing court records in a divorce case involving him and his former wife.
SOUTH CAROLINA SHOOTING LEAVES 1 OFFICER DEAD, 6 OTHERS WOUNDED: POLICE
Authorities have not described what weapons were involved in the shooting, but Hopkins apparently owned several guns. A 2014 post on his Facebook page, according to the Associated Press, said he celebrated his 70th birthday at a shooting range by repeatedly firing his M-14 rifle, set up exactly like the one he used in Vietnam.
"I have been shooting competitively since 1984 and lovin' it. I just love the smell of gunpowder in the mornin's," said the post. Other posts from 2016 show images of rifles set up on what looks like a range and say he was the "South Carolina 3-Gun Silhouette Champion for 2011."
The motive for the attack, as of Thursday afternoon, remains unknown. Richland County Sheriff Leon Lott -- the sheriff leading the investigation -- said the focus is on taking care of those who have been shot and their families.
The incident began around 4 p.m. Wednesday as officers arrived at the property – allegedly belonging to Hopkins – to carry out a search warrant. But instead of cooperating, the shooter barricaded himself in the home with children and started spraying bullets across the neighborhood, police said.
Six officers were wounded in the standoff, and Carraway, a 52-year-old from Darlington who had just been honored for his 30 years of service with the Florence Police Department, was killed.
OFFICERS KILLED IN THE LINE OF DUTY IN 2018
"These officers went there unknowing the firepower the suspect had," Florence County Sheriff Kenney Boone told reporters following the two-hour standoff, which ended with the gunman releasing the children and being taken into custody.
"The way this suspect was positioned, his view of fire was several hundred yards," Boone added. "So he had an advantage. The officers couldn't get to the ones who were down."
Police brought in an armored personnel carrier to recover the wounded. They say three Florence County deputies were fired on first, then another four from the city of Florence, which included Carraway, were struck while trying to help out.
Florence Police Chief Allen Heidler described Carraway on Thursday as his "friend" and "brother."
"He was the epitome of a community police officer," Heidler said. "He loved this community, he gave it his all."
FAMILY OF BLACK TEEN KILLED BY TEXAS COP SLAM HIS 15-YEAR SENTENCE
Investigators said the shootings unfolded in Vintage Place, an upscale neighborhood in the western part of the city.
It marked the second shooting of multiple police officers in South Carolina this year. In January, a 47-year-old former banker shot four officers in York County, killing one, after his wife called 911 to report he beat her. Christian McCall pleaded guilty and was sentenced to life without parole.
Florence, a city in South Carolina's northeastern corner home to roughly 37,000, sits at the convergence of Interstates 95 and 20. It's the largest city in the region known as the Pee Dee, where flooding from Hurricane Florence devastated areas to the east and south.
The Associated Press contributed to this report.
The Associated Press contributed to this report.