California city grapples with spike in killings, violent crime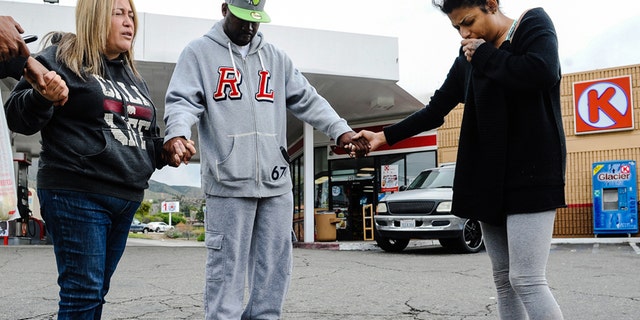 SAN BERNARDINO, Calif. – When Betty Saffi moved to San Bernardino a year ago she was thrilled to slash her commute and slice $400 off her monthly rent.
Now, the 57-year-old medical marketing saleswoman is yearning to leave. She said drugs are peddled in broad daylight outside her home, a naked woman sifts through a nearby trash bin and she reads news headlines almost daily about shootings in the city 55 miles east of Los Angeles.
"There's killings almost every day," said Saffi, who moved from neighboring Riverside County. "You just have to watch yourself."
The city of 216,000, which has struggled to emerge from bankruptcy and still is trying to recover from the shock of last December's terror attack that killed 14, is grappling with a spike in violent crime and, especially, homicides. So far this year, the city has reported 49 killings, already more than last year's total which included the terrorism victims.
Police Chief Jarrod Burguan said the crime wave isn't unique to the city, where empty storefronts and pawn shops have long lined downtown streets. While violent crime is nowhere near the levels of the 1990s, many major cities — most notably Chicago — are seeing big jumps in homicides.
In San Bernardino, Burguan said California's relation of certain drug penalties and a shortage of local police officers have helped fuel the increase.
"It was much easier before to flood the streets when we see an increase," he said, adding that most killings are retaliations for recent crimes. "Right now, we do not have the capacity."
In more than 70 percent of the city's homicides this year, the suspect had a criminal record, and in more than 60 percent of cases, so did the person killed, he said.
Burguan said he's fusing his drug and gang teams to try to bolster crime-fighting. He's also hiring 30 new police officers and hopes to bring the 220-officer force back up to at least 300 once San Bernardino emerges from federal bankruptcy protection.
City spokeswoman Monica Lagos said that could happen next year. Already, San Bernardino is restoring services lost during the downturn such as youth sports and economic development. That should help boost public safety, but the rash of killings doesn't aid efforts underway to draw new business, she said, noting the recent additions of a new medical center and retail.
Television news crews converged Thursday on the neighborhood where a bloodied, 29-year-old man was arrested a night earlier wearing only socks and shoes after another man was found dead in the backyard of a single-story home. Neither one was from San Bernardino, but the incident occurred on a street lined with chain link fences and broken down cars — a rundown neighborhood that draws a stark contrast to shiny new developments erected elsewhere in the sprawling suburbs east of Los Angeles.
San Bernardino has long struggled with poverty and was hard hit by foreclosures and dwindling tax revenues following the economic downturn in 2008. About a third of the city's residents are poor — making its poverty rate twice that of the state of California, according to Census Bureau estimates.
The city filed for bankruptcy in 2012 after having difficulty making payroll despite steep cuts to the budget.
Burguan said his department had 350 officers in 2009 but was forced to downsize due to the city's economic woes. Historically, homicides were high during the 1990s and early 2000s but extra policing had helped curtail the cycle of crime, he said.
Not all neighborhoods in San Bernardino are marked by the violence but residents everywhere are concerned about the recent spike in killings, said Amelia Lopez, president of the city's Neighborhood Association Council. She said neighborhood groups are trying to work with local crime watchers to help step up public safety.
Restaurant owner Tony Canul has lived in San Bernardino for more than three decades and remembers when life was quieter, and neighbors knew each other. After the housing crisis hit, families lost their homes and moved away, and property companies began renting them to newcomers who brought loud music and trouble, he said.
In recent years, business has slowed a little at Canul's downtown restaurant, Molly's Cafe, with fewer city employees to feed. In 2011, his teenage nephew was shot and killed.
Still, the 52-year-old can't imagine going anywhere else, saying violence isn't confined to his hometown but can be seen across the country on nightly newscasts.
"It's scary, but what are you going to do?" Canul said. "There's no place to hide."