Arizona officers on leave after video shows man being pummeled
A video released Tuesday by the Mesa Police Department show police officers repeatedly punching and kneeing a man before he is pulled to the ground by other officers.
The 15-minute video, captured by an apartment surveillance camera, also shows another officer shoving the man's head into an elevator door after he was handcuffed and zip-tied.
Mesa Police Chief Ramon Batista told AZCentral.com the man did not follow officers' orders to sit down, but that the use of force did not appear to be necessary based on his review of the footage.
"I don't feel that our officers were at their best," Batista said. "I don't feel this situation needed to go the way that it went."
Four officers, who have not been identified, are on leave pending the results of an investigation, Batista confirmed.
NEW JERSEY OFFICERS WON'T FACE CRIMINAL CHARGES FOR BEACH ALTERCATION, PROSECUTOR SAYS
Law enforcement in Mesa identified the man who was beaten as 33-year-old Robert Johnson, who was arrested on suspicion of disorderly conduct and hindering after the May 23 incident.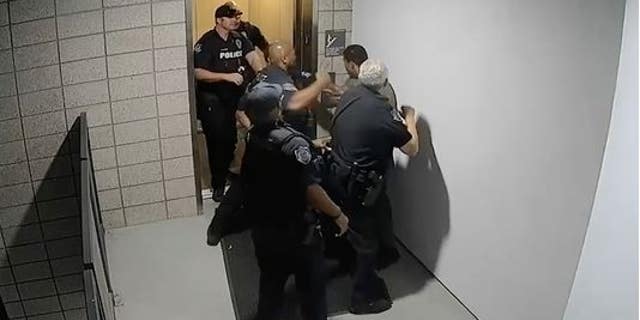 The video's release comes amid renewed scrutiny of Mesa police and other police departments nationwide over their use of force. Batista said he wanted to release the video before it surfaced online and to provide context.
"The images of the video are powerful and I thought it was paramount that you hear it from me with respect to how I feel about it and what I'm going to do to ensure this doesn't happen again," he told The Arizona Republic.
According to AZCentral.com, the incident began when police received a call of a woman in distress in the area. The video depicts several officers approaching Johnson, who is on his cell phone on a fourth-floor apartment deck.
The officers are seen pointing to the wall, which Johnson walks over to. Three of them are seen punching him and one of them knees him.
"Just for the casual observer this isn't going to look right."
Seven minutes after the officers handcuff Johnson and zip tie his feet, one officer shoves his head into an elevator door as they escort him into the elevator.
At the video's conclusion, one officer wraps a white cloth around Johnson's face before three others pick him up by his legs and arms and carry him into the elevator.
Although Batista declined to say whether Johnson was being uncooperative. He did say: "Just for the casual observer this isn't going to look right."
CUSTOMS OFFICER INVOLVED IN 'RAPE TABLE' INCIDENT PLEADS GUILTY, 2 OTHER INDICTED
In a statement released on Tuesday, the two attorney who are representing Johnson criticized the officers' treatment of their client and said he did nothing to provoke the officers.
"The misconduct of these officers would have gone unnoticed if it had not been captured by surveillance videos at the apartment complex where the assault occurred," the statement says. "We hope and pray that the Mesa Police Department will accept responsibility for the misconduct of these officers. Mesa must take concrete steps to ensure that culpable officers are disciplined, retrained, or dismissed."
In December, former Mesa police officer Philip Brailsford was found not guilty in the 2016 shooting death of Daniel Shaver, who was on his knees, unarmed and pleading for his life. In February, the family of an 84-year-old grandmother posted images of a woman's bruises after a Mesa officer grabbed her and took her down.