APNewsBreak: Man confesses to police that Vegas mother wasn't target in neighborhood shooting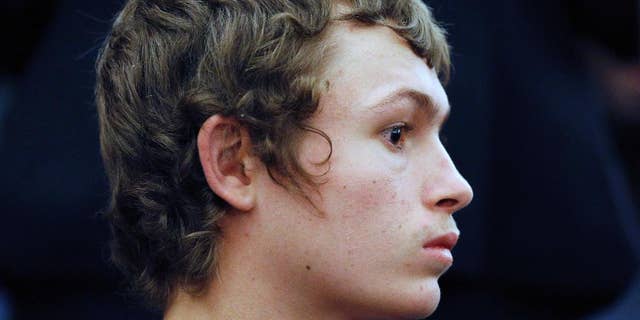 NEWYou can now listen to Fox News articles!
LAS VEGAS – The 19-year-old man accused of fatally shooting a mother in a Las Vegas neighborhood said he mistook her for drug thugs who had threatened him and his family, according to a taped confession that defense attorneys want tossed out of the puzzling murder case initially thought to be a road-rage killing.
Erich Milton Nowsch Jr. is heard at first denying involvement and then tearfully apologizing to the family of Tammy Meyers, 44. He said in the interview with Las Vegas police on a nearly three-hour recording obtained by The Associated Press that he knew the Meyers family well and had even been to their home for dinner.
"My intentions were to take someone bad out, not a loving, caring mom," Nowsch said. "My intention was to take someone who was going to hurt my family out, not someone's mom, not Tammy."
Nowsch faces murder, attempted-murder, weapons and conspiracy charges in the February slaying in a cul-de-sac west of downtown Las Vegas. He and co-defendant Derrick Andrews, 27, who is accused of driving Nowsch, have pleaded not guilty.
In the taped interview, Nowsch opens up to investigators, talking about his rap music, family, drug use and dealings, and how he ended up firing shots that night. The thoughts he conveyed ranged from scared and remorseful to paranoid — at one point, he theorized that one of Meyers' sons was helping an enemy out to kill him.
Nowsch's attorneys say he wasn't fit to be interviewed by investigators. Defense lawyer Augustus Claus said Thursday that because Nowsch smoked marijuana while police were outside his home, his statements to police several hours later "may not have been accurate."
A judge is expected to consider the motion at a hearing Aug. 21. Nowsch's trial is scheduled to begin Oct. 19.
Prosecutor David Stanton rejects the defense's argument, saying there is overwhelming evidence that Nowsch fatally shot Meyers. He says Nowsch also confessed to some friends, who will be called as witnesses.
"They don't have a leg to stand on," Stanton said.
The Feb. 12 shooting appears to have resulted from a series of misunderstandings and coincidences, and parts of the case remain fuzzy. Investigators believe Meyers died in a barrage of gunfire outside her home after an initial confrontation with another driver.
That night, she was teaching her 15-year-old daughter how to drive in a parking lot when that driver, who has never been found or identified, apparently threatened to kill the mother and daughter. Meyers' family said she was upset and afraid when she dropped her daughter off and picked up her son, who came armed with a gun.
They drove around the neighborhood to confront that driver. Meanwhile, Nowsch said he had been walking in a park when he noticed a car following him. He was on edge because he had been dodging death threats linked to drug deals and street disputes and wanted to protect himself and his mother, baby sister and cat, Nowsch told detectives.
He said he called a friend to pick him up. Nowsch said he tried to scare off the car following them by flashing his gun, but he got upset when he saw the car near his house, one street over from the Meyers' home.
He said about the car: "Why would you drive past my house? Why wouldn't you go home?"
Nowsch said he doesn't remember exactly what happened next but that he fired several bullets at a car in one location before ending up in the cul-de-sac, where he emptied an entire clip.
He said he took off, tossing his jacket and a backpack containing the gun.
His account differs from that of authorities, who say Nowsch fired several shots at the Meyers' car before chasing her to her home, where the mother got out of the car and was fatally shot in the head. Meyers' son also shot back at one point, but he wasn't injured, authorities say.
Nowsch wouldn't identify the friend who was driving him, but prosecutors say it was his co-defendant, Andrews. Nowsch said the driver was not to blame.
"He did not want to be with me. He dropped me off on the side of the road and dipped," he said in the interview.
The police recording also included a call Nowsch made to his mother.
"The reason I confessed, Mom, is that they knew everything," he said. "They knew it was an accident."
___
Associated Press writer Ken Ritter contributed to this report.