Alabama inmate Casey White, who fled with Vicky White, charged with first-degree escape: New arrest warrant
Vicky White and Casey White spent 11 days on the run before law enforcement caught up with them
FIRST ON FOX: FLORENCE, Ala. – Failed Alabama jail fugitive Casey White has been charged with first-degree escape for his 11 days on the run, which prompted a massive multi-state manhunt and ultimately ended in the death of his alleged accomplice, senior corrections employee Vicky White, according to the arrest warrant obtained by Fox News Digital.
Fox News Digital has obtained the warrant of arrest for Casey Cole White, which charges him with escape in the first degree and briefly details how Casey and Vicky White slipped away from the Lauderdale County Detention Center in Florence, Alabama, on April 29.
READ A PORTION OF THE ARREST WARRANT: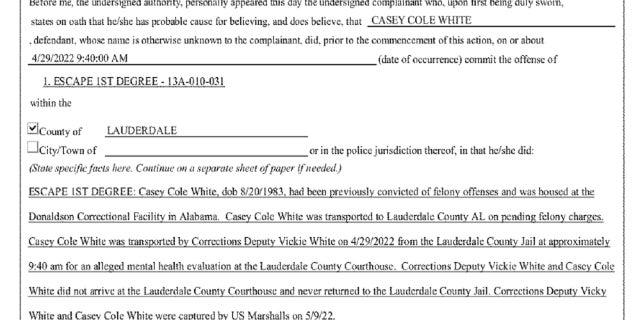 "Casey Cole White was transported to Lauderdale County AL on pending felony charges," the document states. "Casey Cole White was transported by Corrections Deputy Vicky White on 4/29/2022 from Lauderdale County Jail at approximately 9:40 a.m. for an alleged mental health evaluation at the Lauderdale County Courthouse."
CASEY WHITE ESCAPE: TIMELINE FOR ALABAMA MURDER SUSPECT WHO WAS CAPTURED AFTER MANHUNT
Vicky White was set to retire on April 29, the day of the escape, from her role as assistant director of corrections at the facility.
"Corrections Deputy Vicky White and Casey Cole White did not arrive at the Lauderdale County Courthouse and never returned to the Lauderdale County Jail," the warrant further states.
Vicky White ultimately shot herself in the head following a brief police chase in Evansville, Indiana, on Monday, officials have said.
ALABAMA'S RECAPTURED FUGITIVE CASEY WHITE ARRIVES AT ARRAIGNMENT
The pair had allegedly been holed up in a local Motel 41 for days before their capture.
Casey White was serving a 75-year sentence for several crimes from 2015, including carjacking, a home invasion and a police chase. He had been serving his sentence at the William E. Donaldson Correctional Facility in Bessemer, Alabama, but had been transferred to the Lauderdale County jail while he awaited trial for the 2015 murder of 58-year-old Connie Ridgeway.
BUSTED ALABAMA INMATE CASEY WHITE PLANNED TO POSSIBLY START SHOOT-OUT WITH POLICE DURING CHASE: SHERIFF
Casey White, 38, and 56-year-old Vicky White, who were not related, were allegedly in the throes of a "jailhouse romance" when they escaped on April 29. Their ruse lasted 11 days.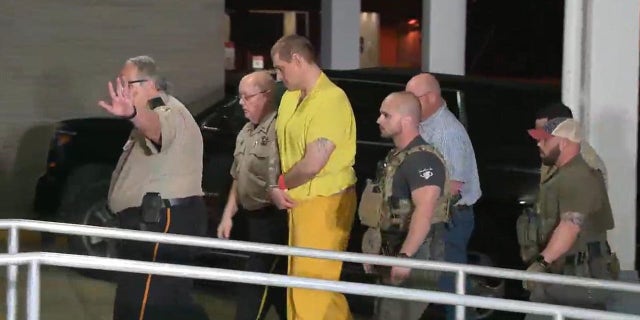 Vicky White was facing charges related to the escape, including forgery, identity theft and permitting/aiding an escape. Her death has reportedly been ruled a suicide.
ALABAMA'S RECAPTURED FUGITIVE CASEY WHITE ARRIVES AT ARRAIGNMENT
Casey White was extradited from Evansville, Indiana, to Lauderdale County in Alabama on Tuesday, arriving just before 10 p.m. local time. Wearing a yellow jail-issued jumpsuit and shackles and staring straight ahead, White stayed quiet as he was led inside.
He appeared briefly before a judge before he was sent to the state-run William E. Donaldson Correctional Facility.
Ridgeway's son, Austin Williams, said he rushed back to Florence from Tennessee and sat in the front row for the brief court appearance.
He told Fox News Digital he stared into Casey White's eyes as the recaptured fugitive offered no response, and later added that the suspect's interactions with the judge may have been the first time he heard his mother's alleged killer talk.
Meanwhile, Marty Keely, the U.S. Marshal for the Northern District of Alabama, shed more light on the duo's escape preparation and their time on the lam.
The U.S. Marshal Service's Gulf Coast Regional Fugitive Task Force was activated just hours after Vicky and Casey, who are not related, disappeared from the Lauderdale facility, Keeley told The Associated Press.
Vicky White allegedly called a coworker on the morning of the escape and asked the person for a ride to work. She asked them to pick her up at an Academy Sports + Outdoors store in Florence, claiming her keys were locked in her vehicle, Keely said.
Investigators later discovered her patrol car – which she used to take Casey White from the jail – in the Academy store parking lot. Investigators determined she had previously parked her 2007 Ford Edge SUV in the lot to use as a getaway car, Keely said.
In the lead-up to the escape, she allegedly bought a shotgun and an AR-15, in addition to the .45-caliber handgun and the service weapon she already owned.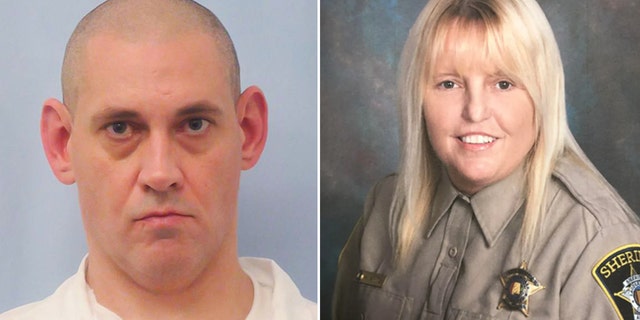 A pair of unnamed law enforcement officials told the Associated Press Vicky and Casey are believed to have taken a "dry run" ahead of the escape, when she and the inmate slipped away from the facility for 40 minutes.
CLICK HERE TO GET THE FOX NEWS APP
Once in Evansville, investigators reportedly suspect the pair gave a homeless person money to rent their hotel room at a Motel 41, where he paid cash for 14 days in the room.