A second chance for troubled veterans returning from Iraq, Afghanistan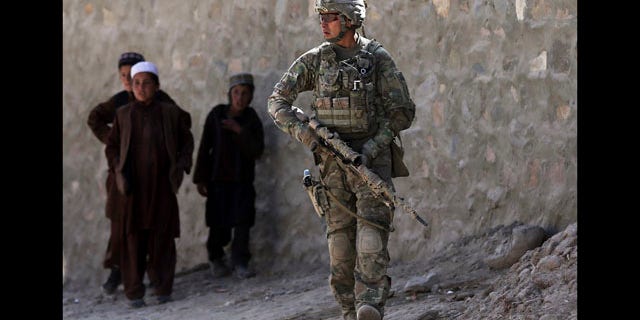 NEWYou can now listen to Fox News articles!
A new program in Pennsylvania seeks to give troubled veterans plagued with minor legal issues a second chance — and to help the returning soldiers make a "smooth transition" when they return from places like Iraq and Afghanistan.
A new diversion program established Thursday in Centre County permits military veterans charged with non-traffic summary violations like disorderly conduct or public drunkenness an opportunity to put those charges on hold while they get treatment. For those who successfully complete the program, the charges would ultimately be dismissed.
"We as a society need to help these young warriors make a smooth transition when they come back home," Holly Serface, director of veterans affairs for Centre County, told FoxNews.com. "Now with our new diversion program, I am confident we will be able to intervene before any serious problems arise so these veterans can continue living the life they deserve after their honorable service to our country."
[pullquote]
Veterans from the wars in Iraq and Afghanistan have higher rates of post-traumatic stress disorder than those in previous conflicts, Serface said, and many return to find unforeseen hurdles like unemployment and homelessness.
"Oftentimes, veterans are reluctant to seek treatment for PTSD, which can lead to self-medication and possibly addiction," Serface said.
District Judge Leslie Dutchot, who could not be reached for comment early Friday, characterized the Magisterial Veterans Diversion Court program — believed to be one of the first in the state — as win-win for all parties.
"It gives us a chance to help them out, put them in touch with the VA Hospital and get them back on track," Dutchot told the Centre Daily Times. "We can catch [problems] right away before someone has a DUI, before domestic violence and now the family is in turmoil."
The program was established by a court order at the Centre County Courthouse and is similar to Accelerated Rehabilitative Disposition (ARD), another diversion program for first-time offenders in the state and elsewhere.
David Pozen, an associate professor of law at Columbia University, told FoxNews.com the program seems like "valuable experimentation" for returning veterans. He said he found no constitutional concerns with a program that gives special benefits to veterans.
"It sounds like a good program," Pozen said Friday. "I like the general move they're making."
In June, Secretary of Veteran Affairs Eric Shinseki announced a new online initiative, AboutFace, to help veterans recognize PTSD symptoms and to motivate them to seek help.
"We must do all we can to help veterans identify possible indicators that they may be suffering from PTSD," Shinseki said in a statement. "It requires a comprehensive, multi-faceted approach to be effective. We hope that this initiative, while just one aspect of our program, will play an important role in that effort."
Mental health services were provided to 1.3 million veterans in 2011 and the department has increased its mental health care budget by 39 percent since 2009, according to VA officials. Veterans Affairs officials have also seen a 35 percent increase in the number of veterans receiving mental health services since 2007.
Shinseki announced in April that the department would add roughly 1,600 mental health clinicians and nearly 300 support staff including nurses, psychologists and social workers to its existing workforce of nearly 21,000 to help meet the increased demand for mental health services.
"VA is committed to ensuring the men and women who bravely served our Nation can access the resources and services tailored for them that can lead to a more fulfilling life," Dr. Robert Petzel, VA's under secretary for health, said in a statement at the time. "We want Veterans to recognize themselves in these stories and to feel optimistic that they can overcome their challenges with proper treatment. We set aside this month of June to urge everyone to increase awareness of PTSD so those in need can get effective treatment that will enable them to lead productive, fulfilling and enjoyable lives."
Click here for more information on PTSD.