17-year-old shot at Colorado high school dies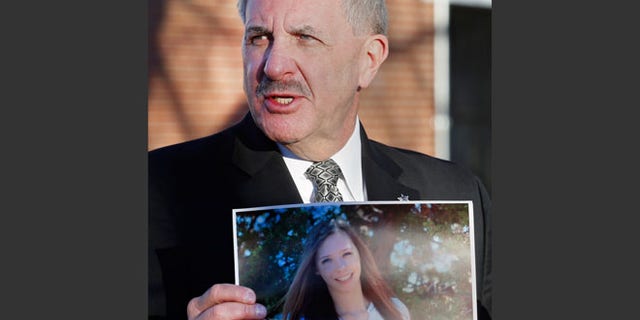 Claire Davis, the 17-year-old Colorado high school student who was shot in the head by a classmate, has died according to hospital statement released Saturday.
"It is with heavy hearts that we share that at 4:29 p.m. this afternoon, Claire Davis passed away, with her family at her side," the statement on Littleton Adventist Hospital's Facebook page read.
"Despite the best efforts of our physicians and nursing staff, and Claire's fighting spirit, her injuries were too severe and the most advanced medical treatments could not prevent this tragic loss of life. Claire's death is immensely heartbreaking for our entire community, our staff and our families."
Davis was in critical condition after being shot at point-blank range at Arapahoe High School on Dec. 13. Friends and well-wishers had posted prayers online and raised money to help pay for her medical care.
"Although we have lost our precious daughter, we will always be grateful for the indelible journey she took us on over the last 17 years-we were truly blessed to be Claire's parents," read part of a statement from Claire's family. "The grace, laughter, and light she brought to this world will not be extinguished by her death; to the contrary, it will only get stronger. Last week was truly a paradox in that we lost our daughter, yet we witnessed the wonderful love that exists in the world through the tremendous outpouring of support we received."
Karl Pierson, 18, shot Davis, who just happened to be sitting nearby with a friend as Pierson, armed with a shotgun, ammunition strapped to his body, Molotov cocktails and a machete, entered the school and headed toward the library. Davis appeared to be a random target, Arapahoe County Sheriff Grayson Robinson has said.
Pierson likely intended to track down a librarian who had disciplined him, but Robinson said Pierson's arsenal suggested Pierson intended to hurt many others at the school just 8 miles from Columbine High School.
Pierson set off one of the incendiary devices and fired five shots before killing himself just one minute and 20 seconds after entering the building. He knew a sheriff's deputy assigned to the school was closing in, Robinson said at a news conference.
Senior Chris Davis, who is not related to Claire Davis, said she loved horses, had a lot of friends and always seemed happy. Chris Davis, whose locker is next to Claire's, helped organize a fundraising effort for her family.
Students held vigils for Davis after the shooting. Typical was a story told by classmate Maggie Hurlbut.
"One time I remember I was upset in the hallway, and she came up to me and she just -- it was like, `Hey Maggie, I know we don't know each other well but are you doing OK?' And I told her yeah, and she was like, `Anything you need, I'm here for you,"' Hurlbut said. "Again, that's who she is, and she just wants to take care of others, and that was really just a good representation of her character and who she was."
Gov. John Hickenlooper visited Davis and her family at the hospital and had asked for prayers.
Sheriff Robinson called Davis "a young woman of principle" and "an innocent young lady."
Pierson's original target was believed to be a librarian who coached the school's speech and debate team. Pierson was a skilled speaker and debater on the team. The librarian, whose name was not released, had disciplined the teen in September for reasons that haven't been disclosed. Robinson said Pierson had made some sort of threat against the librarian in September.
"We are looking into that, to the degree that it was understood, and then what interactions or interventions took place," the sheriff said.
The librarian was able to escape the school unharmed, Robinson said.
Pierson legally purchased his shotgun at a local store a week before the shooting and bought the ammunition the day of the shooting. Anyone 18 and older is allowed to buy a shotgun in Colorado; only those over 21 can legally buy a handgun.
Pierson, whose parents were divorced, lived at least part of the time with his mother in a higher-end neighborhood in suburban Highlands Ranch.
The Arapahoe shooting came a day before the one-year anniversary of the Newtown, Conn., attack in which a gunman killed 20 children and six adults at Sandy Hook Elementary School.
The Associated Press contributed to this report.