Hawaiian Airlines flight attendant soothes passenger's baby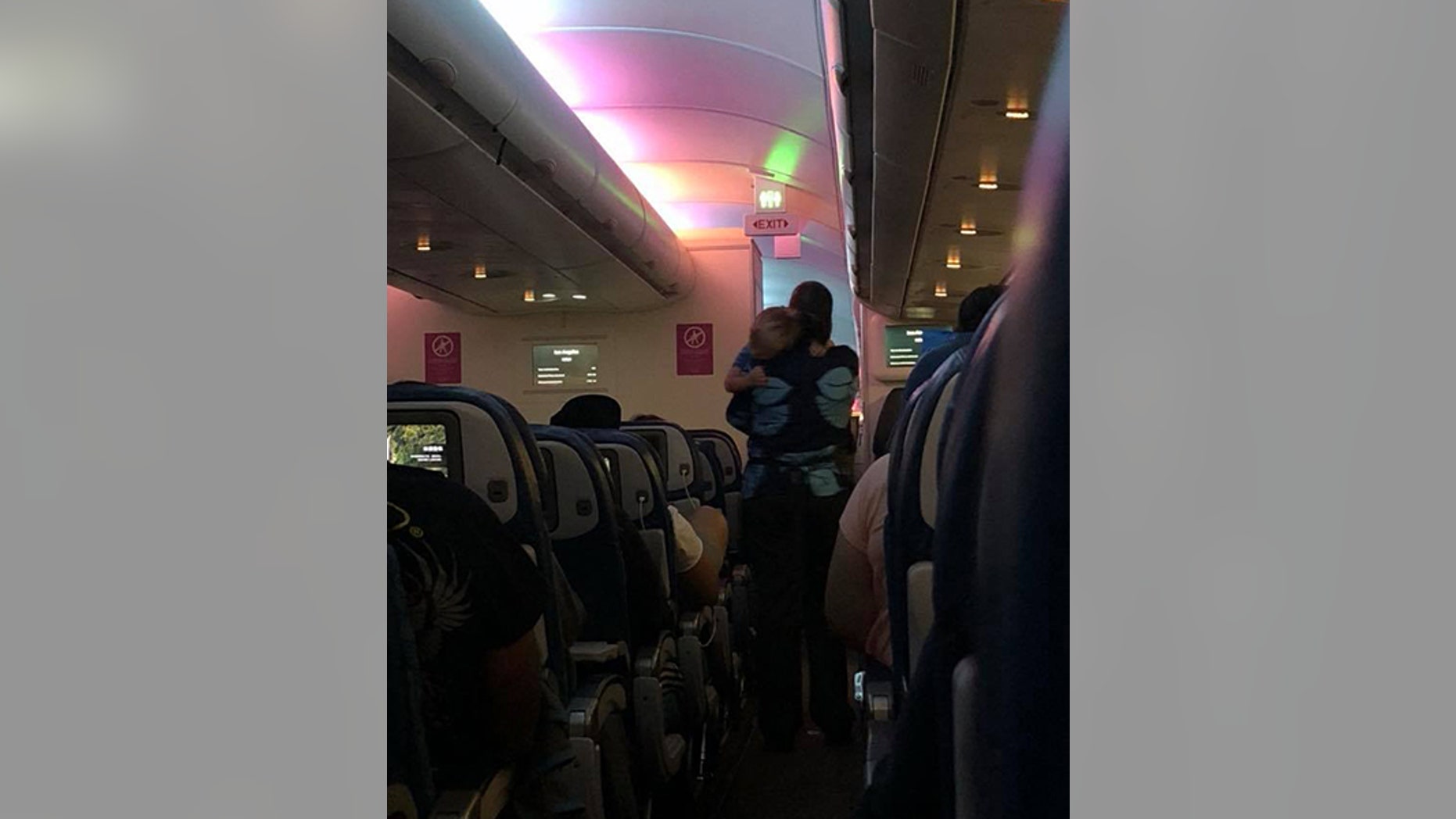 Parents of young children know that extended air travel can be exasperating for little ones, which makes one Hawaiian Airlines flight attendant's thoughtful gesture all the more sweet.
Passenger Rachel Yuen Nihi told KHON2 that during a recent late-night flight to Los Angeles, a mother traveling alone with her three small children struggled to comfort her youngest, a "crying toddler, tossing and turning" for 45 minutes.
DELTA PASSENGERS ENDURE NEARLY 12-HOUR DELAY BEFORE FLIGHT IS CANCELED: REPORT
"A couple in front of her kept turning around; giving her a stink eye. As if she was purposely trying to inconvenience them. I watched the woman in front turn around and snicker something at her children and all I could think of was, 'You wait until this seatbelt sign comes off,'" she wrote on Facebook.
Yuen Nihi, who was traveling with her husband without their children, felt frustrated and was about to give the rude passenger a piece of her mind when an aircrew member intervened.

"Right before I could get out of my seat … a flight attendant walks over and asked to hold her son. The mother seemed reluctant, embarrassed and at her wits' end. She had tried for at least 45 minutes and nothing worked," Yuen Nihi wrote. "The toddler reached out and the flight attendant rocked him ... Up and down the aisle until he finally gave in. This is true Aloha spirit."
DANCE TEAM PERFORMS FOR SOUTHWEST PASSENGERS AT AIRPORT TERMINAL
"#HawaiianAirlines you should be proud of the people you hire who go beyond the call of duty and remind the world that kindness isn't all that uncommon. I didn't get her name but I'm sure someone knows who she is. To that flight attendant, thank you for your kindness. It was noticed all around that flight. You gave a mother a moment to breathe and you have no idea how priceless this was for everyone around to see. Mahalo Nui!"
FOLLOW US ON FACEBOOK FOR MORE FOX LIFESTYLE NEWS
KHON2 later identified the angelic Hawaiian Airlines flight attendant as Gina Reyes. A mother of four and former surrogate mother, Reyes told the outlet that she's been a flight attendant for nearly three years and is always comforting babies on long flights.
"I saw a place where I could help. I was rocking and singing to him. I was singing lullabies to him," Reyes said. "I think it's nothing more than what most of us at Hawaiian Airlines do. That's our love and we get to love on our passengers."
"It is always heartwarming to witness the level of attention and care our employees provide to our guests," Hawaiian Airlines told Fox News of the sweet scene.