Warship sunk off Uruguayan coast 252 years ago with 100K gold coins to be raised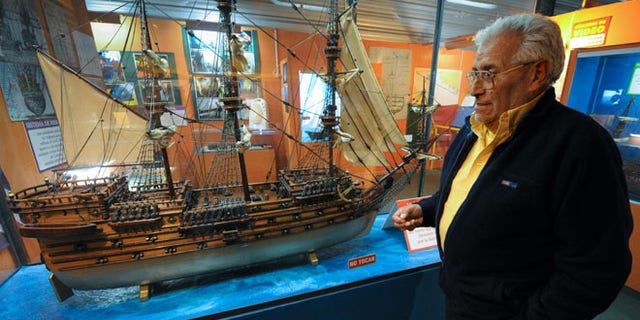 After more than 250 years under the waters of South America's River Plate, a modern treasure hunter has gotten permission to raise a sunken English warship from its briny grave.
The Uruguayan government granted adventurer Ruben Collado permission to salvage the Lord Clive, an 18th-century, 60-gun privateer that may contain up to 100,000 gold coins. Collado discovered the wreck of the 160-foot long ship in 2004 and has been vying to gain the rights to explore the remains ever since.
The wreckage is located off the coast of the Uruguayan city of Colonia del Sacramento, a UNESCO World Heritage site, in the fast moving waters of the bay where the River Plate drains into the Atlantic Ocean. On the other side of the bay is the Argentine capital of Buenos Aires.
The Lord Clive was originally part of the British Royal Navy and was named the HMS Kingston before being sold off to privateers. It sank on Jan. 6, 1763, after being hit by fire from the shore as the Portuguese bombarded Spanish-controlled Colonia during the Seven Years' War, which in North America is often called the French and Indian War.
In all, 272 crew members on board died when it sank, including the ship's commander, Robert McNamara of the East India Company. The 78 survivors were quickly tried and hung by the Spanish.
The ship's attack on Colonia failed because the ship was too close to shore, and its cannons overshot the city. Collado said that if the Lord Clive's attack had been successful, the history of Latin America might have been very different.
"If that ship had not failed in its attempt to retake the city of Colonia del Sacramento, today we could be speaking English throughout Latin America," he told the Telegraph. "Had the Lord Clive fired its cannons from a greater distance, Colonia del Sacramento would have been destroyed in one hour."
To prevent the ship from being re-floated, the Spanish poured tons of rocks on on the wreckage, which sits in a depth of only about 19 feet of water.
Despite the shallow grave, recovery efforts are expected to be problematic because of the swift current, the rocks dumped by Spanish and the River Plate's notoriously muddy waters. A team of 80 workers is expected to begin the privately-financed recovery effort in August.
Along with the gold coins, the ship went down carrying numerous barrels of rum and mercury, but Collado said that the treasure is secondary to the historical importance of the salvage job.
"The important thing is to get these ships, because they will give us the true magnitude of the story," he said. "This is the history of Latin America and the Spanish."