Mexico sets ambitious 25 percent pollution cut by 2030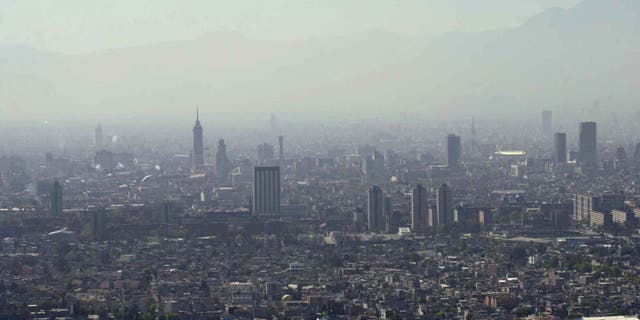 MEXICO CITY (AP) – Mexico has become the first developing nation to submit pollutant reduction goals for next fall's Paris climate change talks, pledging Friday to cut greenhouse gas and short-lived climate pollutants 25 percent by 2030.
Short-lived pollutants include "black carbon," essentially soot produced by burning wood, dung, coal and some diesel fuel, which Mexico plans to cut by half. Soot reductions would account for 3 percent of the overall 2030 target, while greenhouse gases like carbon dioxide and methane would be cut 22 percent from 2103 levels.
Mexico's Environment Department said the country's total greenhouse emissions would peak and stop growing in absolute terms by 2026.
Activists and the U.S. government praised Mexico's announcement.
"While the devil is in the details, Mexico's plan to peak its emissions by 2026 is particularly encouraging and should inspire others to follow a similar course," wrote Jennifer Morgan, global director of the World Resources Institute's climate program.
Mexico acknowledged its pledge is "highly ambitious," like a promise to eliminate deforestation completely by 2030. Between 2005 and 2010, Mexico lost about 155,000 hectares (383,000 acres) of vegetation cover each year to deforestation.
Mexico also said its pledge for decreases could rise to as much as 40 percent of current emissions if broader international agreements are reached at the Nov. 30-Dec. 11 climate conference in Paris or subsequent rounds of talks.
Mexico said any additional emission cuts would be "subject to a global agreement addressing important topics including international carbon price, carbon border adjustments, technical cooperation, access to low cost financial resources and technology transfer."
Carbon price involves making polluters pay for their emissions and border adjustments are meant to ensure those carbon taxes are spread fairly. Developing countries like Mexico have also called for mitigation of climate change effects and low-cost financing and technology to help bring emissions down.
Mexican Foreign Relations Secretary Jose Antonio Meade said, "This announcement makes Mexico the first emerging market and the first developing country to make a tentative pledge to the Paris Accord."
The White House said in a statement that Mexico and the United States will launch a "high-level bilateral clean energy and climate change policy task force" this spring. The joint U.S.-Mexico effort will focus on "clean energy, grid modernizations, appliance standards and energy efficiency" as well as more fuel-efficient vehicle fleets.
Mexico must cut emissions even as its economy and population are growing. The goal of a 25 percent reduction in absolute terms means a 40 percent reduction of emissions relative to its projected GDP in 2030.
Mexico, which represents only 1.4 percent of world greenhouse gas emissions, is among the more vulnerable nations if nothing is done, the government said.
"In the last 50 years, Mexico has experienced changes in temperature and mean precipitation," its pledge presentation said. "At the same time, Mexico has suffered an increased number of extreme weather events such as tropical cyclones, floods and droughts that have led to the loss of human lives as well as high social and economic costs."