Brazil says it won't sign global forest initiative, centerpiece of U.N. climate summit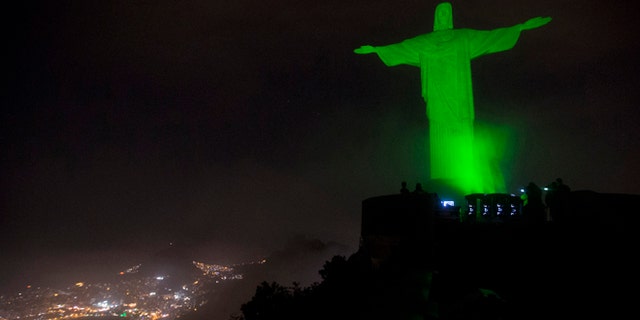 NEW YORK (AP) – Despite its critical role in protecting the Amazon rainforest, Brazil will not endorse a global anti-deforestation initiative being announced at the U.N. climate summit, complaining it was left out of the consultation process. A U.N. official disputed that claim.
Brazilian Environment Minister Izabella Teixeira said Brazil was "not invited to be engaged in the preparation process" of the declaration. Instead, she said Brazil was given a copy of the text and asked to endorse it without being allowed to suggest any changes.
"Unfortunately, we were not consulted. But I think that it's impossible to think that you can have a global forest initiative without Brazil on board. It doesn't make sense," Teixeira said in an interview Monday with the Associated Press.
Charles McNeill, a senior environmental policy adviser with the U.N. Development Program, said, "there were efforts to reach out to Brazilian government people but there wasn't a response."
"There was no desire to exclude Brazil," said McNeill. "They are the most important country in this area. An effort that involves Brazil is much more powerful and impactful than one that doesn't."
The forest declaration has not been publicly released but it is expected to be endorsed by many countries, corporations and major environmental groups, as one of the centerpieces of Tuesday's U.N. climate summit.
Although it is not part of the formal negotiation process, the summit is intended to build momentum for a new climate treaty in late 2015, with the U.N. hoping governments will announce major initiatives that would boost confidence heading into next year's talks in Paris.
But Brazil's complaints showcase the pitfalls of building international consensus on any major environmental initiative.
Teixeira says her government had concerns that the text could clash with Brazil's national laws, which allow for managed felling of the Amazon and other forests.
"It's different to have legal deforestation vs. illegal deforestation. Our national policy is we want to stop illegal deforestation," she said.
McNeill, who said the UNDP facilitated the forest declaration process, said the effort to get countries to sign on to the initiative would continue until the Paris summit. "Hopefully, Brazil will have a chance to get on board," he said.
Teixeira emphasized that Brazil is committed to protecting the Amazon rainforest, which is considered one of the world's most important natural defenses against global warming because of its capacity to absorb huge amounts of carbon dioxide.
The minister said her country has set a goal of slowing the pace of deforestation to 1,500 square miles annually by 2020. That would be down from 2,256 square miles in the August 2012 through July 2013 period, when Brazil made its last annual survey measuring the destruction of the forest by studying satellite images.
Brazil's rate of deforestation has fallen 79 percent since 2004, according to government figures. But last year, the government reported that annual destruction of its Amazon rainforest jumped by 28 percent after four straight years of decline.
The destruction was still the second-lowest amount of jungle destroyed since Brazil began tracking deforestation in 1988, but environmental activists blamed the increase on recent loosening of Brazil's environmental law meant to protect the jungle. They also say that the government's push for big infrastructure projects like dams, roads and railways is pushing deforestation.
Teixeira denied that the increase had anything to do with the revised Forest Code law, which was passed two years ago after more than a decade of efforts by Brazil's powerful agricultural lobby. The changes mostly eased restrictions for landowners with smaller properties, allowing them to clear land closer to riverbanks and other measures.
Another controversial portion of the new law allows those who illegally felled land to not face penalties if they sign an agreement to replant trees. But Teixeira said the part of the law only applies to those who illegally felled trees prior to 2008.
She said the increase in deforestation was concentrated mostly in the states of Pará, Mato Grosso and Rondonia, and argued it would have been more widespread had the Forest Code law been to blame.
"The dynamics of the deforestation is not related to the Forest Code," she said. "We are trying to find the cause."
On the broader climate change talks, Teixeira said Brazil — the world's sixth largest emitter of carbon dioxide — is open to a binding treaty that would commit every country to emission reduction targets for beyond 2020, "but only if every country is on board."
After the last climate change talks in Copenhagen five years ago, which failed to produce a binding treaty, Brazil set a voluntary goal of reducing its emissions by nearly 40 percent by 2020, mostly through reducing deforestation and promoting renewable energy and sustainable agriculture.
Follow us on twitter.com/foxnewslatino
Like us at facebook.com/foxnewslatino