Illinois officials find more than 100 dogs and cats living in deplorable conditions
The dogs were all Chihuahuas and mostly ranged from 5-9 pounds.
Nearly 100 cats and dogs were rescued from a Northbrook, Illinois home that caught fire on Monday, and now they need homes.
When fire crews responded to the house fire, they discovered 43 dogs and 48 cats living in deplorable conditions.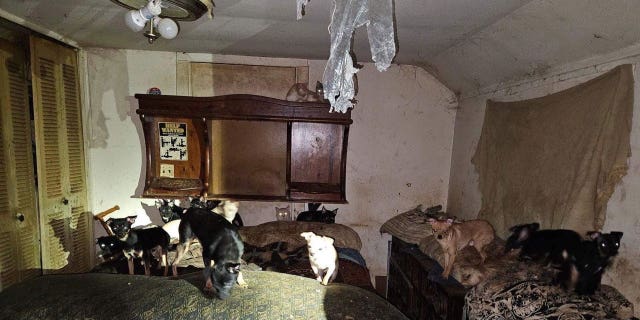 Harleigh Garcia, the founder and executive director of Border Tails Rescue in Northbrook said once the situation was uncovered, animal control was there by 10 p.m.
DOGS SAVED FROM EAST ASIA SLAUGHTERHOUSES SET TO ARRIVE IN NEW YORK, FIRST FLIGHT SINCE CDC BAN
Crews worked until 3 a.m., she said, and by 7 a.m., animal control workers contacted Border Tails Rescue.
"It was a very quick timeline," Garcia said.
Border Tails Rescue is a dog shelter, so they could not take the 48 cats that were found living in the home.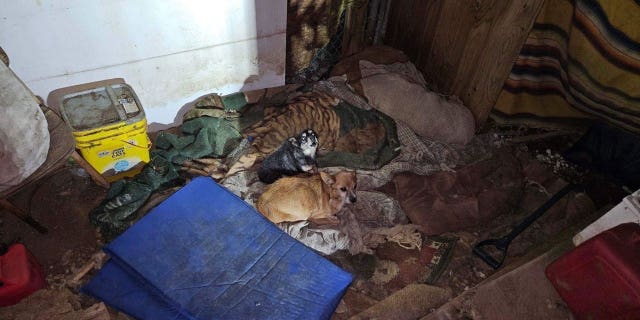 But all 43 dogs were accepted into Border Tails Rescue, most of which had some type of issue.
DOG IN DANGER REUNITED WITH US SOLDIER FOR FIRST TIME SINCE THEY BONDED OVERSEAS: 'MAGICAL MOMENT'
The dogs are all Chihuahuas and weigh between five and nine pounds, though one was 17 pounds and considered to be the mom.
The shelter named all the dogs after actors and actresses, and the 17-pounder was named Meryl Streep. Streep, Garcia said, was estimated to be 12 years old and a hospice case, meaning she does not appear to have ever received medical care, has a severe heart murmur and has a large mass in her abdomen, about the size of a plum.
Streep was part of a bonded pair with a cat named Robin Williams, and both dogs are together in a foster home.
Many of the other dogs had fleas and skin, hair, and dental problems.
US NAVY SAILORS REUNITE WITH THE DOGS THEY RESCUED FROM NEAR-CERTAIN DEATH IN THE MIDDLE EAST
All the dogs will need to be spayed and neutered, and once adopted, will require microchips.
Garcia explained that when her organization first heard about the situation, they did not flinch or show any type of nervousness. Instead, they walked in and took care of business without pause because the dogs needed help, she said.
Of course, the endeavor of taking on 43 dogs is a costly one.
CALIFORNIA-BASED PUPPIES NAMED FOR POP STAR TAYLOR SWIFT ARE UP FOR ADOPTION: 'FEARLESS' FAMILY
In fact, Garcia estimates it will cost about $25,000 to get the dogs the care they need while also ensuring they have a roof over their heads and staff to care for them.
The shelter is funded through donations and adoption fees. To help pay for the care of the 43 new tenants, Border Tails Rescue is accepting donations on Facebook. The organization hopes to bring in $21,500.
CLICK HERE TO GET THE FOX NEWS APP
Ultimately, Garcia said the goal is for each of the dogs – not just the 43 taken in this week but all the dogs at the shelter – to find forever homes.