Everyday Heroes: LAPD officer helps dying mother's wish for her teenage daughter come true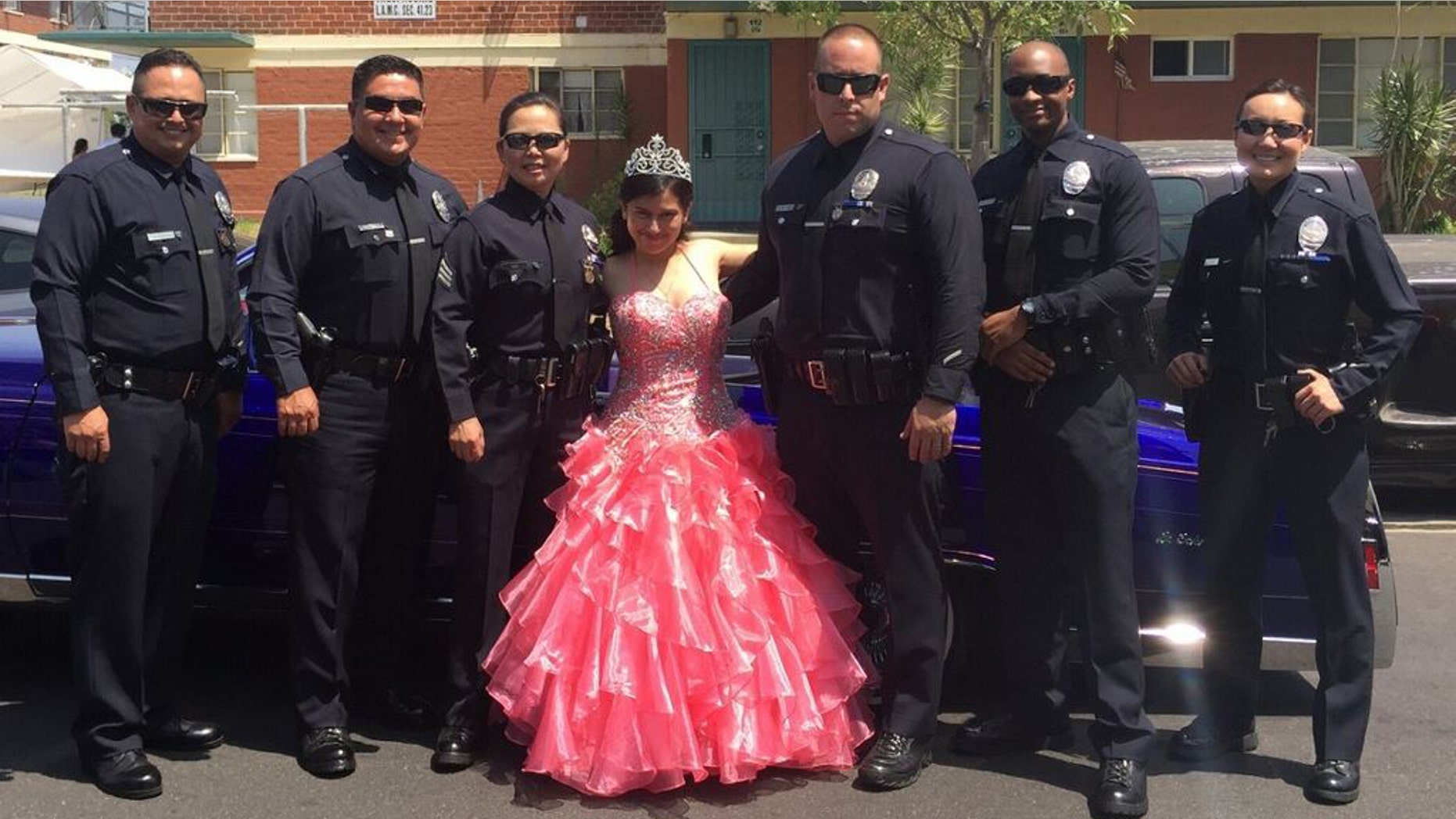 Los Angeles police Sgt. Janet Kim is the first to admit that she has never known anything about quinceañeras and other Latino traditions.
That, however, began to change when she met 14-year-old Jazmine Delgado and her family earlier this summer.
Kim heads up the gang enforcement unit at the LAPD's Central Division, and she was hosting a community movie event in a housing project in July when she met the Delgado family.
"I saw [her mother] Beatrice holding on to Jazmine tightly, walking labored," Kim told Fox News Latino recently. "I asked a volunteer who they were, and I got the background on them – mom and dad were undocumented. The mother was fighting cancer, and the little girl has cerebral palsy."
The fact that Jazmine suffered from cerebral palsy struck a chord with Kim, who has a cousin with the disorder. She said all she wanted to do was meet them and see if she could help them out.
At the time, Kim didn't know it would be a life-changing moment for all three of them.
Days after meeting the Delgados at movie night, Kim and other LAPD officers went to their house to get to know them. She said that after mother and daughter got over the initial strangeness of having a bunch of police officers inside their home, they began to open up.
"They were very humble, very open after they realized we wanted to help," said Kim.
It was there she learned that this was Beatrice's second bout with cancer after surviving ovarian cancer a few years before.
In June 2014, she began to experience dizziness and loss of memory, and doctors diagnosed her with brain cancer.
Beatrice was doing well for a few months, but in May, her health took a turn for the worse. Instead of offering more chemotherapy or radiation, doctors decided that there was nothing they could do. They told her she likely had a couple of weeks to live.
"My biggest question to her was, 'You outlived the doctors' expectations. What makes you fight so hard?'" Kim told FNL. "Her answer was: I want to see my daughter celebrate her 15th birthday."
She wanted to live long enough to throw Jazmine, who turns 15 on Nov. 26, her quinceañera.
Kim had the idea of having the police department throw the teenager a small birthday party at the local recreational center, but that's not generally how the sweet-16-and-coming-out-rolled-into-one party generally happens in Latin America.
After getting the approval from her superiors, Kim got to work. To her surprise, news quickly got around the department and the community in downtown Los Angeles, and things sort of snowballed from there.
"Fashion stores called and said if they needed a dress or suits they would help. One person said we could use their party hall," Kim recalled. "I didn't have to twist anyone's arm. When they heard it was to make a dying woman's wish come true, they wanted to help."
On Aug. 22, dressed in a beautifully bedazzled pink gown, Jazmine celebrated an early quinceañera with Beatrice looking on.
"It was more than I pictured, more than the Delgados imagined," Kim said. "I don't have the words to describe the whole experience."
More than 200 people – police officers and their families as well as members of the community who had pitched in – attended. They were even able to get Jazmine's uncle there from Mexico.
"Beatrice told me that [the guests] were more like family because they cared to be a part of it all," Kim said. "She told me the day before, 'I'm not going to take my medication. I don't want to miss it. I want to remember it.'"
As for Jazmine, she said she had a "great time" and was happy that the LAPD and Kim were able to get it done without being asked to do it.
"I had a blast. It's a party that you'll never forget," she said.
Speaking in Spanish, Jazmine's father, Luis, said they could not be more happy and thankful toward the police officers who came together for his family.
"My daughter and my wife are delighted that they made their wish come true," he added.
Beatrice's health has not improved since the party – in fact it's gotten worse. Currently the family is preparing to send her and Jazmine to Mexico so that she can spend her final days with her own mother. Luis will stay in Los Angeles.
But Kim's involvement with the Delgado family didn't end with the party. They asked her to be Jazmine's godmother – a role that she intends to take very seriously.
"I am not Catholic, but I know enough that this is a big deal. I am going to take care of Jazmine," she said. "I will always be there for this family. This is not a one-time thing for any of us."