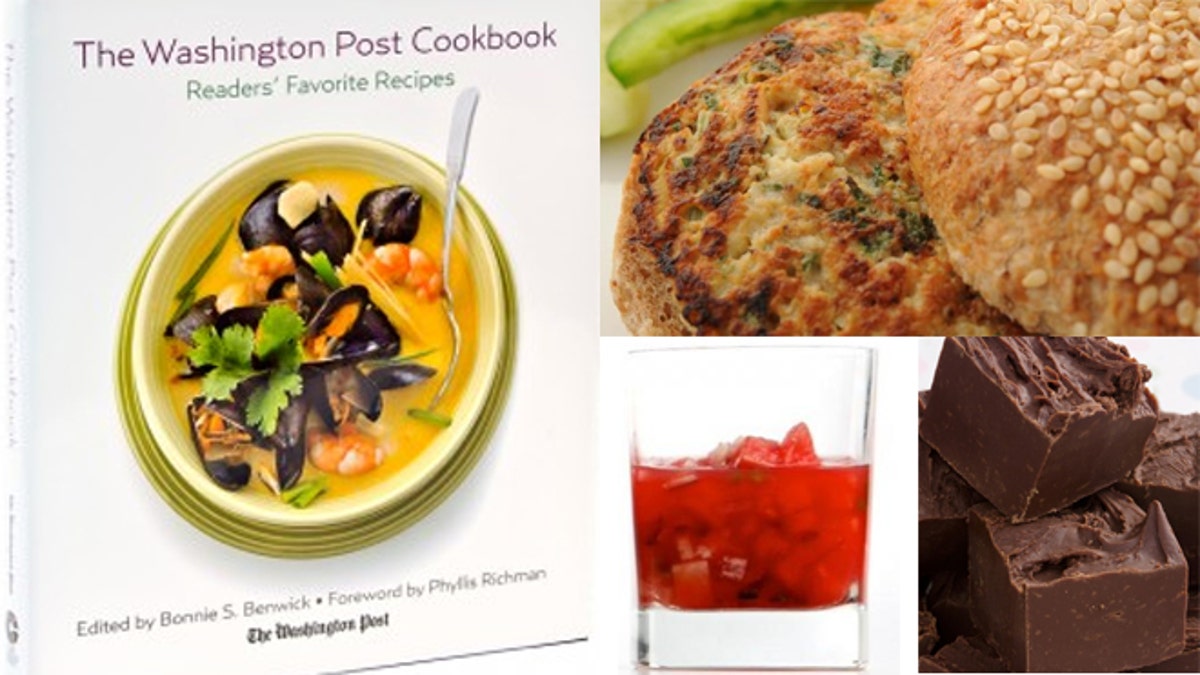 The explosion of television cooking shows and online recipes may have changed the way people prepare food, but there's something enduring about recipes from a newspaper.
I remember going through my mother's old cookbooks and finding dozens of yellowed, food-stained newspaper clippings containing some of the most fantastic dishes: things like icebox cake or buttermilk fried chicken.
The Washington Post has been publishing recipes like these since the paper debuted its food section in 1956, featuring thousands of dishes and entertainment tips under the editing eye of food critic Phyllis Richman and others.
But unlike the New York Times, Chicago Tribune or Los Angeles Times, the Post has never put its recipes together in a book —until now.
In April it released The Washington Post Cookbook: Readers' Favorite Recipes."
"It's really for our readers," says deputy food editor Bonnie Benwick, editor of the collection. "I figured getting reader recommendations is something they would respond to the best."
The cookbook features a mix of old and new recipes from home cooks and local chefs to wives of foreign diplomats.
There's a recipe for Million-Dollar Fudge from Mamie Eisenhower. The story goes that the First Lady was the guest of honor at the Arlington Republican Women's Club luncheon in 1967, but couldn't make it. Instead she sent each guest a foil-wrapped treat. The headline in the Post for read: "Fudge Party Was a Hit."
Recipe: White Chocolate Crème Brulee
Classics like these are juxtaposed with modern-day delights, such as the Chocolate Ganache Cupcakes from Georgetown Cupcakes, of TLC's "DC Cupcakes" fame, or the Icy-Spicy Watermelon Soup from food stylist Lisa Cherkasky.
Recipe: Icy-Spicy Watermelon Soup
Recipe: Hominy Grill Shrimp Burgers
But Benwick – who put out public notices in the paper to take suggestions for which recipes should be included --says the cookbook is really a collection of recipes for and by readers, some of which were pulled from some from the paper's most popular series.
For the past six years, the newspaper holds an annual "Top Tomato" contest where readers submit their favorite recipe.
"I am a tomato hound and have always been," says Benwick. "I thought this would be a good community builder. And the first time we did it, I got 350 recipes that year."
The one that eventually made it into the book is a reader recipe: Tomato Kimchi-chi made with fresh tomatoes, jicama, daikon radish and Thai fish sauce.
"People come up with inventive things," says Benwick.
The book –which has been released in select markets-- doesn't try to be a complete anthology of recipes for the diplomatic sect; nor is it a go-to directory of cooking classics and techniques.
"I think it's for the Washington community, " she says. "Although, people say they send it to the people who used to live here. It's an interesting bonding thing."
So why did it take so long for the Post to release its first cookbook? Benwick says some of it had to do limited staff in the food section and shifting priorities of a newspaper in the digital age.
"The bottom line for me is that it happened. The Post really deserves to have a cookbook," says Benwick. "I hope we get to continue to do other things. There's definitely another cookbook we can do on cookies."