Gwyneth Paltrow tells Rachael Ray her cookbook is her own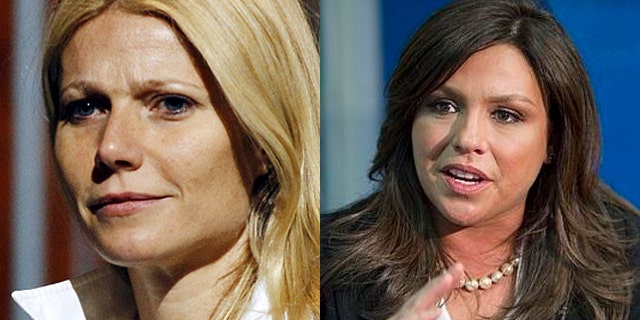 The feud that's been simmering over whether celebrities use ghostwriters or write their own work boiled up again today.
Gwyneth Paltrow was a guest the Rachael Ray show Friday, defending herself against a New York Times' piece suggesting that she didn't write her own cookbook.
"Every single recipe in the book I came up with and I cooked on the spot," said Paltrow about her book, "My Father's Daughter." Calling in from London via Skype, with a red wine glass in hand, she said she'd just put the kids to bed, but wanted to set the record straight about the March 13 article, "I Was a Cookbook Ghostwriter."
In the piece, celebrity ghostwriter and author of the article Julia Moskin, questions how authors like Martha Stewart, Paula Deen, Rachel Ray, Jamie Oliver and Gwyneth Paltrow have the time to publish thousands of recipes, and writes: "The answer: they don't. The days when a celebrated chef might wait until the end of a distinguished career and spend years polishing the prose of the single volume that would represent his life's work are gone."
Since the piece ran, Paltrow and Ray have launched a media campaign blasting the piece, which includes taking to Twitter and other websites to defend their work. Friday's segment was the latest installment.
"You know, normally I don't respond to gossip or anything, but you know this is my professional life and I'm writing more cookbooks," Paltrow told Ray.
Ray added: "I so strongly agree, this is how I spend the little time at home I have with my family, I spend in front of these little notebooks, in front of the computer. It sort of takes away from all of that to not be able to call that writing, of course that's writing. It doesn't mean you don't value the people who write the glossary or that help organize the pantry or that work on a project, but a writer is still a writer."
Since the controversy, several other celebrity chefs have added fuel to the fire, including Bobby Flay and Mario Batali, both mentioned in the article.
Ray wants the Times to apologize for the article, but the paper is standing by the piece telling ABC News: "It did not say that someone else wrote Rachael Ray's, Jamie Oliver's or Gwyneth Paltrow's cookbooks. It said that they, like many other chef-authors, had help."
Dan Gerstein, founder of Gotham Ghostwriters, an organization that matches ghostwriters with clients, says maintaining their integrity is a main reason Ray and Paltrow are beating the drum, but he says it could backfire.
"No one outside the chattering classes and the hardcore foodie blogs would have paid much attention to the Times story on its own," he said. "But now Ray and Paltrow have blown it up into a major story, and come out looking like whiners in the process."