Man eats all the burgers on the Burger King menu in 24 minutes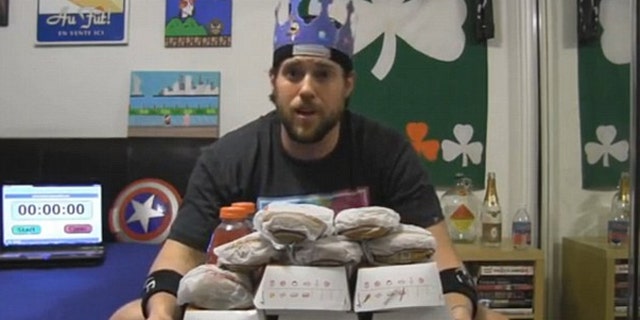 NEWYou can now listen to Fox News articles!
Who's the king now?
Kevin Strahle, a competitive eater known as the "L.A. Beast" -- took up a Burger King challenge it blasted out on Instagram to anyone who was king enough to eat all the different kinds of its burgers on the menu.
In a YouTube video, Strahle, who recently week made news for attempting to drink an entire gallon of hot sauce, is seen finishing 11 burgers in 24 minutes, which totaled 6370 calories. (To put that in perspective, an average man burns between1500 to 1800 calories a day.)
With a paper crown on his head, he filmed himself eating a hamburger, cheeseburger, bacon cheeseburger, double bacon cheeseburger, Junior Whopper, Whopper, Angry Whopper, Double Whopper, Triple Whopper with cheese and, instead of the new King Burger, which wasn't available, another Whopper -- while washing it all down with two bottles of Gatorade.
As he eats, the calorie counter goes up. At one point, with burgers still unfinished, the LA Beast goans, "I can't breathe no more."
Adding to his apparent pain was a shock collar he wore, with which his roommate shocked him every time he complained.
When Strahle finishes off the huge meal he happily says, "Now I'm the burger king."
Watch the king in action: