America's top chain burgers
When you're thinking inside the bun, when you deserve a break today, need to have it your way at a place where the fire's ready, where you're the boss and it's your way, right away, what you want is what you get, and they love to see you smile, it's a good time for the great taste. That's right, face it, you need a fast-food hamburger. Maybe it's one that takes two hands to hold. Perhaps it's two all-beef patties, special sauce, lettuce, cheese, pickles, and onions on a sesame seed bun. One thing is clear — if it doesn't get all over the place, it doesn't belong in your face. Whether it's the best food for fast times, or you're just loving it, there's a time and a place for fast-food burgers, and at that moment, you don't want to be wondering where's the beef — you want one of America's top 10 chain burgers. So what are they?
Burger slogans aside, if you're a burger snob in the mood for fast food, you likely won't be screeching to the side of the road for any of the burgers served by the chains they represent unless it's the only thing open. All the menu reinventions, commercials, and image rebranding by McDonald's, Wendy's, Burger King, and Carl's Jr., doesn't hide the fact that their burgers just aren't very good.
And it's not as though good fast-food burgers can't be made without prices being jacked to ridiculous heights. Sure, it may cost a bit more to make a better burger, but how much? And it's not as though you're going to expect a chain of Minetta Tavern quickie-marts serving $26 Black Label Burgers basted with clarified butter at rest-stops along the highway. A Double-Double at In-N-Out is what, $3.20? A double cheeseburger is $2.80 at McDonald's? How many people would pay $0.40 more for an In-N-Out burger than one from McDonald's? That's one reason that recent years have seen the rise of burger chains like Five Guys, Umami, Smashburger, and Shake Shack that are doing better, higher-quality burgers.
So surveying the fast-food playing field, which spots serve the bestburger? In the same way the best burgers are the burgers that established your essential burger knowledge, the criteria for your mind's burger framework, your favorite fast-food burger may be regionally dictated. Maybe it's In-N-Out because you grew up out West. Maybe it's Whataburger because you grew up in Texas. These days, chains are spreading out and becoming increasingly less regional. That sets up potential fast-food showdowns where customers can evaluate their favorites against those they'd traditionally have had to travel to try. A national fast-food burger pecking order has never been closer to being established by Americans who don't have to leave home, or go farther than nearby states to be the judge of who makes a better burger.
Establishing this pecking order, a list of America's Top 10 Chain Burgers was done as part of The Daily Meal's 2013 report to establish a list of the 40 Best Burgers in America. Because of America's great love for this simple sandwich, and the expertise that has been developed in making them truly great, it was a huge task to narrow America's most iconic food, the hamburger, to a select group. We searched for burgers in both small towns and big cities, examined local and national best-of lists both in print and online, and reached out to a group of some of America's foremost burger experts to collect a list of national and local favorites, icons and ideals that were voted on by an expert panel to come up with a list truly that represents a pantheon of burger heroes. To give even the smallest burger joint its fair shake, chains with 15 or more locations weren't included in that list, but in their own for The Daily Meal's esteemed panelists to vote on. Burger King, Wendy's, McDonald's, Dairy Queen, and the other cookie-cutter spots along the highway — while nice things can be said about their onion rings, Frostys, french fries and Blizzards — were not considered for this category. For the chains that were considered, the quintessential, or signature burger from each was evaluated.
The results were interesting. It's likely that people from the West Coast will be outraged by the burger that edged theirs out for top billing. They can take consolation in the fact that it was a close call; voting was neck and neck, with the winner edging out the second placeburger by less than 5 percentage points. It's a result that could be mirrored in the minds of the general population out West after the planned 2014 expansion of one burger chain on this list. Whataburger, Umami Burger, Five Guys — they're all there, joined by the relative upstart of the crew, Iron Chef Bobby Flay's Bobby's Burger Palace.
The truth is that wherever these burgers ended up on this list, you can trust that they're a step above the rest, fast-food burgers worth eating.
1. Shackburger, Shake Shack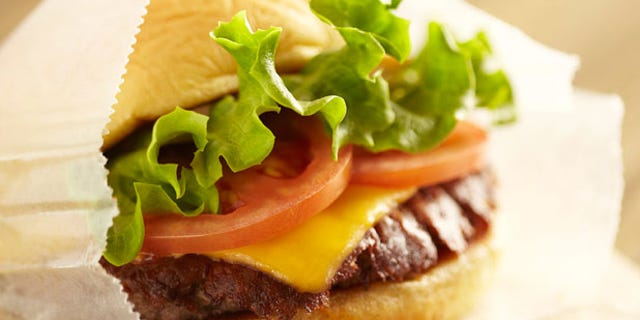 America's best fast-food burger is Shake Shack. Yes, it's better than In-N-Out, and yes, it has its own secret menu… kind of (it's called Danny Meyer's hospitality philosophy). What started as a hot dog cart in Madison Square Park in 2001 has made history. In 2004, restaurateur Danny Meyer's Union Square Hospitality Group won the bid to open a permanent kiosk in the park, and the lines, buzz, cult following, and even a begrudging review from The New York Times followed. Why is it so good? Quality. And one of the juiciest cheeseburgers (100 percent all-natural Angus beef, no hormones, no antibiotics) you'll ever find on a soft, grilled potato roll (ask for pickles and onions!). Shake Shack's vigorous expansion program — Theatre District, Coral Gables, Abu Dhabi, and now, Las Vegas, means that next year, and for the first time ever, there will be a Shake Shack and an In-N-Out in the same city, setting up a showdown that has been in the works for fans of both chains as their devotees, and word about both burger joints has spread. Place your bets....
2. Double-Double Animal-Style, In-N-Out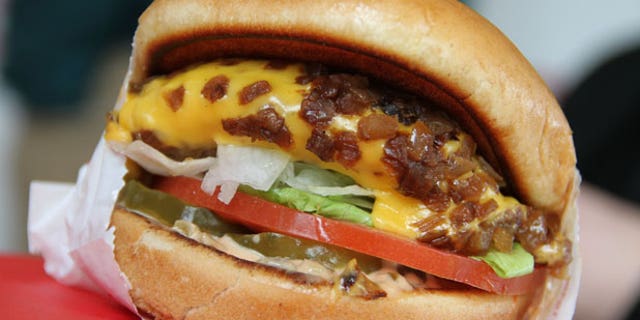 It's difficult to believe that Harry Snyder could have imagined the cult following that would swell up around his hamburger stand when he launched California's first drive-thru in Baldwin Park in 1948. But take off they did. There are now almost 300 In-N-Out spots serving its signature "Animal-style," and that "secret" menu has spread beyond California to Utah, Arizona, Nevada, and Texas. A freshly baked old-fashioned bun made from slow-rising sponge dough, two slices of American cheese, two all-beef patties, a freshly sliced or grilled onion, fresh and crispy hand-leafed lettuce, a plump and juicy tomato slice, and the original recipe for In-N-Out's "spread," which goes back to that founding year. So the fries are subpar even when ordered Animal-style, this excellent, quality, fast-food burger is the whole package. The perfect blueprint for fast-food burger heaven, which was only barely outvoted by the panel as the country's best.
3. Cheeseburger, Five Guys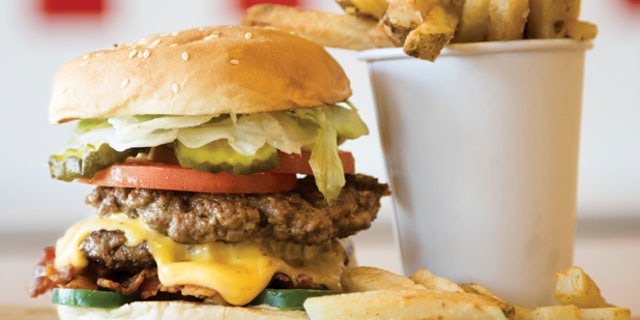 With more than 1,000 restaurants, this Washington, D.C.-based burger chain continues its quest for national domination, and as far as fast-food-style burgers go, it doesn't get much better Two thin, well-seared patties go into each cheeseburger (a single is called a "little" burger), and it's served on a seeded enriched bun. You can stop there (the meat itself is juicy, beefy, and needs no augmentation), but with a selection of 15 free toppings there's plenty of room for creativity. And don't forget to order the Cajun-seasoned fries, and grab some free peanuts while you wait.
4. The Original Double 'N Cheese, Steak 'n Shake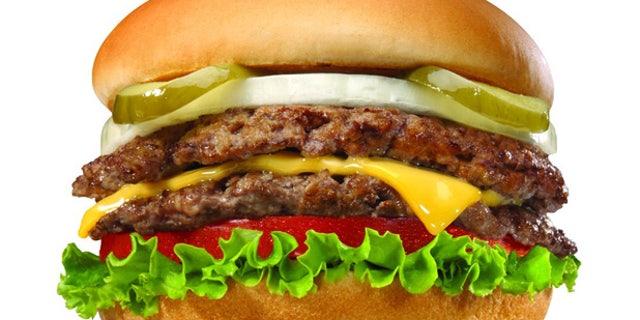 Since 1934, Illinois-based Steak 'n Shake has been serving their famous diner-style "steakburgers," and they've become the stuff of legend. The trademark creation is the classic Double 'N Cheese, which is just what it sounds like: two patties, American cheese, and your choice of toppings. A true American classic, and undoubtedly delicious.
5. Umami Burger, Umami Burger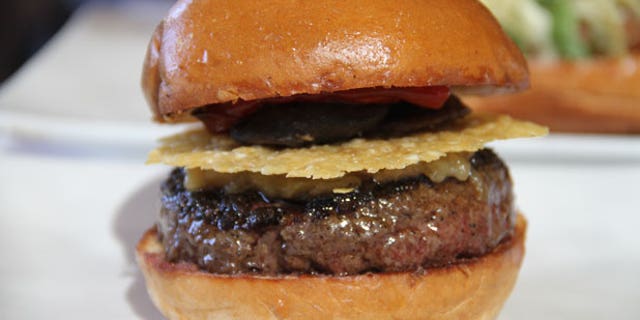 Adam Fleischman's wildly popular LA-based Umami Burger chain is 17 locations strong, and about to double in scope. A $20 million investment by the New York-based Fortress Investment Group has Umami slated to open in 13 new cities in 2013, including Miami, New York, and Chicago, with more to come in Washington, D.C., Las Vegas, and Philadelphia. Named after the Japanese term the "fifth taste," this isn't your run-of-the-mill burger chain. look at their flagship Umami burger for proof: a custom-baked Portuguese-style roll, a 6-ounce fresh-ground patty formed in a ring mold and seared on a ripping hot plancha, Umami Dust (which contains flavor-bomb ingredients like kombu and dried mushrooms), roasted tomato, caramelized onion, shiitake mushroom, a Parmesan crisp, and umami-kicked ketchup. When this place says "umami," they mean it.
See all 10 burgers at The Daily Meal
More from The Daily Meal
The 40 Best Burgers in America

Ultimate Barbecue Sauce Taste-Test