Whitney Houston's stop and start career comeback comes to an end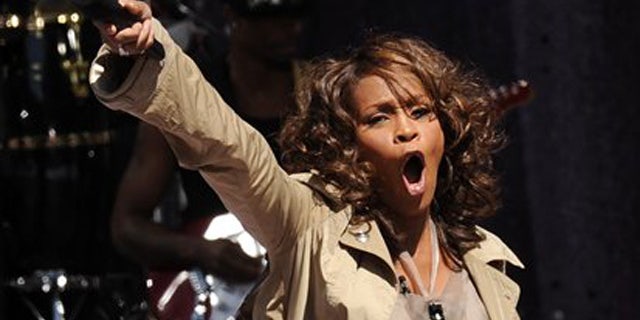 Whitney Houston's career comeback came up tragically short with news of the singer's untimely death in Los Angeles on Saturday. After years lost to substance abuse, Houston has been trying, since 2009, to pull it back together and regain her status as one of America's most beloved entertainers. This year was expected to be the year that Houston did get it together, finally reviving the movie career that made her a multi-platform star back in 1992 with her starring role in "The Bodyguard."
The 48-year old recently wrapped, as both star and executive producer, the movie "Sparkle," a remake of the 1976 Motown-era drama of the same name. It was slated to be released in August.
"Based on her music alone people lost the faith but there was speculation that when she came back to the big screen she would regain the momentum in her career," said Billboad.com editor M. Tye Comer.
Howard Rosenman, an executive producer on the film told The Hollywood Reporter: "This would have been a big, big comeback, she is so brilliant in it."
"Sparkle," a film about three sisters who begin singing in a church choir and are eventually catapulted to super stardom based loosely on the lives of The Supremes, also stars former "American Idol" Jordin Sparks. Houston plays the domineering mother of the clan.
As recently as late last week reports, also swirled that Houston was being considered as a judge on Simon Cowell's reality singing competition, "The X Factor," a move that would have brought her into the living rooms of millions of Americans each week.
All signs from the past six months point to a Houston return to the A-list and to stability. But like her comebacks attempted in years past, this one was not to be.
Houston first attempted a major career comeback in 2009 with her album "I Look to You." The album entered the Billboard charts at number one, but critics were skeptical.
"After the album came out it became very obvious to everyone that she did not have that powerful voice anymore, and people started to lose faith in her," Comer said.
A live appearance on "Good Morning America" promoting the album was described by critics as uneven at best, and tragic at the worst.
"The 'Good Morning America' appearance was indeed tragic," Comer added.
In 2010 Houston embarked on her "Nothing But Love" tour, her first in 10 years. She rescheduled several concerts due to illness and disappointed fans reportedly walked out of several performances.
"I have never heard of fans walking out of a concert that wasn't a Britney Spears performance. They walked out saying that she sounded horrible," recounts Yahoo! Senior editor Billy Johnson Jr.
This all followed a successful music career that began with hits like "I Wanna Dance With Somebody" and "How Do I Know?" in the late eighties and early nineties. Houston's movie career took off in 1992 with her starring role in "The Bodyguard" opposite Kevin Costner, where she portrayed a singing sensation who falls in love with her protector. The soundtrack for the movie was awarded the Grammy for album of the year.
She followed those successes up with 1995's "Waiting to Exhale" and "The Preacher's Wife" opposite Denzel Washington in 1996. Her 1991 performance of "The Star Spangled Banner" at Super Bowl is still counted as one of the greatest performances of our national anthem of all time.
But her tumultuous marriage to fellow singer Bobby Brown, several stints in rehab and continued erratic behavior marked a dark period in her career between the mid-nineties and mid-2000s.
Music insiders say her decision to allow reality cameras into her home with 2004's "Being Bobby Brown" was one of the lowest points of her career.
"The show was a horrible thing for Whitney. You never wanted to see that ugly side of Whitney Houston, one of the best-selling pop vocalists of all time," Johnson said. "That was when people finally began to realize that there were some real problems with Whitney."
Like fellow superstar, Michael Jackson, Houston's comeback may be post-mortem. Sony pictures has announced they will still release "Sparkle" on August 17th. Billboard reported that the singer's final recordings will be in the film.