Whitney Houston was in bad shape in the days before her death, reports say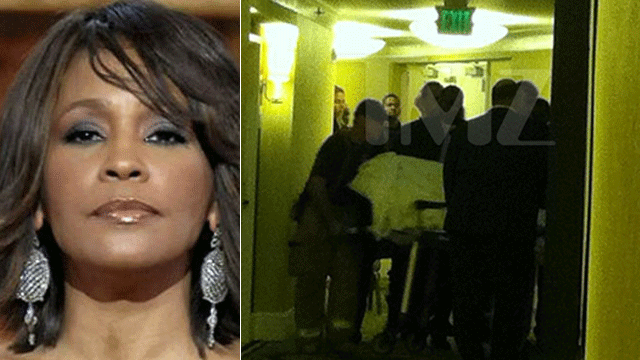 The sudden death of troubled superstar Whitney Houston was a shock to many, but not to all. In fact, there were multiple reports that Houston, who had a long history of drug and alcohol abuse, was behaving erratically in the days preceding her death on Saturday.
The Los Angeles Times reported that Houston appeared out of it at Thursday rehearsals for Sunday's Grammy Awards telecast. The paper said Houston, 48, "appeared disheveled in mismatched clothes and hair that was dripping wet with either sweat or water" when she showed up to offer advice to younger singers Brandy and Monica, who would be performing on the awards show.
Houston was also "skipping around the [hotel] ballroom in a child-like fashion and wandering aimlessly about the lobby" and was even "doing handstands by the pool," the L.A. Times reported.
The singer's breath also smelled of liquor and cigarettes at that rehearsal, an unnamed source told the Associated Press.
Later Thursday evening, Houston attended an R&B party at Tru nightclub in Los Angeles, where her legs were photographed with blood dripping down them. She also appeared to have scratches on her wrist.
Houston was at the club with her 18-year-old daughter, and went on stage to sing "Yes, Jesus Loves Me" with singer Kelly Price. It turned out to be her last public performance.
Price denies Houston was under the influence at the club, saying, "Whitney on Thursday night was one of the girls. She was happy. She was the Whitney I always knew."
Soul singer Kenny Lattimore, who co-hosted the Thursday night event, also said Houston didn't appear to be having any issues.
Then on Friday night, Whitney Houston "partied heavily" at the Beverly Hills Hilton hotel where she was found dead the next day, TMZ reported. Houston was drinking and hanging out with friends at the hotel's bar, the site said.
Houston was supposed to attend her mentor Clive Davis' pre-Grammy party at the Hilton on Saturday night, but she was found unresponsive in her bathroom by members of her entourage that afternoon, and pronounced dead soon after.
Bottles of prescription drugs were reportedly found in her room. An autopsy is scheduled for Sunday.