TLC's 'Sister Wives' polygamist family supports same sex marriage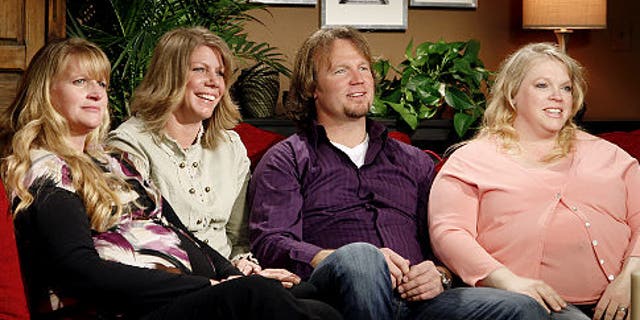 In the wake of President Obama declaring his support for gay Americans' right to marry each other, prominent polygamists the Brown family of TLC's "Sister Wives" – consisting of Kody and his wives Meri, Janelle, Christine and Robyn – gave their 10 thumbs up to same sex nups.
"It is something I have thought about a lot, and I feel very blessed that I have been able to chose love and the life that I want to live and be married to the people that I want to be married to. It's not for me to decide or stop anyone else from marrying the person they love," Kody told FOX411's Pop Tarts column, while Janelle added that she too feels blessed to have chosen love from deep in her heart, and wishes the same for others regardless of sexual orientation.
But while there is lots of love and laughter among the stars of the hit TLC series, season three of the show, which premieres on Sunday, will also bring tears and turmoil, the stars say.
"People think we don't get jealous (of each other) but the thing is – we do get jealous," Mary insisted.
Expect more focus on the parenting dynamic this season, too.
"We are going to see a lot more of the kids on the show this season, we're really excited to see them on TV," Christine said, while Janelle said that they are "working hard to get the family back together again" and help their eldest son Logan choose a college, deciding whether or not he wants to stay close to the fold or spread his wings.
The family told us that the process of having a television show and "going public" with their lifestyle has attracted hatred and threats, but at the same time has opened lots of doors, and allowing them to launch two online businesses, LIV International and Sister Wives Closet. Above all, it has also enabled them all the dispel lots of what they say are misconceptions and stereotypes.
"One thing people often get wrong is that they think we are part of the Mormon Church," Janelle explained. "We are of the same origin, but our faith parted ways many, many years ago. We are not Mormons."
The family is also releasing their first book, "Becoming Sister Wives: The Story of an Unconventional Marriage," which they say will reveal more on the unique relationship amongn the five women.
"There was a lot written in the book that we didn't know about each other, and things that our kids didn't even know," Kody said.