'Stars Earn Stripes' star and Iraq War veteran 'impressed' by Sarah and Todd Palin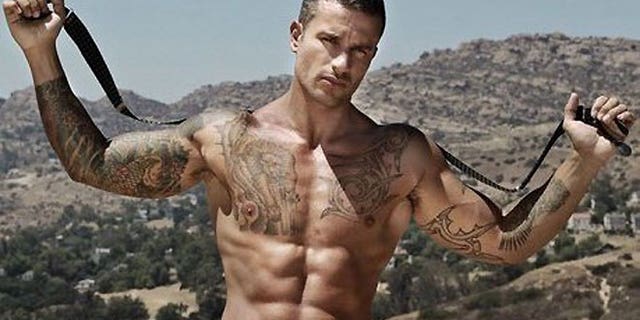 Andrew McLaren is a decorated Iraq War veteran and fast becoming an "it" boy in Hollywood, having been hand-picked over hundreds of thousands of contenders to star as an expert operative in NBC's forthcoming "Stars Earn Stripes" competition series alongside the likes of Todd Palin, Dean Cain and Nick Lachey.
But given that "reality television" has become something of a dirty word in recent times, this devoted military man did take some convincing.
"When they said it was a reality show, I thought 'I don't want to do a reality show' but they said it was for charity for law enforcement and military. It wasn't your typical reality show," McLaren told FOX411's Pop Tarts column. "I was excited because we had weapons that I didn't get to use when I was in the Marines. The military puts a lot of money into us, so they don't want us doing ridiculous things where we could be hurt. On the show we do some crazy things and people are going to be shocked when they watch the show."
"Stars Earn Stripes," which debuts on August 13, is centered on eight celebrity competitors who gather at a training facility where they tackle complicated and difficult "missions," and each is paired with an expert – an experienced member of the U.S. military or a law enforcement agency. Contests range from helicopter drops to long-range target shooting, with the star and veteran competing as a team. Each week, one team is given their marching orders.
And while audiences might be blown away by the skills and danger exerted on the highly-anticipated program, McLaren was personally blown away by Todd and Sarah Palin, and admitted that he thinks of them very differently now than before they met.
"I like hanging out with Todd and Sarah a lot. They walked into my trailer, and obviously we disagree on some issues. I am a libertarian guy – socially liberal and an avid supporter of gay marriage, but I am pro-gun rights and pro-life, and we made off like regular people. I was teaching Todd how to shoot grenades, we were hanging from helicopters together 60 feet above the ground and we were swimming together with full gear on," he enthused. "The thing that impressed me most is that Todd is a commercial fisherman in Alaska, he is pretty hardcore. He even won a challenge with a broken arm! He really earned my respect."
McLaren also noted that even though his friends are shocked that he has become such good friends with the high-profile Republican couple, the portrayal of the Palins in the media is often vastly distorted.
"Todd and Sarah Palin are the nicest people I have ever met," he said. "I love America and they love America. They may not agree with me on my stance on gay marriage, but that is their personal view and I respect that. That's what is so great about being American."
However, this is hardly McLaren's first brush with the lights and camera. In 2001, he put his burgeoning modeling and acting career on-hold to enter into the Marine Corps, following in the footsteps of his father who was a Vietnam veteran. He soon became part of a new military group called the Anti-Terrorism Battalion in Iraq, and after years of extended service, received an honorable discharge as a sergeant.
"I was hired as a cop in New York but then had the opportunity to try out for Blackwater and was accepted. I ended up going to Baghdad guarding President Bush, John McCain, John Edwards and John Kerry," he continued. "Bombs would go off all day, I've been almost killed so many times. I was just trying to stay alive for my kids."
But bombs were going off in McLaren's personal life too – which is why he promised that he will never let Hollywood wrath go to his head.
"I know what it is like to hit rock bottom. My wife left me, she was cheating on me when I was deployed and it showed me that family is the most important thing in my life," he added. "The whole Hollywood aspect, it will eat you up. If God builds you up and you start to get an ego, he will smack you down."
McLaren is soon releasing the biographical book "American Mercenary," about his time working for Blackwater USA, with one hundred percent of the proceeds going to families of his friends killed in action.
Danielle-Jones Wesley contributed to this report