EXCLUSIVE: Jon Voight defends Brad Pitt's mom after she gets death threats for penning anti-Obama letter to the editor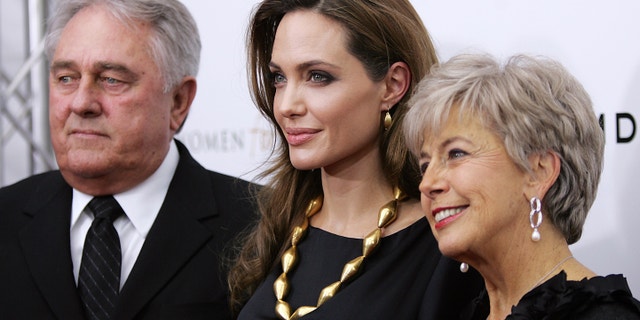 LOS ANGELES – You can always count on family.
Last week, Brad Pitt's mother Jane Pitt hit headlines after penning a response letter-to-the-editor of her local newspaper, Missouri's Springfield News Leader, in which she advocated support for Republican Presidential candidate Mitt Romney, referring to him as a "a family man with high morals, business experience, who is against abortion, and shares Christian conviction concerning homosexuality."
"Any Christian who does not vote or writes in a name is casting a vote for Romney's opponent, Barack Hussein Obama – a man who sat in Jeremiah Wright's church for years, did not hold a public ceremony to mark the National Day of Prayer, and is a liberal who supports the killing of unborn babies and same-sex marriage," she continued. "I hope all Christians give their vote prayerful consideration because voting is a sacred privilege and a serious responsibility."
[pullquote]
However, it seems the backlash surrounding Jane's opinion has become so vehement that she has reportedly been "scared into silence."
According to WND, Mrs. Pitt has not only been the victim of vulgar and hate-filled attacks, but she has also received death threats which have left her very frightened.
The tweets reportedly included: "BRAD PITT'S MOM WROTE AN ANTI-GAY PRO-ROMNEY EDITORIAL. KILL THE B***H" and, simply, "Brad Pitt's mom, die."
Some media outlets too had their way with her words as well, complete with headlines and references stating that she is "homophobic" and "hates Obama and gay people."
But Mrs. Pitt has at least one high-profile supporter on her daughter-in-law's side of the family: Jolie's dad Jon Voight!
"Good for her," Voight told FOX411's Pop Tarts column, adding that he agrees with the points-of-view expressed by Jane.
A rep for Brad Pitt, an avid supporter of President Obama, did not respond for further comment. Jane Pitt declined further comment when we attempted to reach her.
Brad's brother Doug also defended his mother earlier this week during an appearance on the "Today Show."
"I think moms and dads and kids agree to disagree all over the world. So why would our family be any different? There can be healthy discussion when people disagree with you," he said. "The bad thing is when it turns to venom and negativity, and we don't have that in our family. It's open discussion. We can learn from each other and, if anything, it solidifies your point. Or maybe you learn something."
Oh, to be a fly on the wall when Brangelina and the family sit down for Sunday dinner in that big French castle they bought…
Danielle Jones-Wesley contributed to this report.