Sofia Vergara Gets Screen Actors Guild Nod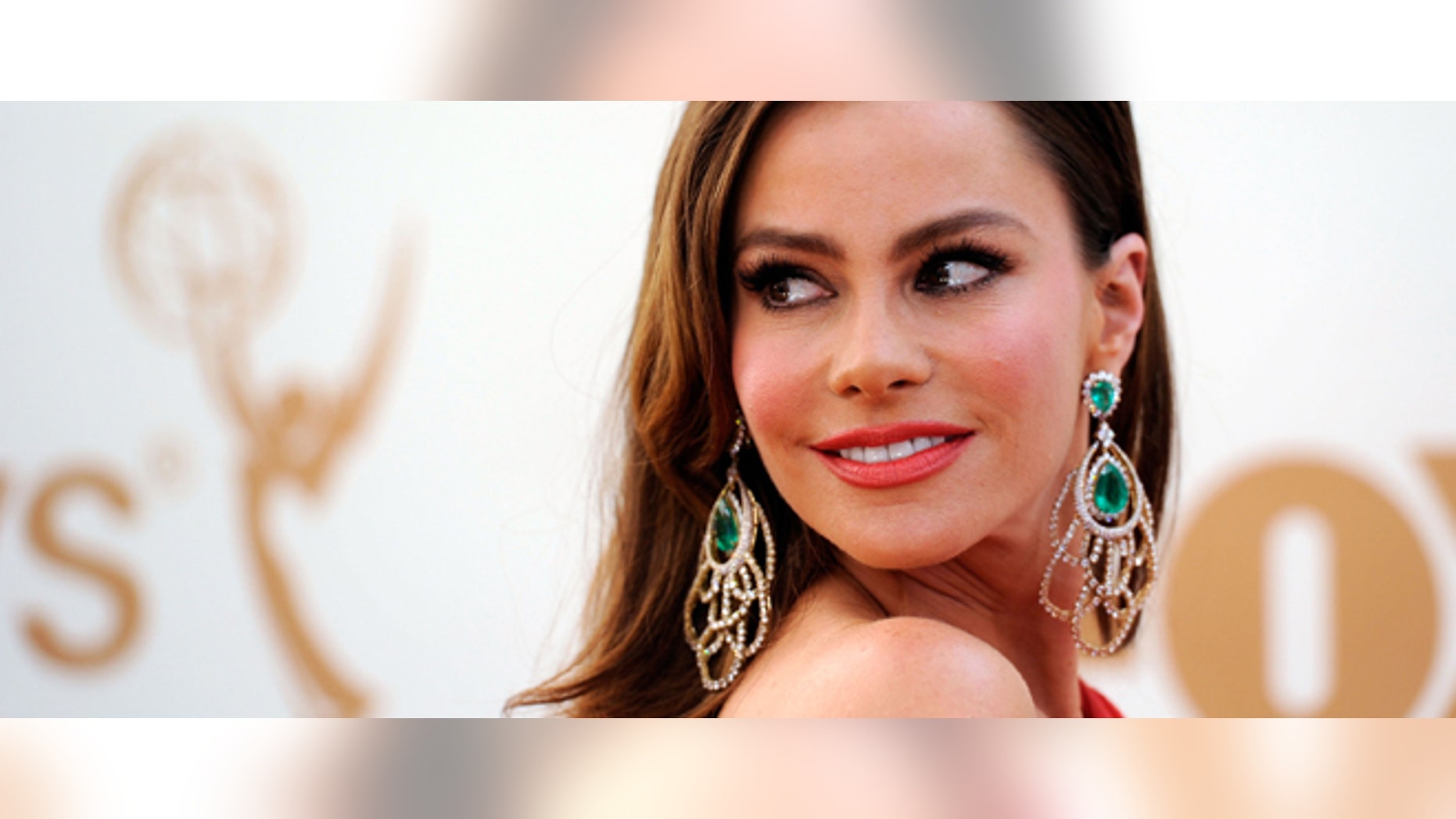 Will 2012 be Sofia Vergara's year?
The sultry Colombian actress received a nod from the Screen Actors Guild Awards Wednesday for her performance as Gloria in the hit comedy "Modern Family."
It is Vergara's fourth nomination for the award's show, though she won in 2010 as part of a comedy ensemble.
Her role as quirky, sassy and flamboyant Gloria has earned Vergara many accolades and a slew of award nominations, but she has yet to take home an individual award (the cast has won several). Last year, there was talk she would win the Golden Globe award, but it went instead to her co-star, Julie Bowen.
Modern Family was the most nominated series with five nods for actors Vergara, Bowen, Ty Burrell and Eric Stonestreet, as well as outstanding performance by an ensemble in a comedy series.
The SAG nominations are among the first major honors on the long road to the Feb. 26 Academy Awards.
In the movie side, Argentine actress Berenice Bejo was nominated for supporting actress for her role in "The Artist."  She plays a rising sound-era movie star in the movie, which received three nominations.
Deep South drama "The Help" received four nominations, among them honors for Viola Davis, Jessica Chastain and Octavia Spencer.
The adaptation of the best-selling novel also was nominated for best ensemble cast, along with the silent film "The Artist," the wedding comedy "Bridesmaids," the family drama "The Descendants" and the romantic fantasy "Midnight in Paris."
The SAG list of contenders and Golden Globe nominees that will be announced Thursday help sort out favorites from also-rans for Oscar voters, whose nominations come out Jan. 24.
Here is the complete list of nominees:
THEATRICAL MOTION PICTURES
Outstanding Performance by a Male Actor in a Leading Role
DEMIÁN BICHIR - "A BETTER LIFE" (Summit Entertainment)
GEORGE CLOONEY - "THE DESCENDANTS" (Fox Searchlight Pictures)
LEONARDO DiCAPRIO - "J. EDGAR" (Warner Bros. Pictures)
JEAN DUJARDIN - "THE ARTIST" (The Weinstein Company)
BRAD PITT - "MONEYBALL" (Columbia Pictures)
Outstanding Performance by a Female Actor in a Leading Role
GLENN CLOSE - "ALBERT NOBBS" (Roadside Attractions)
VIOLA DAVIS - "THE HELP" (DreamWorks Pictures / Touchstone Pictures)
MERYL STREEP - "THE IRON LADY" (The Weinstein Company)
TILDA SWINTON - "WE NEED TO TALK ABOUT KEVIN" (Oscilloscope Laboratories)
MICHELLE WILLIAMS - "MY WEEK WITH MARILYN" (The Weinstein Company)
Outstanding Performance by a Male Actor in a Supporting Role
KENNETH BRANAGH - "MY WEEK WITH MARILYN" (The Weinstein Company)
ARMIE HAMMER - "J. EDGAR" (Warner Bros. Pictures)
JONAH HILL - "MONEYBALL" (Columbia Pictures)
NICK NOLTE - "WARRIOR" (Lionsgate)
CHRISTOPHER PLUMMER - "BEGINNERS" (Focus Features)
Outstanding Performance by a Female Actor in a Supporting Role
BÉRÉNICE BEJO - "THE ARTIST" (The Weinstein Company)
JESSICA CHASTAIN - "THE HELP" (DreamWorks Pictures / Touchstone Pictures)
MELISSA McCARTHY - "BRIDESMAIDS" (Universal Pictures)
JANET McTEER - "ALBERT NOBBS" (Roadside Attractions)
OCTAVIA SPENCER - "THE HELP" (DreamWorks Pictures / Touchstone Pictures
Outstanding Performance by a Cast in a Motion Picture
THE ARTIST (The Weinstein Company)
BRIDESMAIDS (Universal Pictures)
THE DESCENDANTS (Fox Searchlight Pictures)
MIDNIGHT IN PARIS (Sony Pictures Classics)
TELEVISION
Outstanding Performance by a Male Actor in a Television Movie or Miniseries
LAURENCE FISHBURNE - "THURGOOD" (HBO)
PAUL GIAMATTI - "TOO BIG TO FAIL" (HBO)
GREG KINNEAR - "THE KENNEDYS" (REELZ CHANNEL)
GUY PEARCE - "MILDRED PIERCE" (HBO)
JAMES WOODS - "TOO BIG TO FAIL" (HBO)
Outstanding Performance by a Female Actor in a Television Movie or Miniseries
DIANE LANE - "CINEMA VERITE" (HBO)
MAGGIE SMITH - "DOWNTON ABBEY" (PBS)
EMILY WATSON - "APPROPRIATE ADULT" (Sundance Channel)
BETTY WHITE - "HALLMARK HALL OF FAME: THE LOST VALENTINE" (CBS)
KATE WINSLET - "MILDRED PIERCE" (HBO)
Outstanding Performance by a Male Actor in a Drama Series
PATRICK J. ADAMS - "SUITS" (USA)
STEVE BUSCEMI - "BOARDWALK EMPIRE" (HBO)
KYLE CHANDLER - "FRIDAY NIGHT LIGHTS" (DirecTV)
BRYAN CRANSTON - "BREAKING BAD" (AMC)
MICHAEL C. HALL - "DEXTER" (Showtime)
Outstanding Performance by a Female Actor in a Drama Series
KATHY BATES - "HARRY'S LAW" (NBC)
GLENN CLOSE - "DAMAGES" (DirecTV)
JESSICA LANGE - "AMERICAN HORROR STORY" (FX)
JULIANNA MARGULIES - "THE GOOD WIFE" (CBS)
KYRA SEDGWICK - "THE CLOSER" (TNT)
Outstanding Performance by a Male Actor in a Comedy Series
ALEC BALDWIN - "30 ROCK" (NBC)
TY BURRELL - "MODERN FAMILY" (ABC)
STEVE CARELL - "THE OFFICE" (NBC)
JON CRYER - "TWO AND A HALF MEN" (CBS)
ERIC STONESTREET - "MODERN FAMILY" (ABC)
Outstanding Performance by a Female Actor in a Comedy Series
JULIE BOWEN - "MODERN FAMILY" (ABC)
EDIE FALCO - "NURSE JACKIE" (Showtime)
TINA FEY - "30 ROCK" (NBC)
SOFIA VERGARA - "MODERN FAMILY" (ABC)
BETTY WHITE - "HOT IN CLEVELAND" (TV Land)
Outstanding Performance by an Ensemble in a Drama Series
BOARDWALK EMPIRE (HBO)
BREAKING BAD (AMC)
DEXTER (Showtime)
GAME OF THRONES (HBO)
THE GOOD WIFE (CBS)
Outstanding Performance by an Ensemble in a Comedy Series
30 ROCK (NBC)
THE BIG BANG THEORY (CBS)
GLEE (FOX)
MODERN FAMILY (ABC)
THE OFFICE (NBC)
Follow us on twitter.com/foxnewslatino
Like us at facebook.com/foxnewslatino