Ozzy Osbourne off the wagon at the Grammys?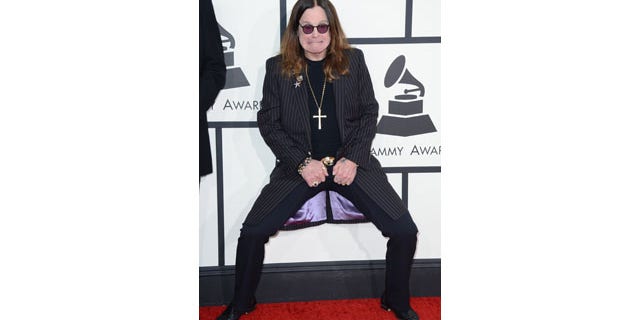 Oh, Ozzy. Has the famed Black Sabbath singer fallen off the wagon yet again?
The rock star has struggled with substance abuse problems for a large portion of his decades-long career, and it was revealed last year that he had relapsed again.
Osbourne raised eyebrows during his stint on stage at the Grammy Awards Sunday night, in which he was tasked to introduce Ringo Starr. Osbourne appeared to lose his place while reading the teleprompter, causing his band buddies Geezer Butler and Tony Iommi to laugh.
The oddness didn't go unnoticed by viewers.
"Ozzy Osbourne = classy wasted," tweeted one, as others raised the big questions: "Why is Ozzy permanently drunk?"
Then there's the notion that Ozzy was just being ... Ozzy.
"Ozzy Osbourne isn't drunk, he's always been like this," noted one observer in his defense.
The band came backstage following their win for best metal performance for "God is Dead?" with Ozzy gripping his trophy and appearing out of it. Although he did attempt to explain his Starr mess-up in simple terms.
"I completely [expletived] it up," Osbourne said.
And those notorious f-bombs continued.
"Yes, I am a big fan of Taylor Swift," Osbourne added when questioned about his thoughts on the country crooner. "Who the [expletive] is Taylor Swift?"
Follow @holliesmckay on Twitter