Madonna headlines Super Bowl halftime show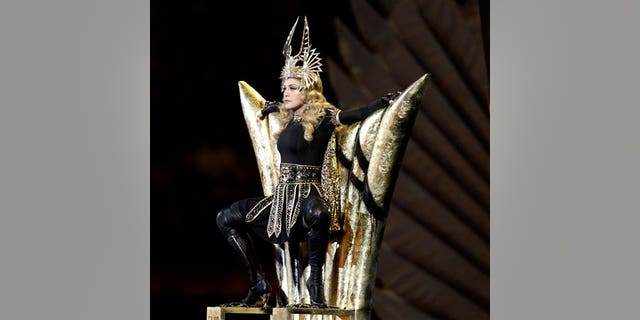 INDIANAPOLIS – For all the pomp and excess of Madonna's Super Bowl halftime show, it is likely to be a single extended middle finger by guest singer M.I.A. that is most remembered.
The gesture, accompanied by a barely disguised expletive, came during a performance of Madonna's new single, "Give Me All Your Luvin."' At the end of her lines, M.I.A. appeared to sing "I don't give a (expletive)," although it was hard to hear clearly.
The incident was reminiscent of Janet Jackson's infamous "wardrobe malfunction" eight years ago -- a surprise risque moment in front of tens of millions of unsuspecting viewers. The brief exposure of Jackson's nipple during the 2004 halftime show raised a storm of controversy and put CBS in hot water with the Federal Communications Commission.
The Super Bowl, shown on NBC this year, is routinely viewed by more than 100 million people, the biggest TV event of the year.
The screen briefly went blurred after M.I.A.'s gesture in what seemed like a late attempt to cut out the camera shot. The NFL, which produces the show, had no immediate comment.
Madonna had admittedly been nervous about her performance, hoping to position herself as the queen of a new generation of pop stars with an opulent show and a sharp performance that mixed her new release with more familiar songs. She seemed like Roman royalty when muscle-bound men carried her extravagant throne across the football field to the stage for her opening song, "Vogue."
Guests Cee Lo and dance rockers LMFAO also appeared with M.I.A. The singing and dancing on "Vogue" was smartly choreographed, as Madonna moved more deliberately -- she is 53 -- but still adroitly. She briefly appeared to stumble at one point while trying to make a step on the stage set, but recovered in time.
She let a tightrope walker make the more acrobatic moves during a performance of "Music."
Madonna carried gold pompons for a performance of her new single. Twitter was alight with questions about the vocals being lip synched or augmented by tapes, particularly during this song.
The best guest was clearly Cee Lo, who joined Madonna for the final song, "Like a Prayer." They were joined by a robed chorus in the show's most soaring performance. With a puff of white smoke,
Madonna disappeared down a trap door in the stage, and lights on the field spelled out "World Peace."
The veteran star's vocals were not strong throughout, lending to a sense of distance. Still, the finger incident is the more likely headline from the event.
Earlier, Kelly Clarkson, Blake Shelton and Miranda Lambert offered some pregame patriotism. Shelton and Lambert did a twangy duet on "America the Beautiful" and Clarkson, in a simple black dress, sang "The Star Spangled Banner" without a hitch after last year's performer, Christina Aguilera, flubbed a line.