Late-night talk show hosts pay tribute to Robin Williams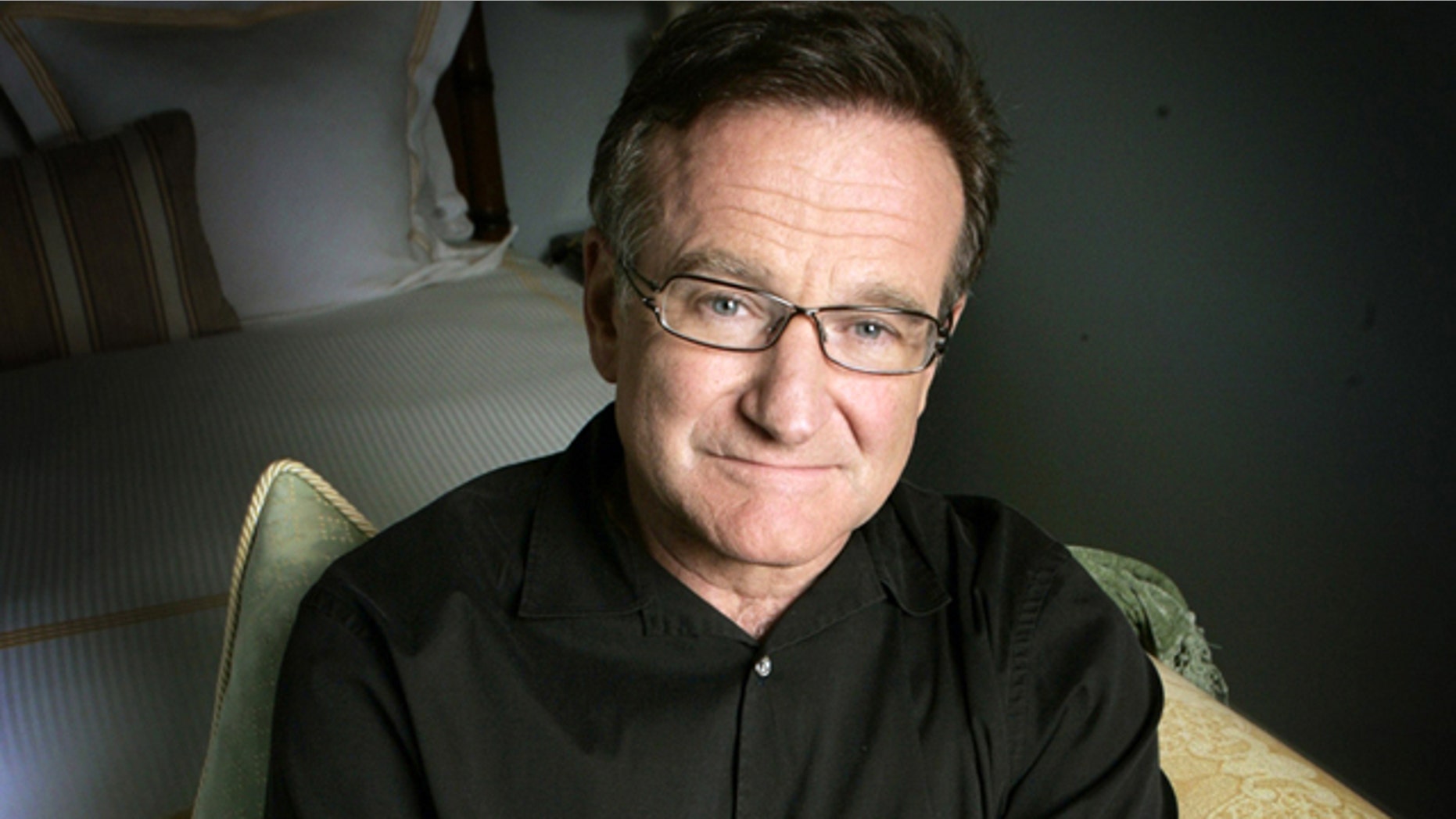 News of the death of Robin Williams broke Monday evening, after most of the late-night talk shows had finished taping. On Tuesday, late-night hosts were quick to add their tributes to the actor and comedian, who was found dead in his northern California home Monday, an apparent suicide at the age of 63.
On NBC, "Tonight Show" host Jimmy Fallon delivered a monologue in which he called Williams the "Muhammad Ali of comedy."
"He was one of a kind — he was one in a million," Fallon said, his voice occasionally cracking. "If you ever saw this guy's stand-up, you wouldn't even believe it. If you don't know his stand-up, you should YouTube it right now and just watch it. It was amazing. He was funny and he was fast and he would weave in and out of characters. And you'd watch him and you would cry laughing, and you would think, 'I'm never going to see anyone like this human ever!'"
Fallon then introduced a clip of Williams's first "Tonight Show" appearance in 1981. To the delight of host Johnny Carson, Williams jumped into the crowd playing a mock evangelist. Such frenetic guest spots became regular events for Williams, who along with Bette Midler was one of the final guests Carson welcomed to the set before he retired in 1992.
Following the clip, Fallon paid further tribute to Williams by standing on his desk and quoting Walt Whitman's "O Captain! My Captain!" a nod to the 1989 film "Dead Poets Society," in which Williams starred as an inspirational prep school English teacher.
"O Captain, my captain," Fallon said, "you will be missed."
NBC's "Late Night" host Seth Meyers also discussed Williams' death at the top of his show.
"The saddest part of this is Williams was battling depression, and if there is anything we can do to honor his memory I would hope it would be to use this opportunity to educate us more about this terrible affliction," Meyers said. "So we just want to say that we miss Robin, but we're also very lucky to have had him at all."
One host who was able to mention Williams' death in his show Monday was TBS' Conan O'Brien, who received the news during the show's taping.
"We got some news during the show that Robin Williams has passed away," said O'Brien, drawing audible gasps from the audience. "I'm sorry to anyone in our studio audience that I'm breaking this news, this is absolutely shocking, and horrifying, and so upsetting on every level."
O'Brien's sidekick Andy Richter described Williams as "an amazingly kind and generous person." Actor Will Arnett, who appeared alongside Williams in the 2006 film "RV," said "As funny as he was — he's truly one of the all-time greats — he was even better as a person."
O'Brien closed the discussion, and the program, by restating his apology to anyone he had broken the news to, before adding "Good night, and God bless Robin Williams."
The Associated Press contributed to this report.