James Franco and Anne Hathaway Ready to Show Their Stuff at 83rd Annual Oscars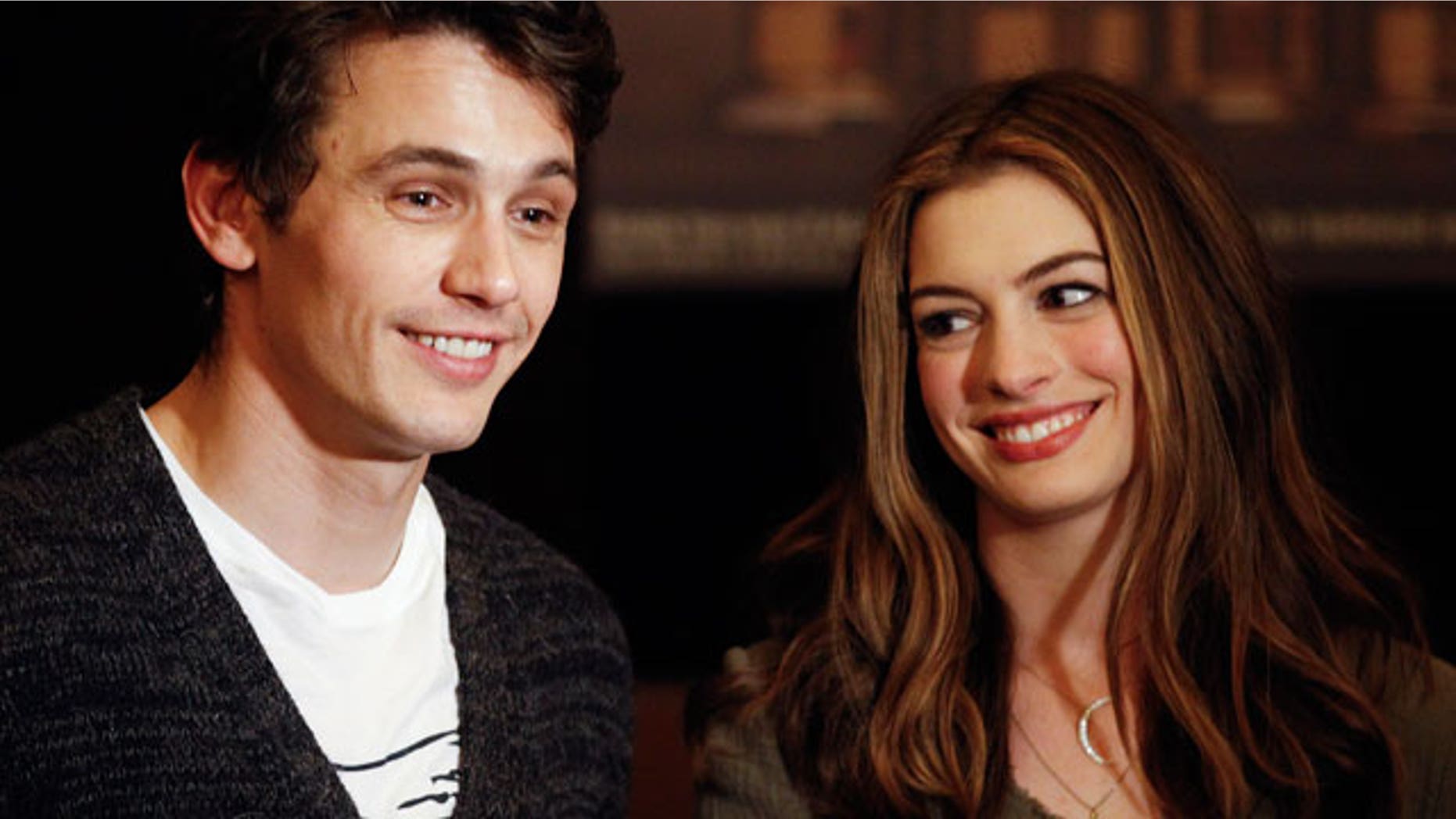 Check in to FoxNews.com for wall-to-wall Oscar coverage Sunday night, including our Oscar Red Carpet livestream at 6:30pm EST. And join Fox411 on Twitter @FOX411 for real-time updates throughout the night.
It's the night fans, actors and critics have been waiting for as Hollywood prepares for the Super Bowl of movies: the Academy Awards.
From the gowns to the hosts to the awards themselves, there is plenty to look forward to from the 83rd Oscars, even if some critics are calling it in advance "yet another snorefest."
(How do they know? Are they psychic?)
This year's show will be a slight departure from previous broadcasts, with the Academy ditching the comedians-as-hosts formula in favor of two young actors, Anne Hathaway and James Franco.
At just 28, Hathaway is the youngest ever to host the show. Prior to the rehearsals for Sunday's broadcast, Hathaway said she had never met Franco, 32, who is also up for Best Actor for his performance in "127 Hours."
FOX411.com's Full Oscar Coverage
But Hathaway said their chemistry was instantaneous, joking, ""I've been thinking of having chemistry with James Franco for years."
The host choice was a shocker, especially after last year's successful pairing of comedy vets Steve Martin and Alec Baldwin.
But Franco said he isn't feeling any pressure about filling some very big, funny shoes. "Nobody thinks I'm Chris Rock or Billy Crystal," he said. "I can try anything and nobody has high expectations, so nobody cares if I'm not great."
Still, hosts aside, the awards are likely to hold few upsets.
For best actor, Colin Firth's performance as a stuttering monarch in "The King's Speech" is a near-guarantee, with the actor having taken home nearly all of the pre-Oscars awards, including the Golden Globe and the Screen Actor's Guild Award.
Firth's film "The King's Speech" will be pitted against David Fincher's runaway hit "The Social Network" in many of the major categories, including Best Director and Best Picture. But with the majority of the Academy slightly older than the Facebook generation, "Speech" will likely bring home the gold.
Regardless, among the 10 nominees for Best Picture, which include "Inception," Toy Story 3," "The Kids Are All Right," "True Grit," "Winter's Bone" "The Fighter," Black Swan" and "127 Hours," both "The King's Speech" and "The Social Network" are the dominant standouts.
Other shoo-ins include Christian Bale for his as crack-addicted boxer Dicky Eklund in "The Fighter," and "Natalie Portman" for her role as a tortured dancer in "Black Swan."
That's not to say, however, that there isn't any room for upsets. While Portman is the favorite for Best Actress, she could lose to Annette Bening for her performance in "The Kids Are All Right," especially in light of Bening's long and successful career.
Melissa Leo won the Globe for "The Fighter," but she faces strong challenges from that film's co-star Amy Adams and 14-year-old newcomer Steinfeld, who missed out on a Globe nomination for "True Grit," but made the cut for supporting actress at the Oscars.
Just 11 years older than Wahlberg and 13 years older than Bale, Leo dazzled audiences with her portrayal of the boxers' mother Alice Ward. But in her vocal complaints about the existence of ageism in Hollywood and her personally-commissioned Oscar ads, which ask voters to "consider" her for the win, she earned a significant amount of criticism.
"I took matters into my own hands," she told Deadline.com. "I knew what I was doing and told my representation how earnest I was about this idea. I had never heard of any actor taking out an ad as themselves, and I wanted to give it a shot."
"She lost my vote!" Hollywood Reporter's Tim Appelo quoted an Academy member as saying after seeing the ads.
When it comes to the Academy, popularity plays a role, as this year's so-called "Oscar Snubs" reflect. Director Christopher Nolan, who was infamously left out of nominations in 2008 for "The Dark Knight" was once again overlooked for his direction of the commercially successful "Inception."
Other snubs included Mark Wahlberg for Best Actor in "The Fighter" and Mila Kunis for Best Supporting Actress in "Black Swan."
But let's get serious. Nobody watches the oscars to see who wins. They watch for weird Oscar gowns and kooky acceptance speeches!
And of course, to see how Hathaway and Franco perform.
The 83rd Annual Academy Awards airs on ABC on Sunday at 8 p.m./5 p.m. Central.