Jada Pinkett Smith defends Anne Hathaway in white privilege debate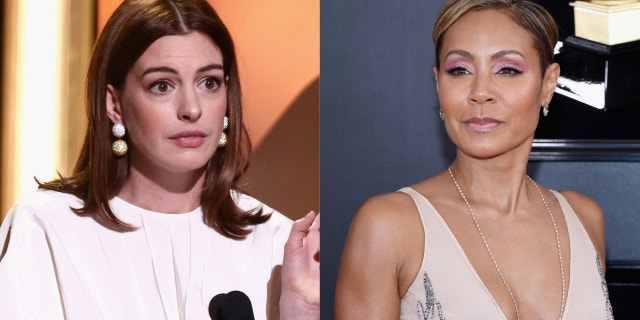 Anne Hathaway received so much criticism for an Instagram post in July 2018 about the murder of Nia Wilson that she deactivated her comments section.
JADA PINKETT SMITH ADMITS SHE STRUGGLES WITH RACIAL BIAS
She has at least one supporter, however, in Jada Pinkett Smith.
In an episode of "Red Table Talk" that dropped on Monday, Pinkett Smith told her panel, "As women of color, we really have to recognize when white women come in to help that we make room for it," she said. "Because there's been a couple of times, like when Anne Hathaway, or…"
ANNE HATHAWAY CALLS OUT WHITE PRIVILEGE AFTER MURDER OF BLACK WOMAN BY WHITE MAN
However, before Pinkett Smith could finish, her daughter, Willow, interrupted, "It's about trust issues," later explaining, "You have to earn that trust. You have to earn that relationship."
CLICK HERE TO GET THE FOX NEWS APP
Guest Rachel Cargle concurred with Willow, to which Jada replied, "It is trust issues. I understand that, Rachel. I get it. But at some point, where are we as black women going to be able to recognize an ally?"
ANNE HATHAWAY DISCUSSES BATTLING ANXIETY AND INSECURITY
Cargle added, "It's not a matter of black women saying, 'Hey, we're open to you being an ally to us.' It's white women showing up and saying, 'You have a righteous anger. You're allowed to be livid at the things we have imposed on you over history.' … Either [white women are] the hero or they're the victim. They rarely take responsibility."
JADA PINKETT SMITH RECALLS WHEN DAUGHTER WILLOW REVEALED SHE WAS CUTTING HERSELF
Jada responded, "I believe that we have to take leaps as well. All I'm saying is we need them, they need us, we need you, we need each other. We have to be able to sit in a bit of vulnerability to allow for a certain kind of healing to occur."