George Lopez, comedians joke about Trump's win at benefit event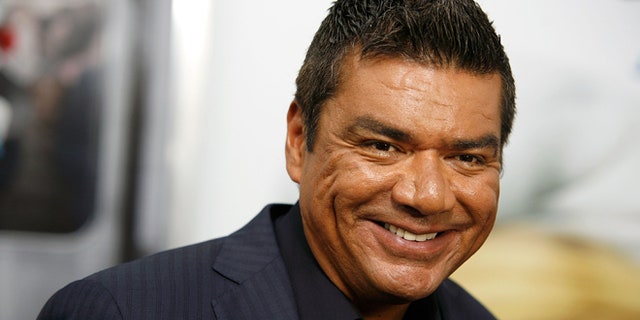 NEWYou can now listen to Fox News articles!
The shocking outcome of the presidential election was the topic of choice for comedians George Lopez, Seth Meyers and John Oliver at a benefit event on Wednesday night.
The event was hosted by the Natural Resources Defense Council, a nonprofit advocacy group dedicated to clean air, clean water and healthy communities.
Lopez, an American-born standup comedian whose humor draws on his Mexican heritage, invoked Trump's pledge to crack down on immigrants. Upon arriving on stage Lopez told his audience, "I can't stay long." A pause. "I'd LIKE to, but I don't think I have anything to say about it."
But as he was speaking, he produced a sheet of paper.
"This isn't my notes," he said. "It's my birth certificate."
Meyers, host of NBC's "Late Night," voiced a bit of hope for how the Trump administration might turn out.
"I have been wrong about him every step of the way," Meyers said. Wrong that Trump wouldn't run; wrong that he wouldn't get the GOP nomination; wrong that he wouldn't win.
"The good news is, based on my pattern of getting it all wrong, he's going to be a great (darn) president!"
The benefit for NRDC was billed as "the place to be the night after the presidential election." But clearly the original plan had been to celebrate Hillary Clinton's election. When Trump pulled his upset win, it caught the comedians, like many in the country, by surprise.
In fact, news of Trump's victory sent many citizens, including standup Mike Birbiglia, straight to their computers.
"We were all Googling 'What do you do when someone who talks like a dictator takes over your country?'" Birbiglia joked. "And all the results were in Korean."
Will America manage with Trump as chief executive? "That's a difficult question to answer," mused Oliver, host of HBO's "Last Week Tonight."
But in its favor, he proposed, is the fact that America is "a defiant nation." As an example of its national defiance, he reported that during the devastating financial crisis of 2009, Americans spent $310 million on Halloween costumes — for their pets.
Hasan Minhaj, a senior correspondent for Comedy Central's "The Daily Show," is American-born to Muslim parents who originally came from India.
"For the past 15 years I've been blamed for 9/11," he said. But referring to Wednesday's date, when Trump's victory was clenched, he added, "White Americans are now responsible for '11/9.'"
Based on reporting by the Associated Press.
Like us on Facebook
Follow us on Twitter & Instagram