'Game of Thrones' star Pilou Asbaek reveals why Euron Greyjoy is unlike any other villain
NEWYou can now listen to Fox News articles!
NEW YORK – "Game of Thrones" star Pilou Asbæk is thankful to have shown up later in the series than most high-profile characters because it gave him a chance to craft a villain that the world of Westeros has not yet seen.
Speaking to Fox News at the Season 8 premiere of the HBO drama, Asbæk discussed his bloodthirsty character, Euron Greyjoy, and why he can't be compared to some of the other notorious baddies on the show.
'GAME OF THRONES' STAR EMILIA CLARKE SAYS 'A BIT OF HER BRAIN DIED' FOLLOWING ANEURYSMS
"It's awesome, and I'm walking in the footsteps of some very, very evil people," an enthusiastic Asbæk said. "I did a mistake on Season 6 and 7 where I compared myself to Joffrey and Ramsey saying, 'He's going to be a bada-- character.' He is a bada-- character, but those guys are evil-evil."
The actor referenced villains played by Jack Gleeson and Iwan Rheon, who are widely considered by fans to be the most despicable. Euron showed up in Season 6 where he quickly took the salt throne from house Greyjoy and proceeded to wield his power against some well-established main characters to make their lives miserable.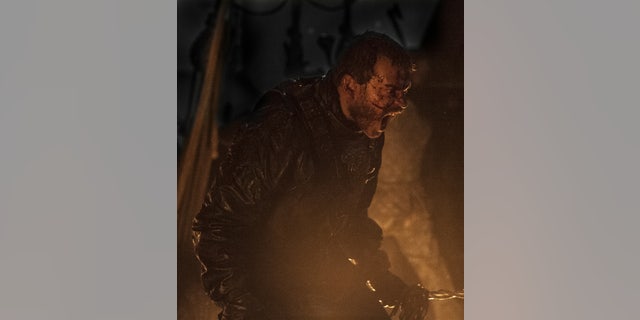 "I wanted to do something else with Dan [Weiss] and David [Benioff] and what they wanted. We wanted to do a more seductive, more charming choice. A little more like… You wouldn't know if he's going to kiss you or kill you, you know?"
The 37-year-old actor clearly had a strong understanding of the show in order to craft the unique villain he wanted to. However, he revealed that he no longer watches the "Game of Thrones" now that he's on it.
"I haven't seen one episode since Season 6. I was a massive fan, and the day I became a part of it, the magic kind of disappeared. I saw how they make the dragons… they're not real! I was so disappointed," he joked. "It's a little guy with a green stick and a tennis ball!"
'GAME OF THRONES' STAR IAIN GLEN REVEALS WHAT FANS GET WRONG ABOUT JORAH, WHAT HE STOLE FROM SET
However, the star leaned on his past knowledge of the show to reveal which departed character he wishes Euron could have met.
"I think I would have loved to have had a fight with Pedro Pascal's character [Oberyn Martell]… or maybe a drink. I don't know" he said.
CLICK HERE TO GET THE FOX NEWS APP
Asbæk will return as Euron Greyjoy in the show's eighth and final season, which premieres on April 14.