Felicity Huffman's 'Desperate Housewives' co-star Joely Fisher 'conflicted' about college admissions scandal
After biting her tongue for days, former "Desperate Housewives" actress Joely Fisher decided to finally comment on the college admissions scandal that allegedly involves her former co-star and friend Felicity Huffman.
The 51-year-old, who played Huffman's (Lynette) boss on the second season of the ABC drama series, admitted she's typically an "outspoken" person — but acknowledged that this case, in particular, quickly became "quandary central."
For days, Fisher said the elite scheme, which authorities said involved dozens of parents bribing insiders to get specific children into top schools, haunted her. She even said her husband, Christopher Duddy, asked if she would have ever even considered participating in such a scheme.
FELICITY HUFFMAN, LORI LOUGHLIN MOCKED BY FELLOW CELEBRITIES OVER COLLEGE ADMISSIONS CHEATING SCANDAL
"Chris asked me today if, 'pre-embezzlement' I would have done anything to get one of our girls into the college of their dreams..truth is I would do just about anything for our children (short of federal crime) #truth as I pondered this I thought back to the beauty, the talent, the camaraderie, the early day red carpets, the desperation, the exhilaration," Fisher, who's best known for her role as Paige Clark on "Ellen," captioned a throwback Instagram post on Thursday.
"I thought about all of us girls having our babies at the same time and being filled with the anticipation of doing all of this better than our parents. We were progressive, yoga mamas, breastfeeding ninjas ...not even thinking about where they would go to college. Flash forward to working with the most talented, beautiful, generous actor...I shared every scene with her for a season until my second pregnancy got me fired from my desperate role as Lynette's boss," Fisher continued.
Huffman was arrested Tuesday after FBI agents showed up at her Los Angeles home around 6 a.m. She posted a $250,000 bond after an appearance in an L.A. federal court.
WHO IS WILLIAM RICK SINGER, THE COLLEGE ADMISSIONS CHEATING SCANDAL'S ALLEGED RINGLEADER
After seeing paparazzi photos of a tired-looking Huffman and reading through the charges she was facing, Fisher said she couldn't help but ask herself: "Would I have done what these parents have done to 'improve' the future of their child's life?"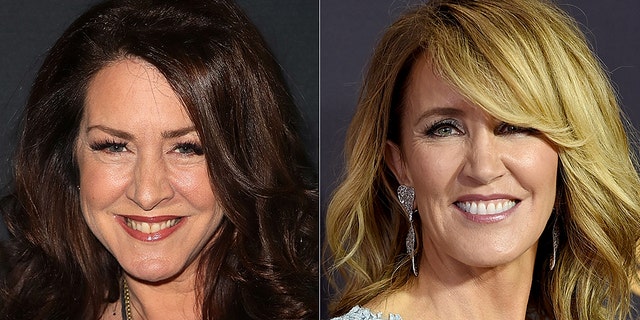 "The answer is perhaps...perhaps if what they have done is an improvement. My Skylar, my firstborn has been moved from school to school due to our 'situation'...she has worked her a-- off and thrived ..today she was accepted to school number 5 and we are applying for financial aid. I am proud of my children and who they are and how hard they have worked to make their place in the wake of #growingupfisher," Fisher further explained.
But Fisher then claimed there's no easy answer.
"I also understand wanting only good for your offspring and I am conflicted and I adore #felicityhuffmanmy prayers go out to you tonight," she added.
The post received hundreds of likes and dozens of mixed reactions as of Friday afternoon.
In total, 50 people — including more than 30 parents and nine coaches — were charged Tuesday in the nationwide scheme. Huffman's husband, actor William H. Macy, has not been charged, though an FBI agent stated in an affidavit that he was in the room when Huffman first heard the pitch from a scam insider.
The Associated Press contributed to this report.