Did Iggy Azalea get a nose job?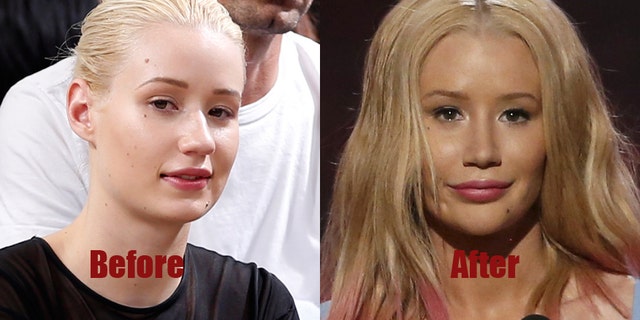 Iggy Azalea sported a new 'do at the 2015 Billboard Awards on Sunday night at the MGM Grand in Las Vegas, but it appeared that her hair was not the only thing she changed.
The "Pretty Girls" rapper walked the red carpet with a seemingly slimmer nose (see the "before" pic from September 2013 above), which had the blogosphere wondering whether or not the 24-year-old went under the knife.
The 'Fancy' singer posted a pic of herself on Instagram on Sunday with a caption, "Loving my new look." However, many fans were not in agreement.
"She definitely had some work done on her nose and chin. She already had so much done, I hope she's not going for the Lil Kim look," one said.
"The boob job was tasteful because it fit her body but the chin injections/implant looks incredibly fake and she got a cookie cutter nose job," said one fan.
Click here to subscribe to FOX411's YouTube channel
Indeed the Australian-born star is no stranger to plastic surgery, having recently come out about her breast augmentation.
"I did change something: Four months ago, I got bigger boobs!" she said earlier this year. "I'd thought about it my entire life."
A few others thought make-up contouring and lighting could have caused her to look so dramatically different.
Take a break with ... Iggy and Britney doing Britney and Madonna