Carlos Santana Says It Was 'Perfect Moment' To Record An Album In Spanish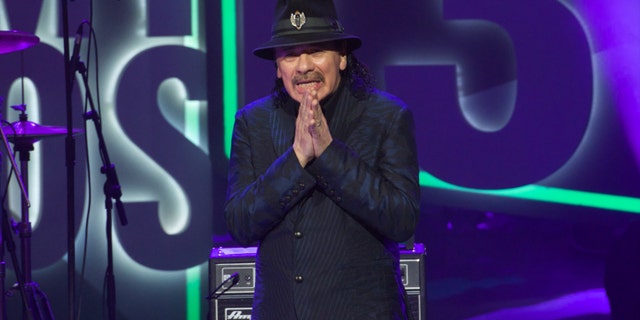 It only took 40 years but Carlos Santana finally found the perfect moment to record his first Spanish-language album.
"It was the perfect moment to do it," said the Mexican-American guitarist at a recent event in New York. "Similar to when the water breaks and a mother says the baby is on the way, we can now say that Latinos are also arriving."
Santana, a pioneer of the fusion of rock and Latin music, will launch his new album "Corazon" on May 6, and HBO Latino is planning a couple of shows to help mark the occasion. On May 3rd, a concert film, "Santana-Corazon: Live From Mexico, Live It To Believe It" will be aired. In the days before, "Santana: De Corazon" – a 30-minute show gives fans a sneak peek at the concert and album.
The documentary film shows a concert he gave in Guadalajara, Mexico, last December, where he was joined onstage by artists like Lila Downs, Gloria Estefan, Juanes, Miguel, Fher Olvera from Mana, Niña Pastori, Romeo Santos and Diego Torres – all whom collaborate with Santana on his new album.
"I wanted a selection of genuine artists, honest and authentic," he said.
The album features 12 singles in a variety of genres including pop, rock, salsa, hip hop, reggae and bachata. Santana was also joined by Samuel Rosa, Pitbull, Los Fabulosos Cadillacs, Soledad, Wayne Shorter, Cindy Blackman Santana, Ziggy Marley and ChocQuibtown.
"When I play this music, even the hippies move in a different way," said Santana.
Based on reporting by the Associated Press.
Follow us on twitter.com/foxnewslatino
Like us at facebook.com/foxnewslatino