Carlos Santana To Release First Ever All-Spanish Album, Report Says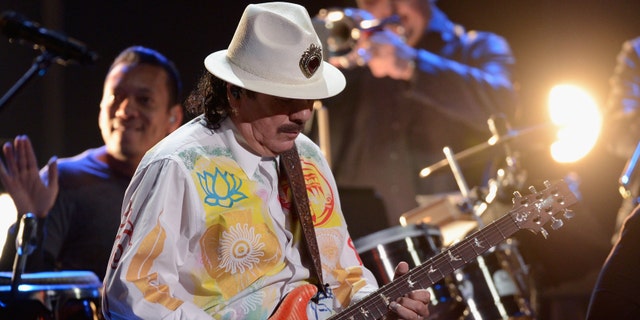 For the first time in his long career, Mexican rock guitarist Carlos Santana will be releasing an album with all-Spanish songs.
The album, yet to be titled, is due out early next year.
According to a report by the Houston-based "La Voz," a source close to the 66-year-old star said he is working on the last touches of the album, which will include several guest artists from Latin America and the United States.
Santana, who emigrated from the town of Autlán De La Grana in Mexico, began his career in the 1960s by mixing rock sounds with Antillean rhythms in songs like "Jingo, Soul Sacrifice," "Samba Pa'ti," and "Evil Ways." Over the years he has teamed up with some of the world's most renowned artists, including Latin jazz timpanist Tito Puente, Fleetwood Mac, Willie Nelson, Rob Thomas, Maná, Dave Matthews and others.
In 1969 he performed at the Woodstock Music Festival, introducing his band to an international audience. Since then Santana has won 15 Grammys, sweeping the 2000 awards with his album "Supernatural" which has sold more than 25 million copies.
In a landmark decision by the Kennedy Center this year, the guitarist is among the two Latino musicians to be honored for his contributions to the arts. He will be joined by opera singer Martina Arroyo, acclaimed actress Shirley MacLaine, rocker Billy Joel and jazz pianist Herbie Hancock.
Days after the announcement by the Kennedy Center, Santana was involved in a accident with two parked cars. According to published reports, the famed guitarist was driving home and fell asleep at the wheel, crashing into the two vehicles – and totaling his silver Fisker Karma.
Follow us on twitter.com/foxnewslatino
Like us at facebook.com/foxnewslatino