Bill O'Reilly bringing history to page, screen in book-turned-movie franchise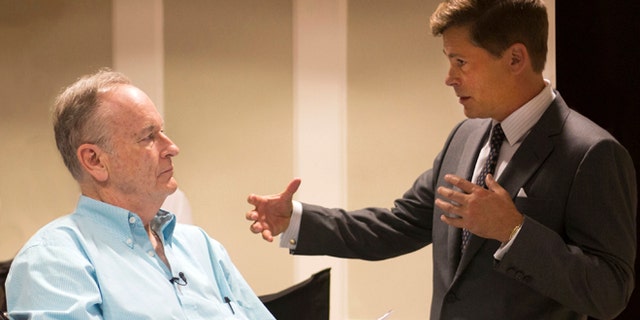 RICHMOND, Va. – Fox News host Bill O'Reilly is taking his book-turned-movie franchise and running with it.
O'Reilly already has inked a deal with National Geographic Channel for the movie version of his book "Killing Jesus: A History" being published Sept. 24. And he's got three similar books in the works.
While he declined to divulge the topics, the upcoming projects will make "very, very dramatic history come alive on the page and then in the movies," O'Reilly said in an interview with The Associated Press on the Richmond set of "Killing Kennedy," the film adaptation of his book about President John F. Kennedy's 1963 assassination. The film featuring Rob Lowe as the former president and Ginnifer Goodwin as the first lady is expected to air around the 50th anniversary of the shooting later this year.
"We consider ourselves historical investigators," O'Reilly said of himself and researcher Martin Dugard. "We go and try to find new stuff and try to bring you a really vivid picture of who these people really were. ... I don't have an agenda at all, I mean I just want to know the facts."
In the beginning O'Reilly said the books were a "hard sell" to publishers, "but I said we're going to bring a different sensibility to it. And boom." The books have sold millions of copies.
The former history teacher also has published children's versions of his books because he was bothered that kids are "just not paying attention and not caring about history anymore."
"You have to force the urchins to look at their country and understand they're in America and here's what happened, and we're trying to make it fun for them to do it," O'Reilly said.
The film versions of his books have allowed O'Reilly to take on a behind-the-camera role, executive producing the movies. But he insists he's not a meddler.
"I'm a creative guy and I don't like meddling in my writing or my broadcasting," O'Reilly said. "They run stuff by me but I'm a 90-percenter ... they know what they're doing. It's a successful machine, so why do I want to muck it up? ... They can take a little bit of a creative liberty to move the narrative, but they can't change the facts. And it's as simple as that."
As far as his nightly TV program, the 63-year-old O'Reilly said he'll continue to do it "as long as it's worthwhile."
O'Reilly touted his program's ability to help raise money for charitable organizations as the one of the major motivations to stay on the air.
"I'm in it for that more than the self-aggrandizement at this point," he said. "I've proven what I had to prove. I still enjoy doing my job but it's a lot of work for an old guy."
___
Michael Felberbaum can be reached at http://www.twitter.com/MLFelberbaum .