Duane 'Dog' Chapman pro gun, but against lethal ammunition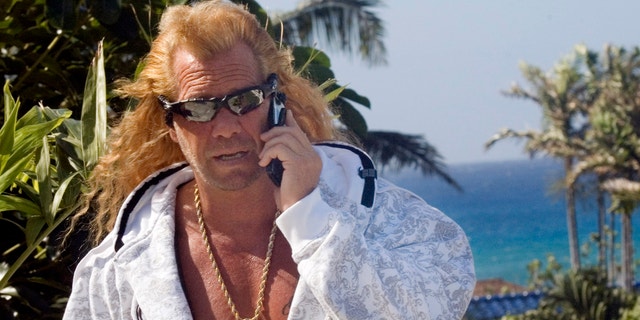 NEWYou can now listen to Fox News articles!
Dog is back! The pony-tailed muscleman who seemingly locked up half of Hawaii's residents has a new show on CMT. Called 'Dog and Beth: On the Hunt" it features Dog doing what he does best - nabbing bad guys. Duane 'Dog' Chapman spoke to Fox about it and what he thinks about gun control.
FOX411: Tell us about the new show?
Dog: The old show we were bounty hunting just in Hawaii and once in a while in Colorado. A lot of people saw us doing it and thought it was easy and not dangerous. In the last couple of years it started averaging about one or so a month young bounty hunters were getting killed, or making terrible mistakes like killing the family dog or stunning someone who wasn't involved. Once we stopped our previous show a guy named Chris Grant (CEO of Electus who produces the show) came to me and said, 'Dog, I don't know if I can say you are responsible for these guys, but you made it look easy. I think you need to go around the country training these people and making sure they stay alive, give them your ins and outs.' So now we go across the U.S. where bail bondsmen are allowed, which are 47 [states] and we train them. We've got unbelievable responses.
FOX411: Any surprises?
Dog: A lot more guns than I expected. I'm a gun advocate and I believe everyone can have one to protect themselves, but guns are rampant, it's like a disease being spread though out the U.S.
FOX411: So how can you be pro-gun?
Dog: I'm not against the gun. I'm against the bullet, the lead bullet, because I've used non-lethal weapons for 30 years. I have had to shoot many fugitives and never killed anyone. You have the right to bear arms, which means you can protect yourself, but you don't have the right to kill people for no reason. The lead, the bullet itself, is ridiculous.
We have made weapons that can drop an elephant in one second. I'm showing cops, homeowners, good people, you don't have to kill anyone to get them down so you can control them. You can use a non lethal bullet, a rubber bullet and drop anybody. They're going down, call 911, tell them if they move you'll shoot them again, so that's what I'm against.
FOX411: So you're against automatic weapons that fire off dozens of bullets in a minute?
Dog: Absolutely. I'm for protecting your house. There's a difference between protecting and sniping. Even hunters can't use automatic weapons to kill game.
FOX411: You're famous for espousing second chances for people.
Dog: Everyone cannot be rehabilitated. I have given up on several. There are some that deserve to go straight to hell without passing go. Jeffrey Dahmer types, sexual assualt on a child.
FOX411: Would you be okay with your grandchildren becoming bounty hunters?
Dog: We've got a show coming out, my grandson from Leland, Dakota 'Dog' Chapman. He just turned 18. One of our shows we just shot we took Dakota out and made a couple of arrests. I'm fine with him doing it. He asked me, 'Grandpa why is this burning inside of me? Why do I want to bounty hunt?' I'd much rather he be a doctor or a lawyer 100 percent, but I recognize it's in his blood. Bounty hunting is an inherited thing, and Dakota's got it.
FOX411: We imagine you go through a lot of peroxide.
Dog: There's nothing wrong with gray hair but thank the Lord I have none. It's not peroxided. It has a little color to it. I have some gray in my beard but none on my head. I have to have a little color put in it but it's roughly natural.
FOX411: Ever get curlers in your hair?
Dog: I did when I was younger when everyone had an afro. My look has a lot to do with who I am. I have to look scary when someone sees me, within that three seconds, that I'm not messing around.