'Blood and Oil': Can mom and pop Ohio oil co. beat the big boys?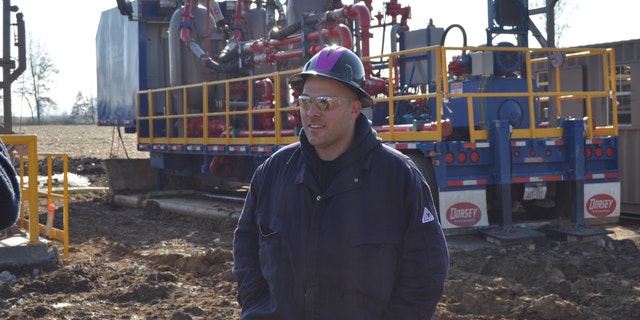 CJ Cutter said his family, who work together to run an oil business in Ohio, have always been TV ready.
"We joked about it –years ago when reality just started– 'oh, all the crazy stuff that goes on with us, cameras ought to be rolling,'" he told FOX 411.
So it seemed only fitting when Discovery Channel called the Cutters and voiced interest in filming their family's everyday antics.
Their latest business ideas, warm moments and arguments are all documented on "Blood and Oil," which will air this summer on Discovery. The show follows CJ and his siblings as they attempt to revive their struggling small oil business, which suffered after CJ's father died in 2010. Cutter Oil also saw a decline in 2011 and 2012 when big oil companies moved into the area, making it much harder for the "mom and pop" oil producers nearby to stay afloat.
But this year, CJ said the Cutters are ready to make a comeback and give the big oil companies a run for their money.
"Blood and Oil" opens with CJ's elaborate plan to drill on his family's 200-year-old land in hopes of finding oil. This was a way to break back into the business after several years at a standstill, he said.
"We're going against Goliath," CJ explained. "I've kind of led the charge with the family to say 2013 we're going to start drilling again."
And to do that, the Cutters must work together as a family, making all decisions as a unit.
"Every one of us is involved in it one way or another," CJ said, adding that his mother, Beth, is the president of Cutter Oil. "I can't make one decision on my own."
He hopes that the series can show viewers just how challenging his line of work is.
"I'm really excited for America to see a family in the Midwest, fighting…to stay alive. As a small business you do everything you can to stay alive."
David Pritikin, an executive producer at Discovery Channel, said the Cutter family story is something he expects a lot of viewers will be able to relate to.
"We would have done the show even if it wasn't oil," Pritikin said. "We found that CJ was such a larger than life character…that the family would have been a good story regardless of their occupation."
But Pritikin added because the family's work is oil, he hopes the series can teach viewers a thing or two about the competitive oil business.
"I don't feel that many Americans know that there's a huge…oil business in the heartland of Ohio," he said.
CJ said the series will likely also bring attention to just how rigorous it is to work in the oil business.
"I would like a lot of people to understand, and to see, it's a very hard business and a very risky business," he said. "Here, overseas– I just want people to appreciate– it's a product that everybody uses. We can't do without it right now."
"Blood and Oil" premieres on Tuesday, June 18, on Discovery Channel.
[youtube eRXZeLVmA0M]