Back together or in denial? Michael Douglas continuously references 'wife' Catherine Zeta-Jones despite separation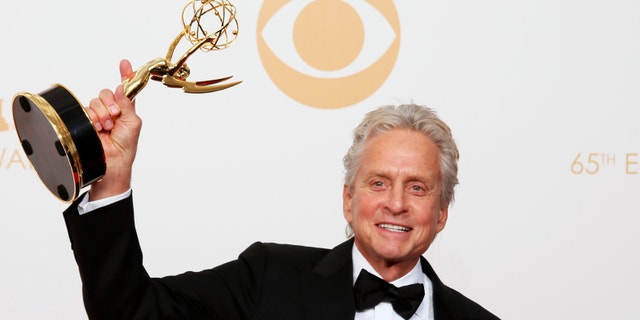 LOS ANGELES – Just a few weeks ago, Michael Douglas and Catherine Zeta-Jones confirmed speculation that they had separated after 13 years of marriage, with reps for the couple insisting that they were "evaluating" and "working on" their relationship.
But if Douglas's words during the Emmys on Sunday are anything to go by, they certainly aren't headed for divorce. In fact, he went out of his way several times to praise his spouse as though nothing was wrong.
"I want to thank my wife for her support," Douglas announced boldly during his acceptance speech for Best Actor in a Miniseries or TV Movie, which he won for his embodiment of Liberace in "Behind the Candelabra."
And in the press room backstage Douglas continued to praise his co-star Matt Damon, pointing out that he got to know the younger actor when he worked with "my wife, Catherine" in "Ocean's Twelve."
However, Douglas did attend the awards ceremony alone, while a smiling Zeta-Jones instead spent her Sunday far away at the launching ceremony of Qingdao Oriental Movie Metropolis in China.
"Michael is really in love with Catherine," a source told us. "He would do anything for her."
The Emmy winner went on to tell Access Hollywood that he was "very hopeful" that they would be able to repair their relationship.
Douglas also didn't shy away from the continued controversy surrounding his son Cameron, who is in prison for dealing drugs, and instead used the opportunity to speak out on the larger implications of his sentence.
"If you happen to have a slip, this for a prisoner who is not violent … they punish you. In my son's case, he has spent almost two years in solitary confinement, and right now I'm being told I cannot see him for two years. It's been over a year now, and I'm questioning the system," Douglas told reporters gathered backstage."Obviously, at first I was disappointed with my son, but I've reached a point now where I'm very disappointed with the system."
He went on to explain that U.S. Attorney General Eric Holder is working on a new policy "regarding non-violent drug addicts."
"The U.S. represents 5 percent of the world's population and now we have 25 percent of the world's prisoners," Douglas concluded.