Why so sad? Emmys feature six tributes for deceased stars; fans not happy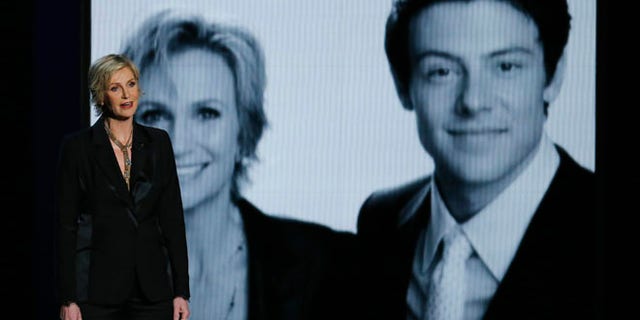 Each year's Emmy Awards show has a tribute slideshow featuring TV stars who died in the past year, but the 2013 Emmys took remembrances to a whole new level, featuring sand-alone tributes to no fewer than six deceased stars.
Robin Williams started the night with relatively light-heard memories of comedy legend and former "Mork & Mindy" co-star Jonathan Winters.
"Jonathan Winters was my mentor," Williams said. "I told him that and he said, `Please, I prefer idol."'
Rob Reiner then choked up during his emotional tribute to his "All in the Family" mother-in-law Jean Stapleton.
Elton John followed a few minutes later with a maudlin song about the late Liberace, who was the subject of the Showtime movie "Behind the Candelabra."
Jane Lynch was next, paying tribute to "Glee" star Cory Monteith, who died this year of a drug overdose. "Cory was a beautiful soul," she said. "He was not perfect, which so many of us here tonight can relate to. His death is a tragic reminder of the rapacious, senseless destruction that is brought on my addiction."
Monteith's tribute was also the subject of some controversy, as Jack Klugman's son expressed before the show his distaste for the fact that Monteith, who had never won an Emmy, was being recognized over his father, who also died in the past 12 months, and who had won three.
Michael J. Fox hosted a look back at "Family Ties" and "Spin City" creator Gary David Goldberg before "Sopranos" star James Gandolfini, who died this year of a heart attack, was memorialized by co-star Edie Falco. "If you needed anything at all, ever, Jim was there to take care of it before you even had a chance to ask," she said.
Many viewers took to Twitter to express their displeasure with the night's maudlin turn.
"Seriously? Couldn't the #emmys just done one of those slideshows and sad music to honor everyone? STOP MAKING ME SAD."
"The #emmys are depressing me. What's with all the death and sadness?"
"Someone get Tina Fey and Amy Poehler to save this depressing and confusing disaster of an award show... #Emmys"
And that's not all.
In addition to the six stand-alone tributes, and the slideshow of others who had died in the past 12 months, Don Cheadle hosted a segment about the power of television, twinning the coverage of John F. Kennedy's assassination (mostly Walter Cronkite tearing up while announcing the President's death) and The Beatles' invasion of the U.S. 50 years ago, before awkwardly segueing into a Carrie Underwood performance of one the Beatles' saddest songs ever about the passing of time, "Yesterday."
"Well, this may be the saddest Emmys of all time but we could not be happier," "Modern Family" creator Steven Levitan quipped as he accepted the award for Outstanding Comedy Series.