American Idol: "Welcome Back," Karen Rodríguez; J.Lo Gives Lone Latina Advice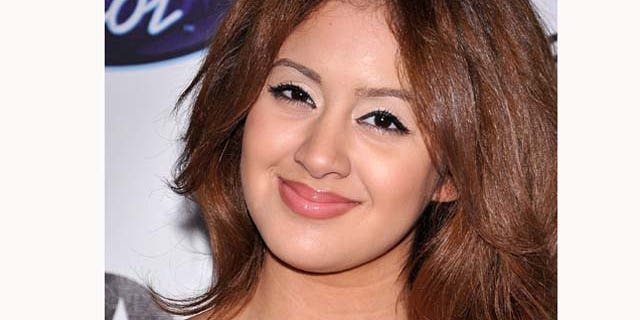 "Welcome back!"
Those were the words aspiring American Idol Karen Rodríguez heard upon singing her last note Wednesday night.
The remaining 12 Idol hopefuls chose songs from their birth years to perform for their millions of fans in the the studio and at home.
Sporting an over-the-top hairdo, full-size hoop earrings and an extravagant metallic mini-dress – not to mention high knee boots reminiscent of Julia Roberts in "Pretty Woman" – a pumped up Rodríguez took center stage singing Taylor Dayne's 1989's "Love Will Lead You Back."
The Peruvian-Dominican singer sang her heart out in an attempt at redeeming herself from last week's disappointing performance.
"It started a little rough, but by the time you hit the first chorus you kind of found your pitch and the range and you were on it," said music producer and American Idol judge Randy Jackson.
"I think it was definitely better than last week's," he added. "I'm still not jumping up and down or whatever but welcome back."
Rock star Steven Tyler praised Rodríguez for once again singing in Spanish.
"I love when you break into your ethnic what-it-is-ness," said Tyler. "I love it!"
Puerto Rican judge Jennifer López took the opportunity to give Rodríguez some career advice.
"I could tell you were a little bit scared when you came out," López said. "But, instead of letting that take over you attacked it and I was like, 'Go! Do it! Yes!'
"That's how you have to do it," she said.
López also told Rodríguez the boundaries she can cross as a performer.
"If you are nervous about certain notes, don't go there. As a professional you don't have to," said López. "Never expose your weaknesses. Play to your strengths. If it's not all the way there, change the note."
J.Lo reminded the Miami native how talented she is.
"You sing beautifully," López said. "Just perform it from your heart and watch how it translates."
Former Latino contestants Jovany Barreto and Julie Zorilla are also proud of Rodríguez.
"That girl is an incredible singer," Barreto told Fox News Latino prior to Wednesday night's performance. "She's good at staying true to herself like she's been doing."
"At the end it's all about being who you are and all about perseverance," he added.
Colombian singer/songwriter Zorilla agreed.
"I'm blown away by her talent," Zorilla said. "But you have to stay true to yourself. It's very hard once you get far into this process. Everybody has an opinion."
And here was J.Lo's opinion on the wide range of talent this season: "We have a competition here, and it's fierce!"
Regardless of the competition's final outcome, Rodríguez will continue being her mother's Idol.
"My passion for the music, I live now in my Karen," an emotional Elvira Rodríguez said on the show. "This is my best prize. This is my medal in my life. Don't like another prize, only my Karen."
America will once again cast their votes and send another Idol contestant home on Thursday. Aside from casting their votes, the judges are urging America to lend a helping hand to tsunami victims in Japan.
The Black Eyed Peas, meanwhile, will be performing their hit song "Just Can't Get Enough," on which Mexican-American member Taboo raps.
You can reach Alexandra Gratereaux at: Alexandra.Gratereaux@foxnewslatino.com
Or via Twitter: @GalexLatino
Follow us on twitter.com/foxnewslatino
Like us at facebook.com/foxnewslatino