World Bank: Colombia's peace efforts require funding from foreign governments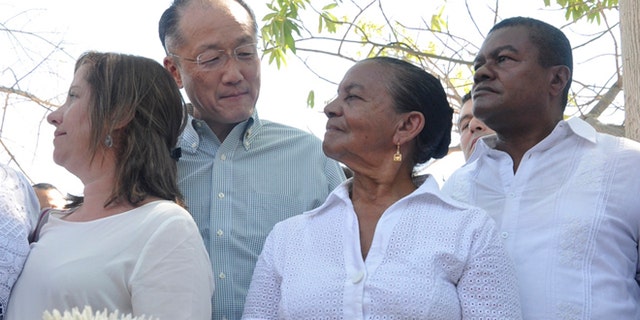 GUACOCHE, Colombia (AP) – As Colombia's half-century conflict winds down, foreign governments need to step up their funding commitments to the country to make sure a peace deal to end the Western Hemisphere's last major conflict holds, World Bank President Jim Yong Kim said Thursday.
Kim said that while the spread of conflict around the world has heightened international sensitivity to refugee crises, terrorism and destabilization, Colombia appears to be leaving decades of fighting behind with peace talks in Cuba likely to produce an agreement as early as March. But while a deal looks tantalizingly close, the cost of peace is likely to rise as Colombia's economy sputters from a collapse in oil prices.
"There are needs all over the place, especially in Latin America, but if there's one country that we have to unfailingly support it's Colombia," Kim told the Associated Press while visiting World Bank-funded programs in the South American nation. "Not just because of the needs of the country, but because we have to show that by moving quickly on developmental tasks you can help with the peace process."
Colombian President Juan Manuel Santos has crisscrossed the world in recent months stumping for the newly created "Colombia in Peace" fund. He is seeking to raise more than $3 billion to finance the first five years of an ambitious post-conflict agenda that includes everything from road-building in the long-neglected countryside to helping displaced farmers return to their lands.
World Bank funding to Colombia has almost doubled in recent years, and Kim said there's room for even more lending after a peace deal is reached.
"I hope that there's going to be a huge peace dividend," he said. "We're certainly going to do everything we can to pump it up."
During his visit, Kim met with residents of the traditionally black Caribbean town of Guacoche who recounted the April 1997 night when they were dragged from their homes by paramilitary forces, lined up in the plaza and forced to watch as community leaders were killed. That began a decade-long reign of terror during which the town's 1,800 inhabitants hunkered in their homes.
Recently residents have started to reclaim some of their past traditions, and Guacoche is the first Afro-Colombian community to benefit from a reparations program funded by the World Bank and Sweden.
Kim, speaking in fluent Spanish picked up from his days fighting tuberculosis in the slums of Peru, said the town's experience of forgiving unspeakable crimes can be a model to war-torn countries.
"You are an example of the most basic human convictions," Kim said.