Obama's Latin American Tour Begins in Brazil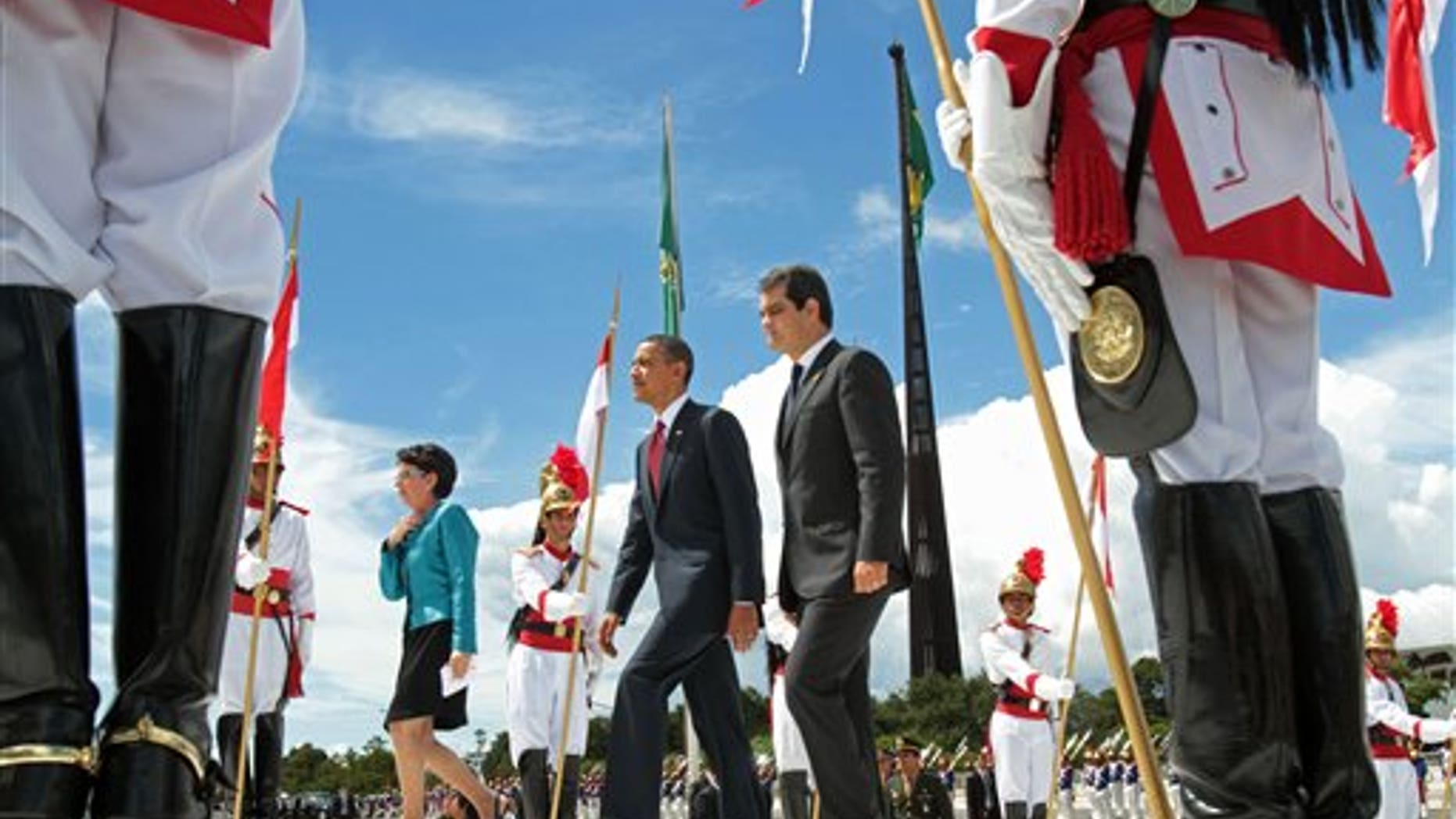 President Barack Obama began his tour of Latin America, which includes stops in Chile and El Salvador, when he touched down in Brazil on Saturday.
The three-country, five-day tour of Latin America seeks to promote greater economic ties and improved regional security. The trip came against the backdrop of urgent issues elsewhere in the world, including the possibility of U.S. military action against Libya's Moammar Gadhafi.
Air Force One touched down in the highland capital of Brasilia in an early-morning mix of sunshine and raindrops with the president, Michelle Obama, and daughters Sasha and Malia aboard. Several hours later the president and Mrs. Obama met Brazil's newly elected President Dilma Rousseff at the presidential palace, the Palacio do Planalto, in an elaborate arrival ceremony featuring color guards and children waving U.S. and Brazilian flags.
In between his arrival at the airport and his meeting with Rousseff, Obama got a briefing on Libya from his national security adviser, Tom Donilon -- underscoring the balancing act Obama faces in traveling through Latin America with events in Libya at a boiling point.
In his Saturday radio and Internet address Obama singled out the economic benefits of the trip, noting the rapid growth of Brazil and Chile, the second country on his itinerary. Obama said that the United States exports more than three times as much to Latin America as to China.
"What is clear is that in an increasingly global economy, our partnership with these nations is only going to become more vital," the president said.
Brazil stands out for its strategic and economic importance to the United States and a boom that has taken it all the way to South Florida. As the world's seventh-largest economy, it is a member of an exclusive club of influential developing nations along with Russia, India and China, collectively known in economic circles as the BRIC nations. Obama is looking to reset the U.S. relationship with Brazil, an emerging economic power that even without being hostile has annoyed Washington with its independent ways.
After Brazil, Obama travels to Chile, which has established itself as one of the wealthier nations in South America. His third and final stop is in El Salvador.
The trip risks being overshadowed by ominous developments in earthquake-ravaged Japan, where officials struggled to prevent a meltdown at a damaged nuclear power plant, and in Libya, where a defiant Gadhafi warned international troops Saturday that they would regret intervening.
Obama departed Washington just hours after endorsing military action against the strongman's regime, leaving an array of military might at the ready and raising the prospect that he would have to authorize military action from a foreign land. Leaders from the Arab world, the United States and other Western powers were holding emergency talks in Paris on Saturday over possible military action as Gadhafi's troops swarmed into the one-time rebel stronghold of Benghazi.
Obama opted to depart for Brazil on schedule despite those international crises. For the president, the visit represents a chance to engage with Rousseff and get a firsthand assessment of what administration officials believe is her practical approach to governance and foreign relations after eight years of the flamboyant Luiz Inacio Lula da Silva, commonly known as Lula.
But as Obama and Rousseff were poised to meet, a disagreement between their administrations had already changed the dynamic of the trip. The Brazilian leader did not want to have reporters ask the two presidents questions -- after the White House had already promised a news conference -- so that event was scrapped. It had the potential effect of keeping the news media from asking Obama about the Libyan crisis just as it seemed at its most dire.
A spokesman at the Brazilian presidential palace said the two presidents would issue a joint statement at about noon but would not take any questions. The officer, who declined to be identified in line with internal regulations, said he did not know why no questions would be taken.
Rousseff, unlike her charismatic predecessor Silva, who spoke with the news media nearly every day, has rarely given news conferences in her three months in power and almost never gives interviews. During her campaign for the presidency last year she often seemed uncomfortable in public and was criticized for a mechanical speaking style.
Silva infuriated U.S. officials in the last two years of his presidency by attempting his own personal diplomacy with Iran and refusing to condemn Iran's human rights abuses. Rousseff, though hand-picked by Silva as his successor, has signaled that she will ease back from that approach.
Still, Rousseff showed no qualms about distancing Brazil from the United States over Libya. As a nonpermanent member of the United Nations Security Council, Brazil was one of five countries that abstained from the vote Thursday that authorized a no-fly zone over Libyan air space.
And she has not entirely abandoned the idea of maintaining a dialogue with Iran.
Nevertheless, the White House is expressing high hopes. White House deputy national security adviser Ben Rhodes said, "She has been very positive about the type of relationship that she wants to pursue with the United States."
Rousseff, a left-of-center politician, is a former guerrilla, torture victim and economist. Before becoming Brazil's first female president, she served as Silva's chief of staff.
The trip comes as China has surpassed the United States as Brazil's top trading partner and in the wake of recent discoveries of vast oil reserves off the Brazilian coast. The reserves -- estimated at between 30 billion and 80 billion barrels -- place Brazil in the top 10 countries in the world in reserves. Since Brazil is energy self-sufficient, that oil would all be available for export.
Brazil is also a giant agricultural exporter, competing head-to-head with the United States.
Obama arrives bearing no major policy gifts. And he's not likely to deliver on two of Brazil's top wishes -- an endorsement for Brazil to become a permanent member of the U.N. Security Council and a relaxation of tariffs on Brazilian ethanol.
Obama's Saturday stay in the Brazilian capital, a city merely 50 years old, is all business. After his meeting with Rousseff he will deliver an address to a meeting of executives from Brazil and the United States.
The chief executive session is designed to illustrate the commercial opportunities for the United States in Brazil. U.S. officials and business leaders point to the opportunities presented by the infrastructure challenges Brazil faces in its role as host of the 2014 World Cup and the 2016 Olympic Games.
The CEO session will include a number of executives from U.S. corporations, including International Paper, Cargill, Citigroup and Coca-Cola.
Business leaders and trade experts said Obama and Rousseff could make strides toward a trade and economic cooperation agreement, typically a first step toward forging a free trade agreement.
The Associated Press contributed to this report.
Follow us on twitter.com/foxnewslatino
Like us at facebook.com/foxnewslatino