New York driver allegedly plows into family of 8, killing mom after asked to stop smoking: report
A New York man allegedly mowed down a family of eight, including a baby and five children, outside a 7-Eleven store on Wednesday, killing a 32-year-old mother after the father asked the driver to stop smoking, a report said.
Jason Mendez, 35, hit all eight members of the family following an argument he had with the father who had allegedly asked him not to blow cigarette smoke around his children, WCBS-TV reported.
CALIFORNIA DRIVER HIT WITH DUI AFTER MOWING DOWN 9 PEDESTRIANS, POLICE SAY
Mendez, of Washingtonville, got into his car and smashed into the Rockland County convenience store before he reversed the vehicle and plowed forward again, striking the family a second time, police said.
A mangled baby carriage remained at the scene as witness told WNBC-TV they saw a woman lying on the ground injured and heard a baby crying.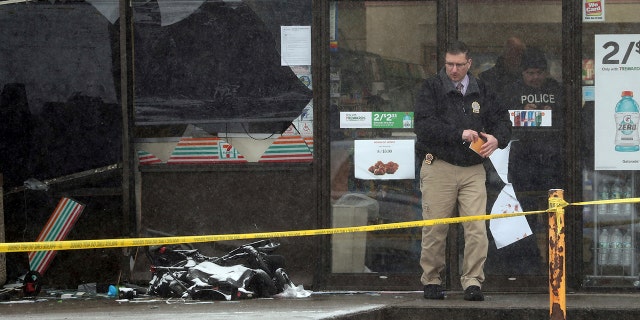 All eight family members were hospitalized. The mother was later pronounced dead. The 35-year-old father and six children, ranging from two to 10 years old, were treated for non-life threatening injuries, WABC-TV reported. Police have yet to release the family's identity.
Mendez allegedly exited the vehicle with a knife and police subdued him with a stun gun.
CLICK HERE TO GET THE FOX NEWS APP
"He didn't say anything initially to the police officers," said Haverstraw Police Capt. Martin Lund. "He refused to drop the knife. Then he was tazed at the scene and taken down."
Mendez was arrested and charged with second-degree murder, and seven counts of attempted murder, WABC-TV reported. He pleaded not guilty to all charges at his arraignment Wednesday night.
The Associated Press contributed to this report.