Winter storm left motorists stranded on Kentucky interstates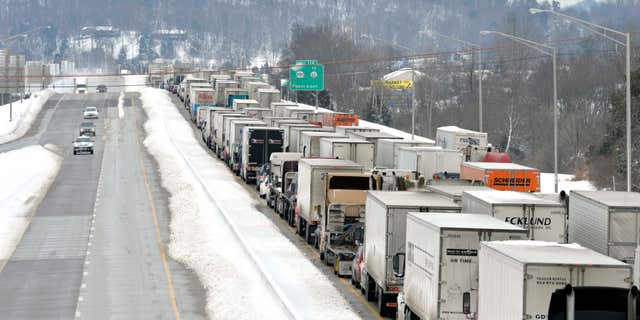 The latest winter storm that battered the East Coast also left Kentucky motorists stranded on highways for nearly 24 hours.
Kentucky received two feet of snow from the storm. Interstate 65 in was log-jammed during the night as many travelers spent the long, cold night in their car.
To conserve fuel during the 11-hour ordeal, Larry Weas told the Associated Press he had to keep his car off for long periods of time to save gas and scooped snow into a bucket to have something to drink.
"This has been a lesson of survival," said the 54-year-old man, who is diabetic. Another stranded couple was able to give him Gatorade and candy until he was rescued.
The traffic mess stretched for more than 25 miles from Elizabethtown to Shephersville.
Kenny Thompson huddled overnight on I-65 in his car with some snacks he grabbed for a trip home to Louisville and his smartphone to keep him connected to his family.
Thompson said people would dash quickly out of their cars to go to the bathroom, even hiding behind cars.
"There's no privacy out here," said Thompson, who had been stuck in the logjam since 9 p.m. Wednesday.
During the height of one pileup in the state, more than 400 vehicles were involved in an accident on Interstate 24.
Among the stranded along I-65 were the Rev. Jesse Jackson's wife and other members of his Rainbow/PUSH Coalition staff. The group was on its way to join Jackson in Selma, Alabama, for this weekend's events commemorating the 50th anniversary of the civil rights march led by Dr. Martin Luther King Jr.
The Rev. Janette Wilson, the coalition's senior adviser, told The Associated Press in a phone interview that staffers had been stuck on I-65 since 2:30 a.m. Thursday. At one point, they walked two miles to buy snacks at a gas station that was quickly running out of food. She said a nearby McDonald's had already closed down because it ran out of food.
There were no reports of storm-related deaths or widespread power outages, Gov. Steve Beshear said. The storm had dumped 15 to 20 inches of snow across the state.
Twenty-three inches piled up in parts of Ohio County in western Kentucky, it said. Elsewhere, snowfall totaled 14.7 inches in Louisville, 17.1 inches in Lexington, 20.5 inches in Mount Washington, 19 inches in Bardstown, 18.5 inches in Frankfort and 21.5 inches in Cynthiana.
The Associated Press contributed to this report