Winter storm bringing 'widespread hazardous weather' stretching from Midwest to Northeast
A "significant" winter storm is bringing the threat of snow, ice and rain to every state east of the Mississippi River on Wednesday, causing the federal government to shutter offices and leading to widespread travel disruptions.
The National Weather Service said the strengthening storm will bring areas of heavy snow and ice from the Midwest into the Mid-Atlantic and Northeast during the day Wednesday and into early Thursday.
"This is not a blockbuster storm by any means, but it is going to cause travel problems," Fox News Senior Meteorologist Janice Dean said Wednesday on "FOX & Friends."
WINTER STORM TO BRING SNOW, ICY MIX, FLOODING CONCERNS FOR UP TO 200 MILLION AMERICANS
The Washington D.C. area could get between 2 and 5 inches of snow before transitioning to an icy mix around 1 p.m. and then rain, according to Dean.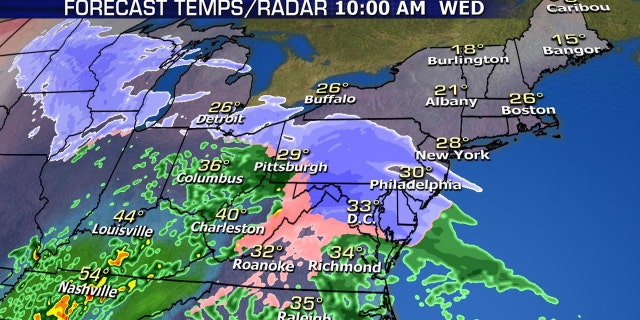 Further north, several inches of snow is expected to fall in the Philadelphia and New York City areas starting midday before changing to a wintry mix and then rain by the night.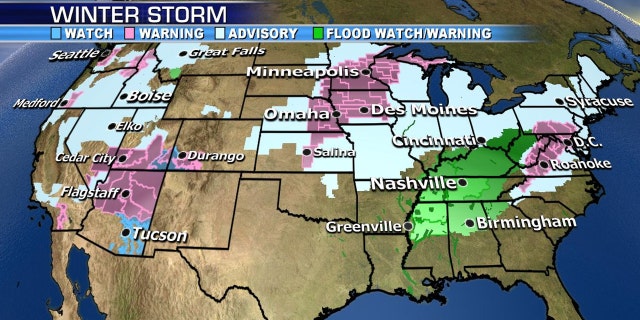 "That means the potential for ice and then all rain as we go into the overnight hours," Dean said.
SNOW-SHOVELING DOG CAPTURED ON VIDEO
The wintry weather has the potential to make already slow evening rush hours across the major Northeast cities even worse. In New Jersey, Gov. Phil Murphy declared a state of emergency ahead of the storm.
"Avoid unnecessary travel, particularly this afternoon," the New Jersey Department of Transportation warned on Twitter. Commercial vehicles were also banned from certain highways in New Jersey and Pennsylvania.
Schools across the region planned early dismissals, and more than 1,600 flights have been canceled nationwide as of 8:30 a.m., according to flight-tracking website FlightAware.
CLICK HERE FOR THE FOX NEWS APP
The biggest airports affected by the storm were in the nation's capital, with Reagan National, Baltimore/Washington International and Washington Dulles International leading with the greatest. Chicago's O'Hare and Philadelphia International were also impacted.
Further south, the storm is bringing the threat of flooding due to moisture "surging north" from Louisiana to the Ohio Valley, according to the NWS' Weather Prediction Center.
"Rainfall amounts on the order of 1 to 3 inches are expected through Friday morning across much of the Deep South as multiple rounds of rainfall over the same areas, and widespread flash flood watches are in effect," the NWS said. "River flooding in the coming days will also be an issue."